Inspira Medical Group Primary Care Centerton
798 Centerton Road,
Pittsgrove, NJ 08318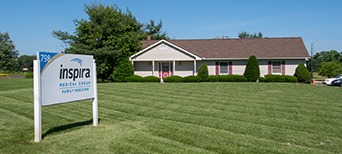 View Details
Get Directions
Schedule Your Appointment
Select Request an Appointment to be taken directly to the provider's calendar and choose a date and time that works best for you.
Inspira Medical Group Primary Care Centerton is designed to meet your entire family's healthcare needs. The skilled team at Inpsira Primary Care Centerton offers care from adolescence to adulthood. Inspira general physicians believe in partnering with patients to diagnose illness and provide comprehensive medical care plans, as well as dedicating time to preventive care for patients aged 6 years or older.
Inspira's skilled staff can provide personalized care for your entire family for a wide range of services, including:
Diagnosis and treatment of acute illnesses
Diagnostic testing
Disease prevention counseling and patient education
Full laboratory services
Management of chronic adult illnesses
Minor dermatological procedures
Preventive healthcare screenings and counseling
Referrals to specialists, if needed
Routine physical exams, including for school/college and work