Maternity Services - Elmer
View Details
Get Directions
Delivering more for our patients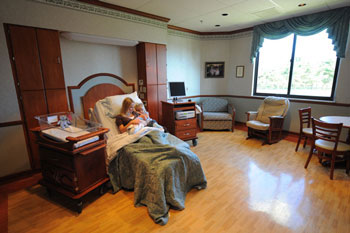 The arrival of a newborn is one of life's most special and rewarding experiences. Whether you're having your first baby or adding to your family, Inspira Medical center Elmer Maternity Care will deliver more for you and your new child. With warm, home-like suites and nurses committed to clinical and service excellence, Maternity Care at Elmer strives to exceed the expectations of families in Salem and Gloucester counties. The unit has consistently ranked among the best in the nation in overall patient satisfaction, as measured by Press, Ganey Associates, a national leader in patient satisfaction measurement.
More Convenience
At Inspira Medical Center Elmer Maternity Care, expectant mothers and their families will find the most advanced maternity services in a comfortable environment, that's close to home. The unit's private entrance and family waiting area offers convenience and comfort for our patients.

Inspira Medical Center Elmer MaternityCare offers:
Five LDRP (labor, delivery, recovery, postpartum) rooms to promote family bonding.
Four of the five LDPR rooms have whirlpools. The fifth has a birthing tub.
Nursery
Family waiting area
More Care
Each room is decorated to create a comfortable and soothing atmosphere with soft lighting and rocking chairs for mothers and their newborns. The suites are spacious, allowing you to share the birthing experience with your family by your side.
Our modern maternity care facility offers:
C-section facilities and recovery room
Private entrance to maternity wing
Easy access to hospital departments for diagnostic screening
Breastfeeding and infant care education
Comprehensive fetal testing and immunization services
More Service
Our skilled and friendly physicians are trained in prenatal care and capable of detecting and treating complicated pregnancies. Highly trained certified nurse midwives, nurses and other medical professionals work together to provide exceptional care and manage expectant mothers' pregnancies. This teamwork among Inspira Health medical professionals means you and your newborn will benefit from a partnership of care that will be here today and tomorrow. Maternity Care at Inspira Medical Center Elmer provides convenient visiting hours from 1 p.m. to 8:30 p.m. each day. Fathers or significant others are eligible for open visitation. Siblings of the newborn are welcome during regular visiting hours. All other children must be over the age of 12.