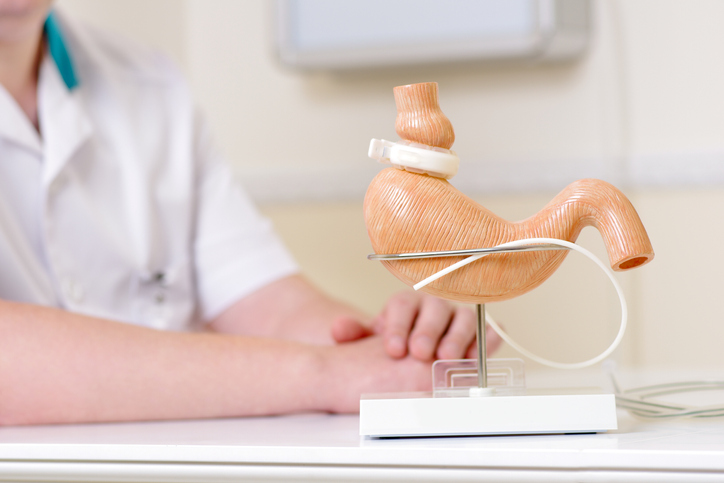 If you are considering, or are scheduled for bariatric surgery, you are in good company. Every year, nearly 113,000 Americans undergo bariatric surgery to help manage their weight and mitigate weight-related illnesses like high blood pressure and diabetes.
"Unfortunately, some people with obesity cannot lose weight despite their efforts to change their dietary habits, lifestyles and activity levels," said Bradee Rojas, M.S., R.D., C.D.C.E.S., Metabolic and Bariatric Surgery Program coordinator at Inspira Medical Center Mullica Hill. "The overarching goal of bariatric surgery is to help achieve weight loss, and bariatric surgery accomplishes this one of three ways: restricting the amount of food in the stomach, inhibiting the absorption of nutrients or a combination of both."
Restrictive Weight Loss Surgery
In restrictive weight loss surgery, the goal is exactly what it sounds like: to restrict how much food the stomach lets in.  Two restrictive bariatric surgeries include sleeve gastrectomy and laparoscopic adjustable gastric band.  A non-surgical restrictive procedure available is the Intragastric Balloon.
"In a sleeve gastrectomy, we remove 75-85 percent of the stomach by making five or six incisions in the upper abdomen. Using a long, thin camera, we enter the stomach lining and create a sleeve-like shape," said Keith Kreitz, M.D., F.A.C.S., medical director of Bariatric Surgery at Inspira Medical Center Mullica Hill. "Similarly, with the gastric band, we use an inflatable silicone band and place it around the top of the stomach; here, we can adjust the band by adding or removing fluid. This way, we can adjust how big or how small your stomach is at any given time."
Unlike the sleeve gastrectomy and adjustable gastric band, the endoscopic intragastric balloon placement is a nonsurgical outpatient procedure. As an incision-free procedure, the balloon is placed in the stomach through the esophagus and is filled with fluid, which helps to fill the stomach. By filling up the stomach, the balloon not only slows the digestive process but encourages portion control to help stabilize eating habits. The balloon is removed after six months. 
Malabsorptive Surgery
While restrictive weight loss surgery aims to simply restrict how much you eat, malabsorptive surgery changes your digestive process completely. The most common malabsorptive surgery is gastric bypass surgery.
"In gastric bypass surgery, we remove most of the stomach and create a pouch the size of an egg. Then, we connect this pouch to part of the small intestine so that food will bypass the stomach. This way, your stomach won't absorb as much of the fat and calories from the food you eat," said Kreitz. 
Because reducing the amount of food absorbed also means reducing the number of vitamins and nutrients your body needs, providers may recommend dietary supplements. 
Choosing the Right Surgery 
When it comes to choosing which type of bariatric surgery you should receive, the answer is the surgery that you and your bariatric surgeon discuss. 
"Every bariatric surgery has its own set of benefits and risks. For example, side effects for the sleeve gastrectomy and adjustable gastric band include blood clotting and nausea, respectively. Yet both are effective in achieving and maintaining weight loss," said Kreitz. "Choosing the right bariatric surgery depends on your goals and lifestyle."

To speak with a Bariatric specialist or to request an appointment, visit InspiraHealthNetwork.org/Bariatric or call 1-800-INSPIRA