$1 Million gift to Inspira will encourage young doctors to practice locally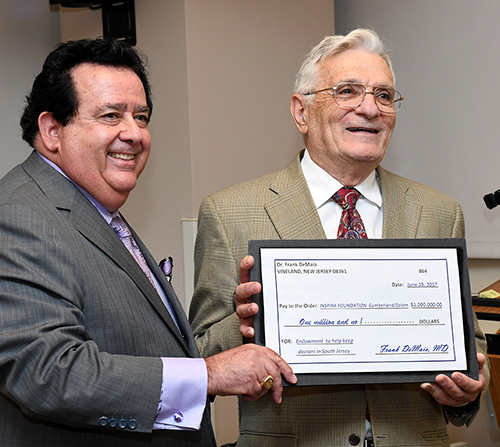 MULLICA HILL, New Jersey (June 15, 2017) – Retired Vineland physician Frank DeMaio announced a $1million gift to Inspira Health Network Foundation Cumberland/Salem at a ceremony today in Vineland. The donation, one of the largest ever made to the Foundation, will be used to create a fund that will encourage young physicians to practice in Cumberland County. 
"Thanks to Dr. DeMaio's remarkable act of philanthropy, his positive impact on the well-being of local residents will continue to grow for decades to come," said John DiAngelo, president and CEO of Inspira Health Network. "We are grateful for his nearly 60 years of service as a physician, and to that we add our gratitude for this exceptional gift."
From 1963 until just a few months ago, Frank DeMaio, M.D., took good care of thousands of people who came to his modest Vineland office for medical care. As a specialist in internal and pulmonary medicine, he cared for adults of all ages, and in all stages of health and illness. DeMaio officially retired in the spring of this year, at age 86; he was in solo practice for his entire career.
DeMaio's donation will fund a program to help recent graduates of the Inspira Vineland residency programs, and potentially other residency programs, pay off their student loans, which often exceed $200,000. To apply for this financial help, a new physician will have to agree to practice medicine full-time in Cumberland County for a minimum of four years. Inspira Vineland provides training for nearly 150 young physicians in nine different programs.
"We are training some excellent physicians at Inspira Vineland, and I want to encourage more of them to stay here and practice medicine in our community," said DeMaio. "With a physician shortage looming, and Cumberland County having several medically underserved communities, the need for new talented young doctors is great. It is my hope that the program funded by this gift will help us keep more of our talented young physicians here, once they finish their training."
"Dr. DeMaio had already given so much to our community as a physician and community volunteer," said Carolyn Heckman, executive vice president, Inspira Health Network Foundation Cumberland/Salem. "Now through his extremely generous gift, he has created a legacy that will benefit area residents long into the future."
The $1 million donation is the largest ever by a physician, and among the largest gifts ever received by Inspira Foundation Cumberland/Salem. In recognition of this gift, the Education wing of Inspira Vineland will be named the Dr. Frank DeMaio Education Center.
"Dr. DeMaio's generosity, and deep concern for the people in his community, moved him to act," explained Heckman. "He turned his passion into action, and now countless individuals and families in the greater Cumberland County area will benefit from his kindness for generations to come. Throughout his medical career, and now in his retirement, Dr. DeMaio is showing us how one person can have a huge positive impact on their community."
About Inspira Health Network
Inspira Health Network is a charitable nonprofit health care organization serving communities across southern New Jersey. The network, which traces its roots to 1899, comprises three hospitals, a comprehensive cancer center, several multi-specialty health centers and a total of more than 125 access points. These include urgent care; outpatient imaging and rehabilitation; numerous specialty centers, including sleep medicine, cardiac testing, digestive health and wound care; home care and hospice; and more than 30 primary and specialty physician practices in Gloucester, Cumberland, Salem and Camden counties.

Together with its medical staff of more than 1,100 physicians and other care providers, as well as more than 5,700 employees, Inspira Health Network provides evidence-based care to help each patient achieve the best possible outcome. Accredited by DNV Healthcare, the network's clinical and support staffs are focused on providing quality care in a safe environment. For more information about Inspira Health Network, call 1-800-INSPIRA.