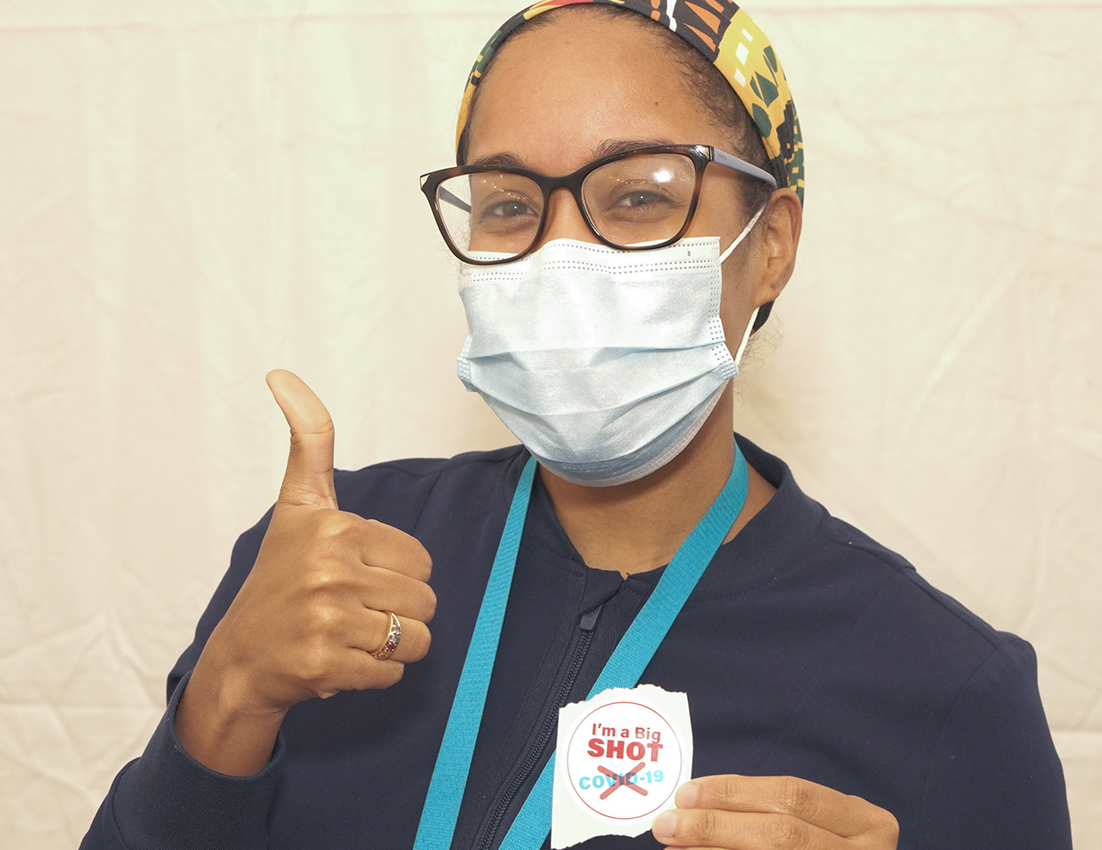 The number of individuals hospitalized with the COVID-19 virus has hit a record-high, nationally and in our own hospitals. 
At the same time, the vaccine distribution process is moving forward. At Inspira, we continue our aggressive efforts to administer first doses and we have now started to administer the required second dose to our staff who are ready. 
They got vaccinated for you, so they could provide safe and quality health care that you've come to know and expect from Inspira. They did it for themselves and their loved ones, so that they can go home and not worry that they are putting their families at risk. They did it for a COVID-free future.
And for one such Inspira Health employee, she did it for her family, her patients, and her co-workers.  Here is what Nicole Wright, MSN, RN, CBN, Bariatric clinical outcomes manager shared:
"When COVID-19 first started to progress, my family was directly affected when my 41-year-old cousin was hospitalized and placed on a ventilator for three weeks. It was scary and touch-and-go for a while, but she made it through, with still a long road to recovery ahead of her. I knew when a vaccine was released, it was something I would educate myself about and make a decision based on science, and not fear. For me, the fact that this is new is scary, but I also know every medical breakthrough in our history was once new. 
"Most recently this month we lost a family member to COVID-19, so I know firsthand that this virus won't skip me or my family. Despite doing all I can to social distance, wash my hands, and wear a mask, I still have managed to feel essentially powerless to protect my family. I trust the science behind this vaccine and the transparency on what to expect.  I have young children and I want to be able to keep them healthy and safe."
Like Inspira, hospitals across the nation are continuing to execute Phase 1A, as outlined by the Advisory Committee on Immunization Practices (ACIP) and NJDOH, which is focused on health care personnel. We are able to vaccinate our employees and physicians seeing patients in our hospitals. Very soon, we plan to offer the vaccine to all members of our medical staff and to their employees who work in their community practices.
At Inspira, we have been – and continue to be – committed to keeping you informed about the virus, and the vaccine. As we look to transition vaccinating beyond our health care workers, here is what you need to know: as of December 22, the ACIP released an implementation strategy for consideration which recommends that once vaccination is underway in the initial phase (Phase 1A) of the COVID-19 vaccination program, which includes health care personnel and residents of long-term care facilities, planning should begin for subsequent phases, including Phases 1B and 1C. 
Phase 1B includes individuals 75 years of age and older and front-line essential workers such as: first responders; corrections officers; U.S. Postal Service workers; and those who work in manufacturing, grocery stores, public transit, childcare, and education.
Phase 1C includes other essential workers, persons 65 to 74 years of age, and individuals 16 to 64 years of age with underlying medical conditions that increases the risk for a severe COVID-19 case. 
As soon as we learn more about the roll-out schedules for these next phases, I will share it with you.  Up-to-date information is also posted on our website. 
But until the COVID-19 vaccine is available more broadly, we must continue to maintain those tried and true safety measures: wear a mask; wash your hands; maintain social distancing; and get vaccinated once available. These measures are more important than ever as our region braces for one of the worst weeks yet for COVID-19 hospitalizations per predictive models. 
While we encourage our community to stay home when they can and continue to take proactive safety measures, please don't hesitate to seek medical care if you need. We're committed to being here for you, whether virtually or in person, to ensure your health, and the health of our community.
Until we may have the chance to meet, stay safe, and be well.