The Health Hack presented by Inspira Health and Rowan University was a two-day event hosted by the South Jersey Technology Park on Friday, June 22 and Saturday, June 23. Nine teams representing Medical doctors, professors, researchers, IT professionals, scientists, clinical staff, graduate students and other representatives from Inspira and Rowan came together, fueled by a desire to improve patient care, to develop innovative solutions to some of health care's most pressing challenges. 
The teams worked on a variety of solutions ranging from faster, less-invasive and more-accurate diagnosis of disease to personalized medications to overcoming barriers to care such as transportation issues and the logistics of scheduling several appointments during the course of a day or week.
Each team made a three-minute presentation early in the afternoon on day two of the Health Hack. Judges selected five teams as finalists, with an opportunity to refine their presentations based on feedback. Just 90 minutes later, the finalists had five minutes to pitch their ideas. The judges scored each presentation independently before the presentations were tabulated and the winners announced. Three teams were awarded $20,000 each of seed money to fully develop their proof of concept.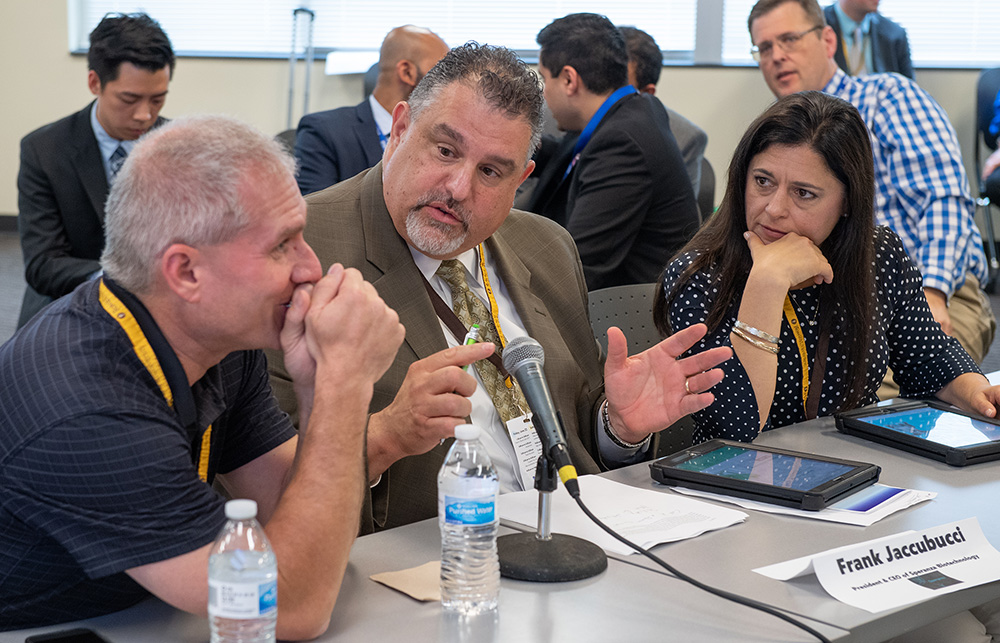 Health Hack Winners: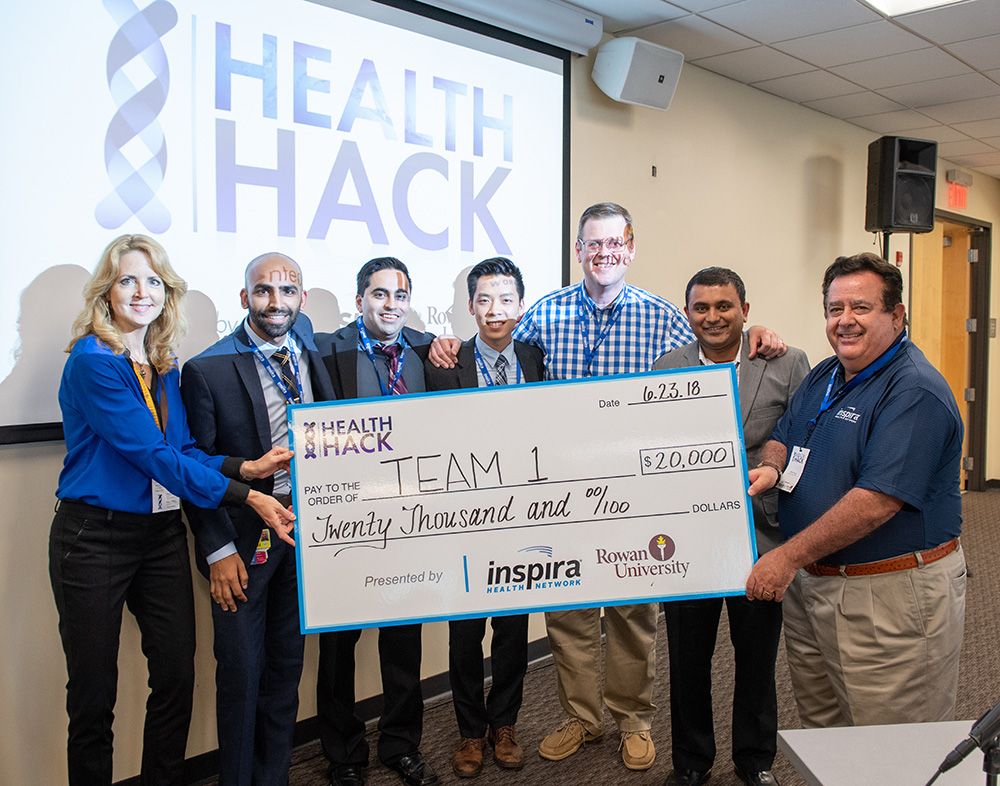 Creating a patient-centered transportation service to increase care access: 
Inspira Medical Center Vineland Family Medicine residents Long Nguyen, D.O., Mohammad Rattu, D.O., and Amar Joshi, D.O.; Rowan University's Parth Bhavsar, Ph.D., research assistant professor in the Center for Research and Education in Advanced Transportation Engineering Systems; and Christopher Lacke, Ph.D., associate professor of mathematics.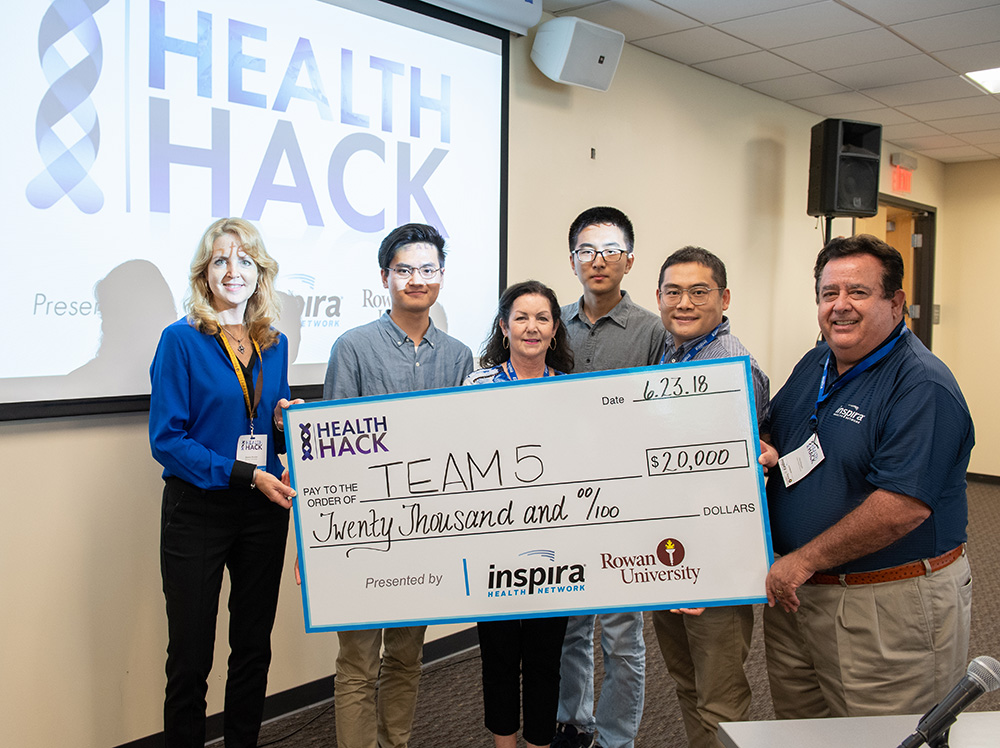 Developing and testing a portable 3-D fluorescent microscope for quick dermatologic diagnosis:
Geralyn Paterson, vice president of Physician Integration, Inspira Health; Rowan University's Ben Wu, Ph.D., assistant professor in Electrical and Computer Engineering; Yang Qi, doctoral student in Electrical and Computer Engineering; and Shengtao Sun, graduate student in Electrical and Computer Engineering; Xiao Hu, Ph.D., associate professor in Physics and Astronomy.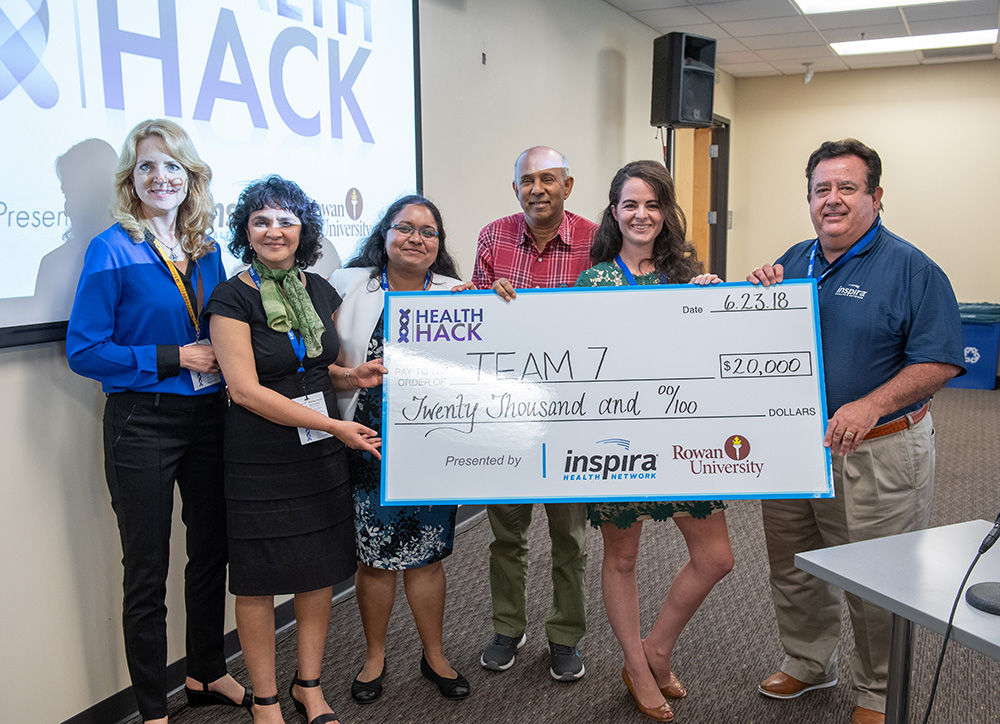 Using patient data to personalize the treatment of chronic gastrointestinal disease: 
Sarah Graham, brand manager, Marketing and Public Relations, Inspira Health; Rowan's Sangita Phadtare, Ph.D., associate professor, Department of Biomedical Sciences at Cooper Medical School of Rowan University; Joshua DeSipio, M.D., assistant professor of Medicine at Cooper Medical School of Rowan University; and Kirti M. Yenkie, Ph.D., assistant professor in Chemical Engineering; Manuel Pontes, Ph.D., professor in Marketing & Business Information Systems.  
Health Hack was sponsored by Republic Bank, Horizon Blue Cross Blue Shield of New Jersey, Cerner and the Restaurants in the City of Glassboro. The funding for the awards was provided by the Inspira Health Innovation Fund and Rowan University.