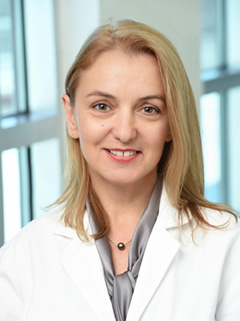 CUMBERLAND COUNTY, NJ (December 14, 2015) – Inspira Health Network's breast surgical oncologist Elizabeth Revesz, M.D. recently performed the first lumpectomy in the Delaware Valley using a new technology for more precise breast-conserving lumpectomies.

The SAVI SCOUT® surgical guidance system, now available through the Frank and Edith Scarpa Regional Cancer Pavilion at Inspira Medical Center Vineland, uses real-time audible and visual indicators to give surgeons a precise way to target tissue during lumpectomy and excisional biopsy procedures. This new technology replaces the need for needle (wire) tumor localization, which has been the standard for more than 20 years.

"Our focus is always on finding better options for our patients," said Dr. Revesz, breast surgical oncologist at Inspira Health Network. "This new system helps us to more accurately locate the tumor in order to increase the rates of complete cancer removal, preserve healthy tissue and decrease the number of repeat surgeries a patient may need."

Prior to the procedure, a micro reflector instead of a wire is placed in the target tissue by a radiologist. Then during the procedure, the surgeon uses the SAVI SCOUT® probe, which emits non-radioactive, electromagnetic waves to detect the reflector, to locate the tumor and plan the incision. Once the incision is made, the probe can be used with retractors to target the tissue through real-time audio and visual guidance. This eliminates the need to interrupt the procedure for an intraoperative ultrasound.

In addition to giving surgeons the ability to locate and remove breast tumors more precisely, the technology has many physical and emotional benefits for patients.

"It is a great deal more comfortable for women as they do not feel the reflector and they no longer have a wire coming out of their breast that can get caught on clothing or possibly get dislodged before surgery," said Ruth Ann Bishop-Sotak, R.N., M.S., certified breast care nurse and breast cancer navigator at Inspira Health Network. "The reflector can be placed up to seven days prior to surgery, which decreases the time a woman has to spend in the hospital and allows them to be scheduled for surgery first thing in the morning. It really makes the whole process less stressful and allows them to focus on recovery."

The SAVI SCOUT® surgical guidance system has been an FDA-cleared medical device since December 2014. Inspira Health Network Cancer Services is in affiliation with the Jefferson Sidney Kimmel Cancer Network. For more information, please call 1-800-INSPIRA or visit www.WithInspira.org.
 
About Inspira Health Network
Inspira Health Network is a charitable nonprofit health care organization serving communities across southern New Jersey. The network, which traces its roots to 1899, comprises three hospitals, a comprehensive cancer center, several multi-specialty health centers and a total of more than 60 locations. These include urgent care; outpatient imaging and rehabilitation; numerous specialty centers, including sleep medicine, cardiac testing, digestive health and wound care; home care and hospice; and more than 30 primary and specialty physician practices in Gloucester, Cumberland, Salem and Camden counties.

Together with its medical staff of more than 1,100 physicians and other care providers, as well as more than 5,700 employees, Inspira Health Network provides evidence-based care to help each patient achieve the best possible outcome. Accredited by DNV Healthcare, the network's clinical and support staffs are focused on providing quality care in a safe environment. For more information about Inspira Health Network,call 1-800-INSPIRA.