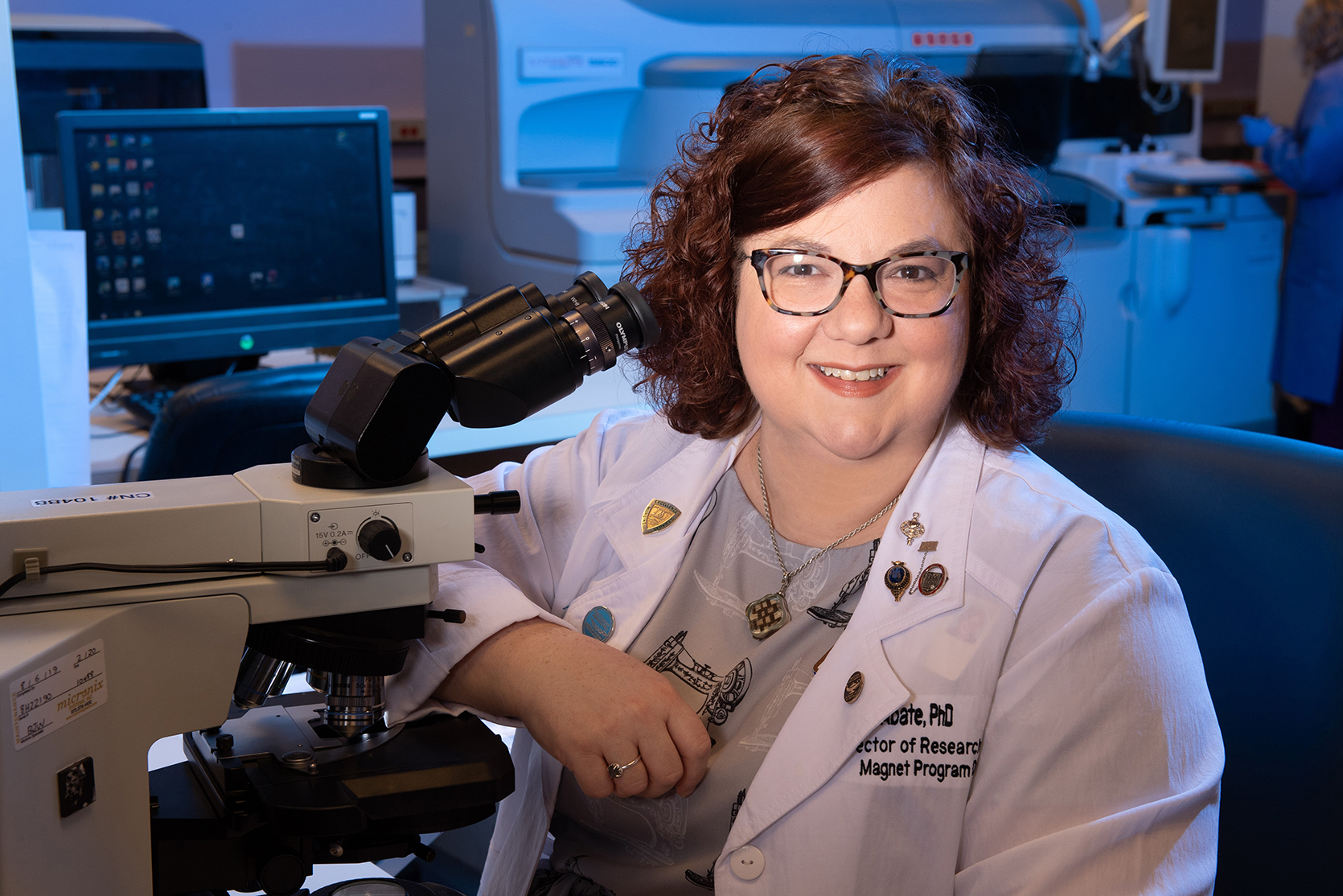 In the race for a COVID-19 treatment and vaccine, Inspira has entered the running by enrolling patients in several clinical trials. Led by Sami Abate, PhD, MSHS, MSN, RN, CCRN, Inspira Health Director of Research and Nursing Quality, the Inspira Clinical Research Office is testing the efficacy of COVID-19 treatments right here in the South Jersey community. 
Inspira: How did Inspira Health get involved with these COVID-19 studies? 
Abate: Really, it was the efforts of Inspira's internal research office. Beginning with organizational positioning and getting our foot in the door, we were able to participate in and facilitate FDA-guided industry trials. Having a strong foundation in original research, in addition to having a full-service research office, allowed us to be a preferred site for study sponsors to conduct their research. In our search for trials, we tapped into providers, leads and third party matching services, and that's where things began to ripple. We completed one study, then another and eventually, COVID-19 trials. Our experience and position in New Jersey are really what made us a good fit.
Inspira: Can you briefly explain the studies related to COVID-19 that Inspira is participating in? 
Abate: We are currently involved with several studies:
1.  CSL Behring: Open and recruiting at Vineland and run by Dr. Gelernt 
This is a multicenter, randomized, double-blind, placebo-controlled, parallel-group phase 2 study that covers the safety and efficacy of CSL312 in combination with standard of care (SOC) treatment in COVID-19 patients. Administered through a one-time intravenous (IV) dose, the goal is to prevent cytokine storm and rapid deterioration. 
2.  VERU-111: Open and recruiting at Vineland and run by Dr. Dasgupta 
A multicenter, randomized, placebo-controlled, phase 2 study, this trial is geared toward understanding the efficacy and safety of VERU-111 as a virus-killing treatment for COVID-19. Participants receive orally either 18mg of VERU-111 or placebo for 21 days, or until discharged. Recently, Inspira was the second-highest enroller of participants in this study, and the only site to randomize three patients in one day.
3.  Sorrento STI-5656: Opening soon at Mullica Hill and will be run by Dr. Dawson
A phase 2, randomized, double-blind, placebo-controlled study, this trial examines the safety and efficacy of STI-5656 (abivertinib maleate) in COVID-19 patients. An immune-modulator, STI-5656 inhibits Bruton's tyrosine kinase (BTK) and interloping activity, potentially preventing a worsening COVID infection.
4.  Sorrento COVI-GUARD™: Opening soon at Mullica Hill and will be run by Dr. Dawson
This randomized, placebo-controlled study evaluates the safety, pharmacokinetics and efficacy of a single dose of STI-1499 (COVI-GUARD™) in hospitalized patients with moderate COVID-19. Targeted toward the spike protein, this antibody treatment is designed to neutralize the virus. 
Inspira: Of these studies, is there one you feel is most important to the population?
Abate: These trials are still in the early stages, so we don't yet have any confident conclusions. However, my entirely personal opinion is that the virus-neutralizing treatments have a lot of promise. If successful, therapeutics like these may offer us more goal-directed treatments as an option rather than using a more symptom-management- or disease-progression-based approach.
Inspira: How do patients benefit from these trials? 
Abate: The brightest minds on the planet are staying up late to work on these trials—not because they have to, but because they are excited about their potential impact. Participants in randomized trials have access to the latest and greatest treatments science has to offer. Even those in the placebo arm play a huge role, as their outcomes help us reach definitive conclusions. Additionally, every participant has their research nurse's cell phone number and we are in constant communication with them and their care team throughout and after their trials. I also need to give a shout out to our incredible research nurses who work diligently to ensure that patients feel safe and secure 24/7.
Inspira: What does the ideal candidate look like?
Abate: Each study has specific inclusion and exclusion criteria. Some studies want patients with mild to moderate symptoms and others want more severe cases. Regardless, the best candidate is someone who understands the study, is willing to participate and knows their participation could ultimately save a lot of lives. Additionally, participants need to know even if their drug doesn't work, those negative results are still meaningful—we can't know what works if we don't know what doesn't work. 
Inspira: How can providers refer patients to participate in these studies? 
Abate: The best way to refer a patient or get involved yourself is to give us a call. If you have a potential candidate, we can run them through the inclusion and exclusion criteria and initial screening for our providers. If our providers are caring for trial patients who feel nervous, the best course of action is to reiterate that patient participation is completely voluntary and our research office and providers vet these studies thoroughly. We do not choose studies that we would not feel comfortable enrolling our loved ones in. 
All trials, positive results or not, are part of history. We never thought that this is something we, or even Inspira, would sign up for. But we are and have been ready. Even if we don't find the "cure" or "magic bullet" for COVID-19, we now have a better understanding of what to do than we did six or nine months ago, and it's all thanks to these trials—trials we cannot do without our patients and providers.
If you believe your patient is a candidate for one of Inspira's COVID-19 trials, call 856-641-7526.