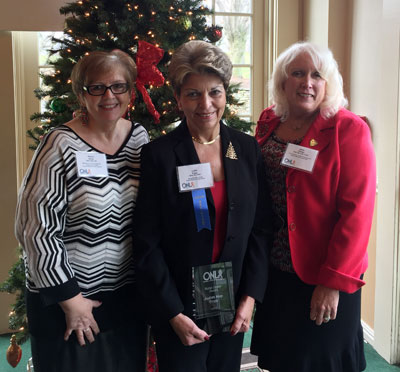 MULLICA HILL, NJ (December 12, 2016) – The Organization of Nurse Leaders of New Jersey (ONL NJ) has honored Judith Kay Fogg, BSN, RN, CRNI, nurse manager at Inspira Medical Center Elmer, with its Nurse Leader Award. The award, which recognized her leadership, guidance and service to Inspira and the nursing profession, was presented at an ONL NJ's Annual Holiday Meeting and Awards Brunch on December 8 at the Forsgate Country Club.

Fogg joined Inspira full-time in 1990 and has been a professional nurse for 45 years. Currently she serves as the nurse manager of Inspira Elmer's Medical-Surgical Department, 2-East. Under her leadership, in 2016 Elmer's 2 East unit became the first in New Jersey to receive the Academy of Medical-Surgical Nurses' PRISM Award®.
About Inspira Health Network
Inspira Health Network is a charitable nonprofit health care organization serving communities across southern New Jersey. The network, which traces its roots to 1899, comprises three hospitals, a comprehensive cancer center, several multi-specialty health centers and a total of more than 100 access points. These include urgent care; outpatient imaging and rehabilitation; numerous specialty centers, including sleep medicine, cardiac testing, digestive health and wound care; home care and hospice; and more than 30 primary and specialty physician practices in Gloucester, Cumberland, Salem and Camden counties.

Together with its medical staff of more than 1,100 physicians and other care providers, as well as more than 5,700 employees, Inspira Health Network provides evidence-based care to help each patient achieve the best possible outcome. Accredited by DNV Healthcare, the network's clinical and support staffs are focused on providing quality care in a safe environment. For more information about Inspira Health Network, call 1-800-INSPIRA.