Inaugural Inspira/Rowan Health Hack Addresses Pressing Health Care Concerns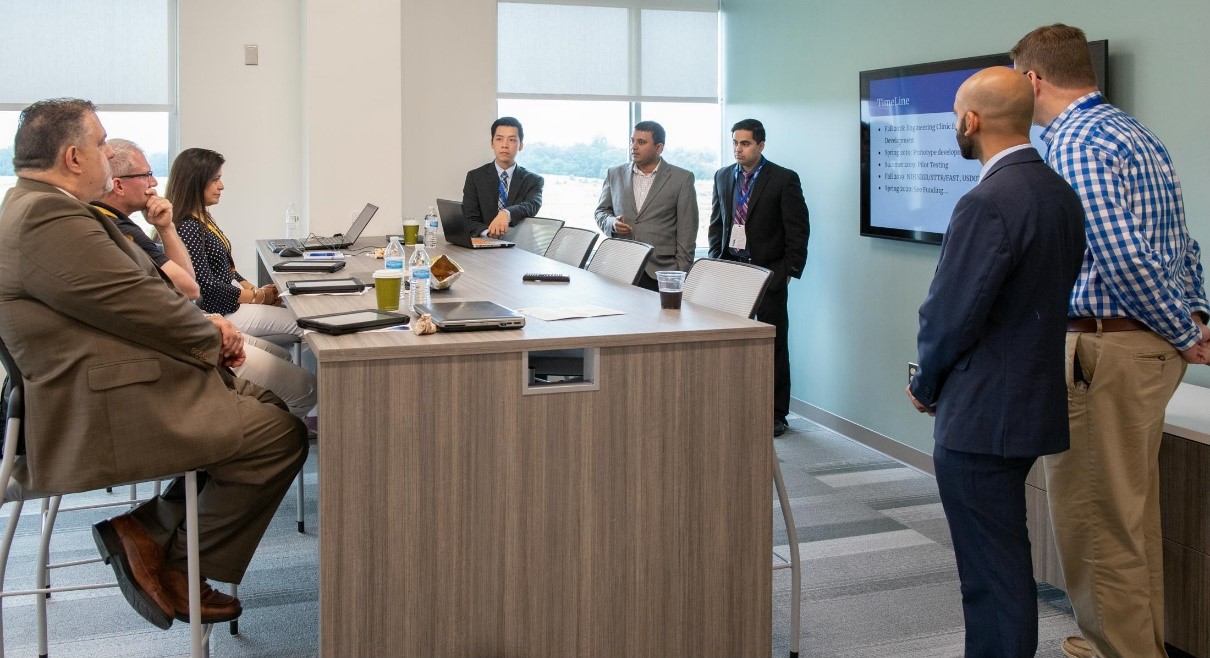 MULLICA HILL, NJ (June 27, 2018) — Ann Dimapilis, D.O., a family medicine and urgent care physician with Inspira Health Network, is a pro at charting notes about her patients.

Her work on Friday was a bit different, however. Sitting on the floor of a glass-enclosed room on the second floor of the South Jersey Technology Park at Rowan University, Dimapilis took black marker to 2' x 3' foot Post-It Notes, scribbling ideas from a team of doctors, professors and other professionals participating in the first Health Hack hosted by Inspira and Rowan.

Theirs was one of nine teams representing more than a dozen disciplines that came together, fueled by a desire to improve patient care. Doctors (both of the medical and Ph.D. variety), researchers, IT professionals, scientists, clinical staff, graduate students and other representatives from the two organizations teamed up to develop innovative solutions to some of health care's most pressing challenges.
At the end of the two-day event, hosted by the South Jersey Technology Park and sponsored by Republic Bank, Horizon Blue Cross Blue Shield of New Jersey, Cerner and the City of Glassboro, three teams were awarded $20,000 each of seed money to fully develop their proof of concept. The funding for the awards was provided by the Inspira Health Network Innovation Fund and Rowan University. 

The teams worked on solutions that ran the gamut from faster, less-invasive and more-accurate diagnosis of disease to personalized medications to overcoming barriers to care such as transportation issues and the logistics of scheduling several appointments during the course of a day or week. 

"The energy and creative forces that we witnessed at the Health Hack were the direct result of providing a venue for innovators from many disciplines to work together," said John DiAngelo, president and CEO of Inspira Health Network. "At the opening of the event, I told the participants I was counting on them. Their creative thinking and drive to improve patient care exceeded my expectations."

More than 50 representatives from the two organizations participated. Many teams, working in what are known as idea labs, were formed in the early hours of the event, while others came together weeks before the event began. Participants sought out teammates who had similar interests yet different skill sets and areas of expertise.    

"If the healthcare moonshot is going to happen, it is going to happen right here, between Rowan and Inspira," said Shreekanth Mandayam, Ph.D., vice president of Research, Rowan University, referring to the innovation and focused effort that landed the first man on the moon. "Breakthroughs occur at the boundary between disciplines, and that is exactly what the Inspira Innovation Center and the South Jersey Technology Park at Rowan University are hoping to foster."

Each team made a three-minute presentation early in the afternoon on day two of the Health Hack. Judges selected five teams as finalists, with an opportunity to refine their presentations based on feedback. Just 90 minutes later, the finalists had five minutes to pitch their ideas. The judges scored each presentation independently, before the presentations were tabulated and the winners announced. Serving as judges were: Jeff Fisher, chief product officer of Intraprise Health; Heather Simmons, Gloucester County freeholder; and Frank Jacobucci, president and CEO of Speranza Biotechnology.

"This event had two primary goals," said Dave Johnson, vice president of Innovation for Inspira Health Network. "Finding innovative solutions to health care challenges was certainly a goal. But this event was also designed to fuel the partnership between Rowan and Inspira and to help people from both organizations experience the creative power of working together."  

Parth Bhavsar, Ph.D., a research assistant professor in the Center for Research and Education in Advanced Transportation Engineering Systems at Rowan University, said his group plans to develop a Patient Center Transportation Network that will help people get to medical appointments, transported by family or community members they know.  In collaboration with faculty members, the group plans to integrate its ideas into two engineering clinics next year during which students will address the plan in multidisciplinary groups of two to three students. The Health Hack team hopes to conduct a pilot study next summer.

"The best benefit (of this technology) for patients is that they do not miss an appointment," said Bhavsar. "According to the doctors on our team, this is critically important, especially for patients on dialysis."

As for Dimapilis and team, while they did not win, they plan to continue to collaborate, reflecting the relationships Health Hack was designed to build.

Health Hack Winners:

Creating a patient-centered transportation service to increase care access:
Rowan University's Parth Bhavsar, Ph.D., research assistant professor in the Center for Research and Education in Advanced Transportation Engineering Systems, and Christopher Lacke, Ph.D., associate professor of mathematics; and Inspira Medical Center Vineland Family Medicine residents Long Nguyen, D.O., Mohammad Rattu, D.O., and Amar Joshi, D.O.

Developing and testing a portable 3-D fluorescent microscope for quick dermatologic diagnosis:
Rowan University's Ben Wu, Ph.D., assistant professor in Electrical and Computer Engineering; Yang Qi, doctoral student in Electrical and Computer Engineering; Shengtao Sun, graduate student in Electrical and Computer Engineering; Xiao Hu, Ph.D., associate professor in Physics and Astronomy; and Geralyn Paterson, vice president of Physician Integration, Inspira Health Network.

Using patient data to personalize treatment of chronic gastrointestinal disease:
Rowan's Sangita Phadtare, Ph.D., associate professor, Department of Biomedical Sciences at Cooper Medical School of Rowan University; Joshua DeSipio, M.D., assistant professor of Medicine at Cooper Medical School of Rowan University; Kirti M. Yenkie, Ph.D., assistant professor in Chemical Engineering; Manuel Pontes, Ph.D., professor in Marketing & Business Information Systems and Sarah Graham, brand manager, Marketing and Public Relations, Inspira Health Network. 
About Inspira Health Network
Inspira Health Network is a charitable nonprofit health care organization serving communities across southern New Jersey. The network, which traces its roots to 1899, comprises three hospitals, a comprehensive cancer center, several multi-specialty health centers and a total of more than 125 access points. These include urgent care; outpatient imaging and rehabilitation; numerous specialty centers, including sleep medicine, cardiac testing, digestive health and wound care; home care and hospice; and more than 30 primary and specialty physician practices in Gloucester, Cumberland, Salem and Camden counties.
Together with its medical staff of more than 1,100 physicians and other care providers, as well as more than 5,700 employees, Inspira Health Network provides evidence-based care to help each patient achieve the best possible outcome. Accredited by DNV Healthcare, the network's clinical and support staffs are focused on providing quality care in a safe environment. For more information about Inspira Health Network, visit www.InspiraHealthNetwork.org or call 1-800-INSPIRA.