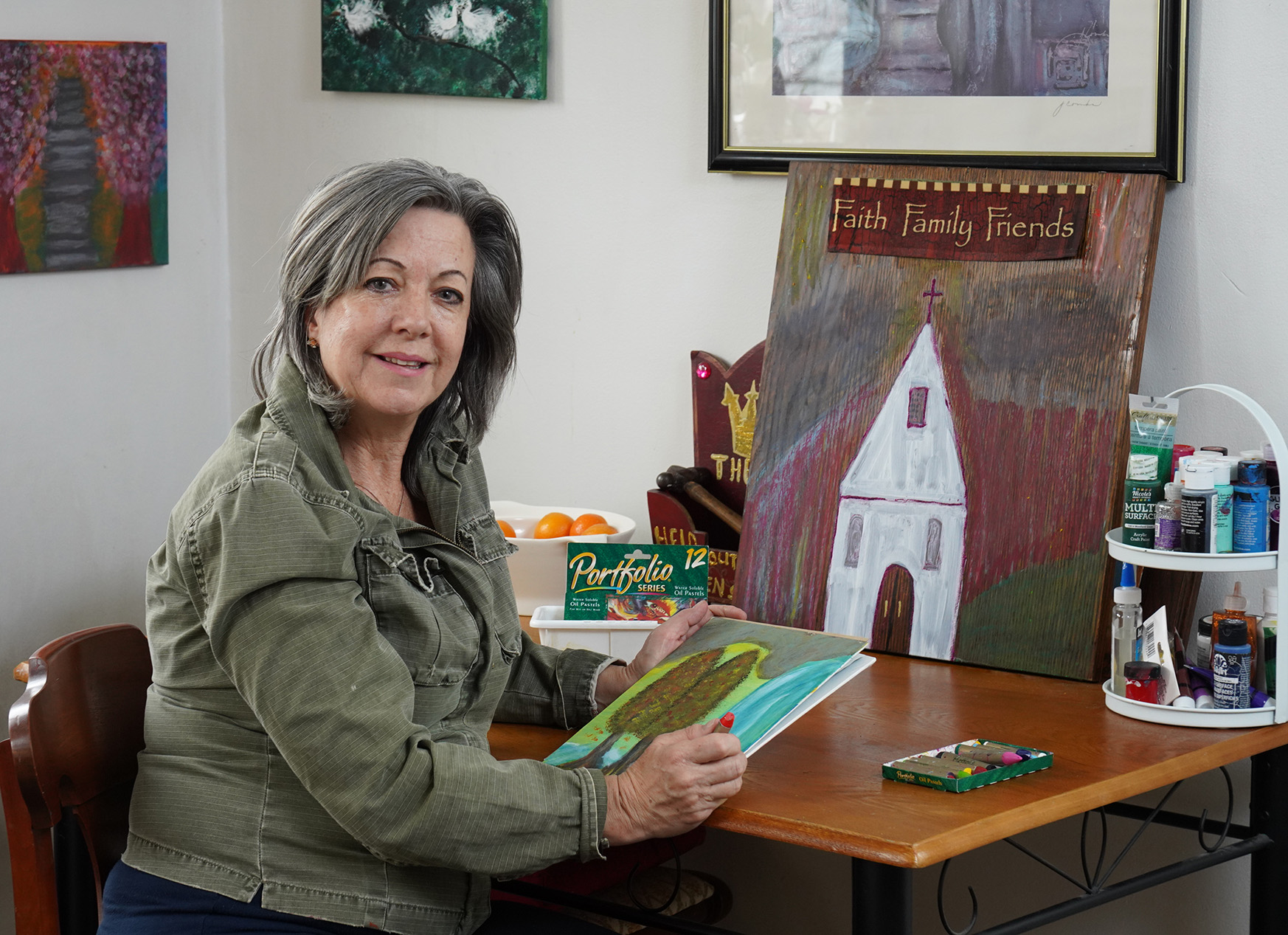 Imagine the world void of color as you gaze out your front door. That was how Peggy Clifford of Westville saw the world one day when she was suffering from undiagnosed depression. 
 
"I remember looking out the door and everything was black and white. I was asking [myself], 'Why does everything look like black and white,' Peggy recalled. I didn't know why, but I knew it wasn't right."
 
At the time, Peggy felt her life was collapsing around her, but she didn't share this experience with anyone. She felt that she had to accept it, it was her lot.
 
"I didn't have the words to tell anyone, let alone think they would understand," said Peggy. "It was six months before I recognized the signs that I was having a breakdown."
 
Peggy, a single mom with two children and a job in a busy medical office, believed she couldn't take a break and ask for help. 
 
"You think you know how to live, and then depression sets in," explains Peggy. "You are putting everything in the world before your own well-being."
 
Peggy also blamed herself for the situation she was in. And months would pass before she considered seeking help.
 
"[You think to yourself] If I just did everything right, I could get through this. The reality was I wasn't going to get through it," Peggy realized. "I had to take to a pause."
 
Six months after seeing the view from her front door appear in black and white, Peggy thought she was ready to get some help. She went to the ER, but was scared and left before being seen. She was crying for attention but did have the words to ask for help. It was fear of the unknown – she had little understanding of mental health services that were available. She couldn't imagine that compassionate, professional care was available to help her get her life back.
 
Without getting the help she desperately needed, Peggy's life continued to spin out of control. She became so dependent on others, she couldn't make even simple decisions for herself. All the while, she continued to wrestle with the belief she could get through this on her own. If she just tried harder… things would get better.  
 
Finally, after a string of unfortunate events, she was ready to ask for help. She went back to the hospital, and this time agreed to be evaluated. The doctors recommended an inpatient admission. Although conflicted, Peggy agreed.
 
"I was glad they were keeping me, but I was fighting it the whole time -- spirit fighting flesh," she recounted. "It was a complete mental breakdown -- I knew things weren't right, but I was asking 'How did I get here.'
 
After a few weeks of care at Inspira Medical Center Woodbury's inpatient behavioral health unit, Peggy was transferred to a longer-term facility for continued treatment. She then returned to Inspira for additional inpatient care before entering Inspira's Intensive outpatient program in Woodbury.
 
It was there that she heard others discuss their challenges. But Peggy wasn't ready to share her mental health issues with the group. It just wasn't for her, she told herself. 
 
It took a heart-wrenching story from another member of the group, to tear down the wall that kept Peggy from sharing. During a group counseling session, this person shared the story of her adult daughter's death. As she told the story, she held up a photo of her daughter. Peggy was deeply touched and realized that other people had problems that were equal to or even more difficult than her own. 
 
For Peggy, this was a breakthrough moment. She was now ready to share her story and the healing process could begin. Something inside her had changed. It was becoming clear that her old mindset – you must be perfect and can't take a break — would never allow her to feel good about herself. She learned that what others thought about her was not what mattered. And that she needed to focus on what was happening to her. 
 
"Before I heard her story, I didn't have a plan to open up," recalled Peggy.
"I sat in the group and thought I would never say anything. I was afraid. You feel unrelatable. [You think] nobody is going to care."
 
It was during that group session that Peggy began to share her story. She was determined to take back control of her life. She had suffered too long, and missed too much, including her older son's high school graduation. She was ready to rebuild her life, a new life in which her well-being mattered. 
 
She continued in the IOP program for about a month before transitioning to outpatient counseling. Before leaving the IOP, she wrote her own treatment plan, and was proud of it.
"I was able to make a sound choices. In my inner spirit and soul, I knew I needed 1-on-1 counseling to get to the very personal [feelings].
Individual counseling led to more breakthroughs. She was introduced to tools and strategies that helped her maintain a sense of well-being. She was regaining control of her life and wanted to begin healing her family. But she would need to overcome another challenge before she completed her emotional healing.
One year to the day after she began outpatient counseling, Peggy was diagnosed with breast cancer. She faced her diagnosis with the strength and tools she gained through counseling, and her renewed faith.
 
"I could go to God and say I need help." 
"You know, I saw myself as strong now," said Peggy. "I know I am going to be strong. I can't miss a day [of treatment]. This is the truth of my life."
 
Peggy had a strong support system, too. Church, her therapist, and family helped her stay strong. With her newfound strength, and the care she received from the cancer team at Inspira Health, she persevered and achieved a good outcome.
 
"My outcome was good. I'm a miracle," Peggy said. "Had I not got all that help through the hospital... I had every tool I needed to battle it. And I recovered. 
It was during her treatment and recovery from cancer that Peggy received a gift that further enriched her life. It was the gift of art. By expressing herself creatively she was able to manage her emotions and obtain more joy from daily life experiences. She calls her immersion into painting  a "healing journey."
Peggy has found contentment and shares her story when she believes it might help others. She is grateful for the healing that she and her family experienced. Sometimes she wonders if seeking help sooner would have prevented what she now views as a "reckless period" in her life.
 
"Sometimes I look back, but I don't stay there. I look back and then give thanks."