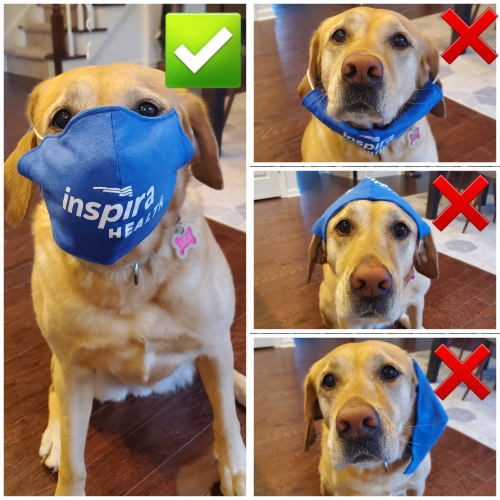 The CDC as well as federal and local agencies still recommend - even require in some areas – that workers and customers wear a mask or cloth face covering. With these guidelines frequently changing, many people have questions about where and how to wear a mask.
Here, Meredith Spena, RN, MSN, CIC, Manager, Infection Prevention and Control, Inspira Medical Center Mullica Hill, Inspira Health Center Woodbury and Inspira Ambulatory Services, answers questions on how to properly use a face mask.
Q: How Should Cloth Face Masks be Worn?
Spena: Cloth face masks should cover both mouth and nose. Ensure your mask fits snugly on your face. Do not pull the mask down under your chin or pull it up onto your forehead – this can expose you to the germs on the outside of the mask. Please be careful not to touch your eyes, nose, and mouth when removing your face covering and wash your hands immediately after removing your mask.
Q: What Should a Mask be Made Out of?
Spena: Cloth face coverings should include multiple layers of fabric. A good test you can use at home is to hold the fabric up to a bright light. If you can see individual strands of fabric in the material, or small holes letting light in, it's most likely too thin to be of any help. Cloth face coverings should be able to be laundered and machine dried without damage to the mask and you should have no difficulty breathing through face coverings.
Q: Why Do We Have to Wear Masks Anyway?
Spena: Masks help to protect you from germs in the air around you – and they protect others from germs you may be expelling. People can spread the virus before symptoms develop or be asymptomatic carriers. If everyone is required to wear a mask, a policy that many states have adopted, then the hope is that everyone's germs will be kept within their masks.
Q: How Do I Know if My Mask Fits the Right Way?
Spena: The CDC has issued guidelines for how masks should fit on someone's face. The primary requirement for a mask to be effective is that it fit snugly against the sides of the face, covering both the mouth and nose. This snugness can be achieved by securing the mask with loops that go around the ears, or ties that can be knotted on the back of the head.
Q: How Do I Clean My Mask? And How Often?
Spena: Cloth face coverings should be washed regularly with water and a mild detergent. Then dry it in a hot drier. Masks should be washed daily and whenever dirty. Store your mask in a clean container or bag.
Q: How Do I Make a Mask?
Spena: The CDC has of a variety of ways to make a mask. Common household materials, even including an old t-shirt or bandana, can be used.
Read more helpful resources about COVID-19 and Inspira. Ask us your questions on social media – we're happy to be a resource for you!