We want to talk to you.
We want to answer your questions.
We want to hear from you.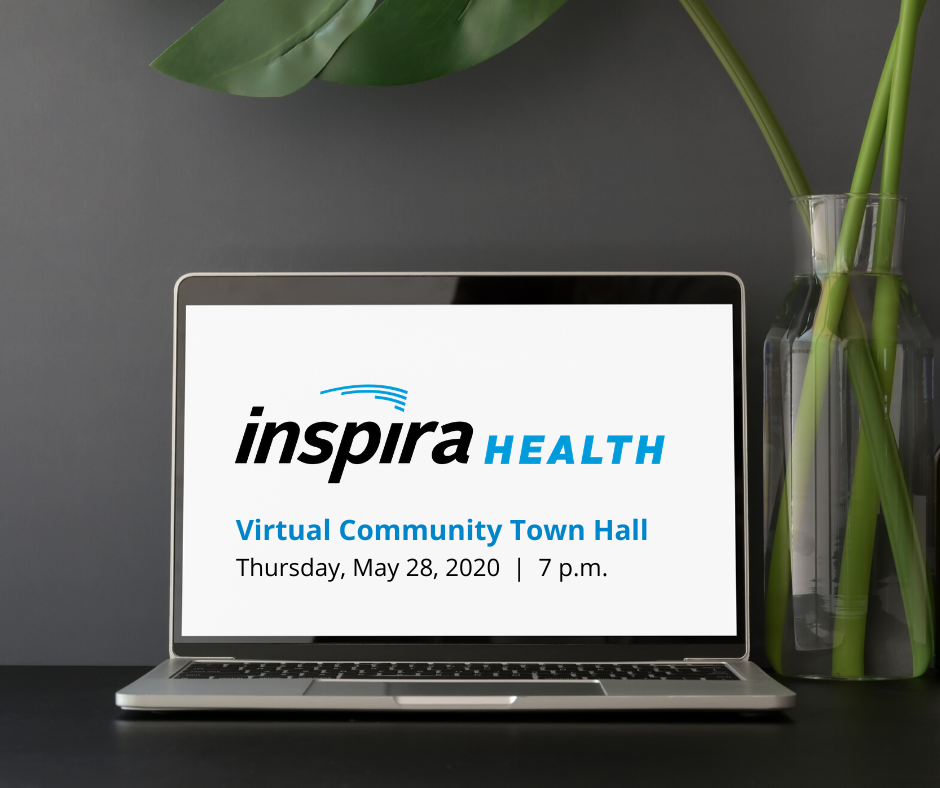 John DiAngelo is hosting a Virtual Community Town Hall meeting on May 28, 7 p.m.
Moderator:
Alka Kohli, MD, MBA
Executive Vice President and Chief Population Health and Clinical Officer
Panelists:
James Bonner, DO, FACOEP, FACEP, 
chair, Department of Emergency Medicine
Inspira Medical Center Mullica Hill and Woodbury
Satellite Emergency Department
Matthew Warner, MD, CPE, FAAEM,
chair of Emergency Medicine, Inspira Medical
Centers Vineland and Elmer and Inspira Health Center Bridgeton.
Register at Inspirahealthnetwork.org/virtual-town-hall
Look for a postcard in your mail with these details!
Safety First—and Re-defined
At Inspira, we put patients first and safety first while focusing on the relationship among patients and caregivers to create the trust patients need to also feel safe. As a high reliability organization, we have maintained a sensitivity to our operations through enhanced situational awareness.
We hope to hear soon that all hospitals will be able to open more services, especially elective surgeries. We are ready.
We continue to implement new ways to enhance our safe environment. We see firsthand that our efforts are paying off. Since the beginning of the pandemic, we know of no Covid-19 transmission between our patients.
Inside our hospitals and outpatient centers…
Everyone entering our facilities is screened for temperature and a brief health status.
Every staff member entering our hospital wears a surgical mask at all times and practices social distancing. Everyone from the community must wear a mask and we will provide one if needed.
Our patients with COVID-19 symptoms are cared for in separate areas by their own care team. At our medical centers in Vineland and Mullica Hill, we have all private rooms.
We have 350 specialized isolation rooms, also known as negative pressure rooms, on our patient floors and Emergency Departments which provide an extra level of protection.
Patient care areas are deep cleaned multiple times a day to minimize the chance of infection.
All of our staff wear the appropriate PPE (Personal Protective Equipment) for all patient encounters.
We have added 500 Microsoft Surface tablets that enables our staff and doctors to communicate with COVID-19 patients without entering their hospital rooms when it's not necessary to do so. This minimizes exposure and conserves the use of PPE. Our patients can also use the tablets to stay in touch with their loved ones.
In our facilities, we added social distancing decals designed to remind everyone to keep a safe distance.
Clear plexiglass has been added at all information and registration areas inside the hospitals, as well as cafeterias to protect staff, patients and visitors.
Elevators, chairs, desks and doors in all areas of the hospital are sanitized with a virucide disinfectant by our Environmental Services team.
Waiting rooms and changing rooms have been modified to maintain social distancing.
If there are already people in line 6 feet apart at the registration/screening area at outpatient sites, patients will be asked to wait in their car or outside until 6 feet of separation can be maintained.
Registration, check-in and check-out processes have been streamlined to limit the amount of time patients are in the facility to avoid patients accumulating in our waiting rooms. After registering, patients are now asked to wait outside or in their car until being contacted so they are immediately taken to the treatment area without delay.
Staff involved in the care of each patient has been evaluated and revised to limit the number of staff in each facility to ensure minimal capacity.