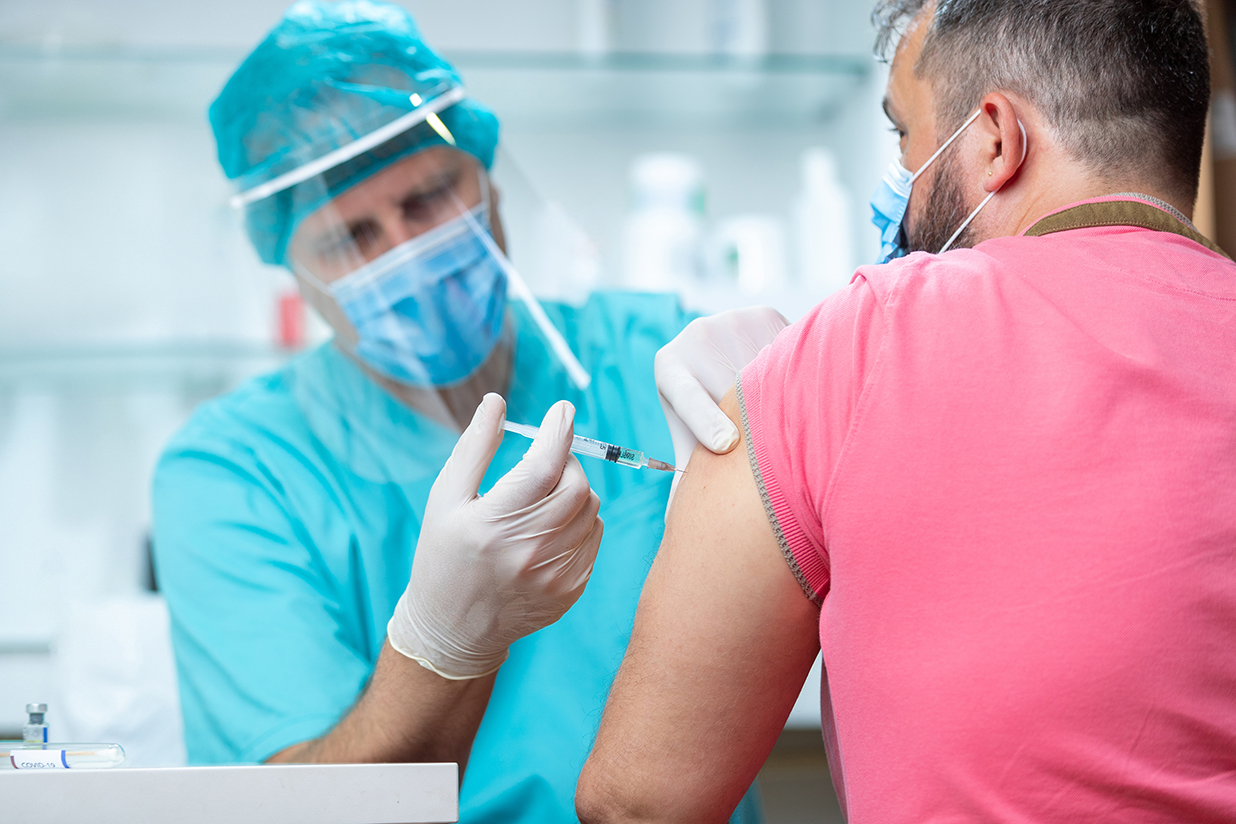 We're all excited that vaccines are now available. But being vaccinated against COVID-19 does not mean you can stop social distancing or wearing a mask yet. Instead, being vaccinated against COVID-19 means you have one more tool in your arsenal to fight this virus. Of course, regular handwashing remains an important safety measure, as it was before and will continue to be after the pandemic.
"Although these vaccines prevent disease, severe illness and death, we do not know if they will stop you from spreading the virus asymptomatically," said Evelyn Balogun, M.D., medical director of Urgent Care, Occupational Health and Employee Health for Inspira Health. "There are several ongoing studies underway looking at the risk of asymptomatic transmission in vaccinated persons and the effectiveness of available COVID vaccines against COVID-19 variants. While these studies to date have been promising, we are still learning more about how vaccines will affect the spread of COVID-19. That is why being vaccinated isn't necessarily a golden ticket out of the pandemic."
According to the Centers for Disease Control and Prevention (CDC), you are considered fully vaccinated two weeks after the second dose in a two-dose vaccine, like Pfizer or Moderna, and two weeks after a single-dose vaccine, like the Johnson & Johnson vaccine.
"If it has not been 14 days since your second dose in a two-dose vaccine, or at least 14 days after your single dose vaccine, you are not fully protected from COVID-19. That time allows your immune system to recognize the virus and know how to fight it. So until then, you must social distance and avoid large gatherings," said Balogun. 
The Dos and Don'ts of Being Fully Vaccinated
"While we still have a lot to learn about the COVID-19 vaccines, we know they're working. The best way to protect each other is to get vaccinated as soon as possible," said Balogun. It is important to remain mindful that these recommendation are not intended for health care settings.
For those who are fully vaccinated, the CDC says you may return to some pre-pandemic activities, like:
Gathering inside with other fully vaccinated people without a mask
Gathering inside with unvaccinated individuals from one other household
Not having to get tested if you were exposed to COVID-19, unless you begin to show symptoms
Travel domestically without a pre- or post-travel test or quarantining after travel
Travel internationally without a pre-travel test or quarantining after travel. Please make sure to adhere to other specific requirements required by the country of destination. 
Although you do not need to get tested BEFORE leaving the United States (unless your destination requires it), you are required to show documentation of recovery from COVID-19 in the past three months or results of a negative test result before boarding a flight to the United States.
Returning travelers are also advised to get tested three to five days after international travel, but do not need to self-quarantine after arriving in the United States. 
"The COVID-19 vaccines are the light at the end of the tunnel. But, despite the vaccines allowing some of us to return to some semblance of our old lives, we still have a long way to go. Until we reach herd immunity, we must continue to protect one another," said Balogun.
For those who have been fully vaccinated, the CDC warns that some recommendations have not changed. For example, the CDC still recommends that you:
Wear a mask, social distance and avoid spaces with poor circulation when you are:

in public or traveling
visiting an unvaccinated, at-risk person with increased risk for severe illness from COVID-19
meeting with unvaccinated individuals from more than one household

Avoid large gatherings
Delay unnecessary travel whenever feasible; though the travel recommendations have recently changed, it is highly encouraged that you maintain situational awareness about international destinations points before traveling outside the United States particularly as some parts of the world are re-instating lockdown measures. 
Monitor for COVID-19 symptoms and get tested if you show signs of illness.