Ensuring optimal health during your child's formative years is one of the biggest responsibilities caregivers have. Whether your child needs immediate medical attention or you're hoping to take preventive measures to promote their well-being, Inspira Health Pediatric Care offers age-appropriate medical interventions, growth monitoring, developmental assessments, guidance for caregivers and more throughout these fundamental years.
Our Approach to Pediatric Care
At Inspira, we understand that children require specialized care to support their growth and development. Our approach to pediatric care goes beyond medical treatment—it requires a holistic understanding of your child's unique needs from birth through young adulthood. Our team of experienced pediatricians, as well as primary care providers who treat infants and children, is dedicated to providing comprehensive and compassionate care that nurtures your child's physical and emotional well-being.
Ambulatory Pediatric Care
From the very first days of life to the transition into young adulthood, our ambulatory pediatric services are tailored to address the evolving needs of your child. We offer a continuum of care that includes regular check-ups, vaccinations and developmental assessments. With a focus on preventive care that builds a strong foundation for a lifetime of well-being, our goal is to ensure that your child grows up healthy and thriving.
Emergency Pediatric Care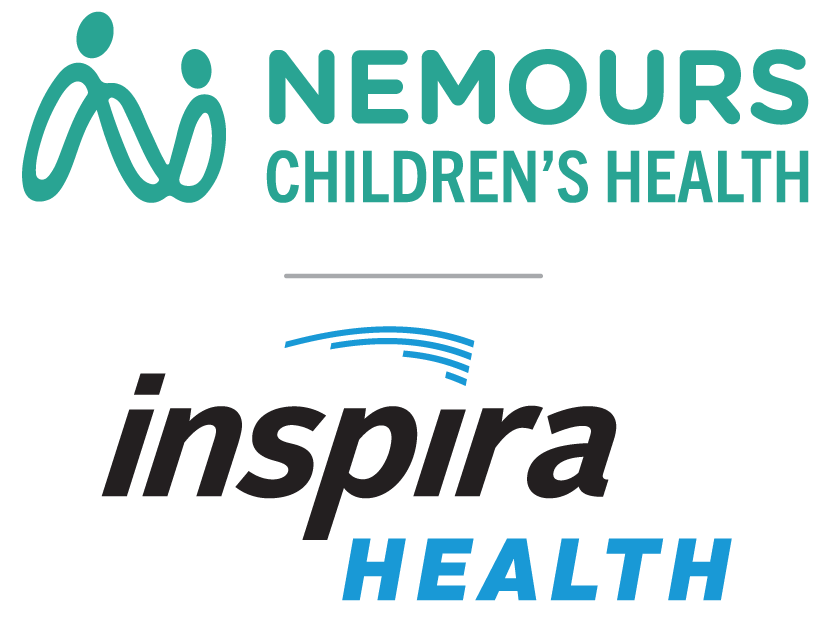 Accidents and illnesses can strike any time, and responsive, high-quality medical attention is crucial. Our emergency pediatric care services offer a warm, child-friendly environment designed to address urgent pediatric medical situations efficiently and precisely.
In partnership with Nemours Children's Health, nationally recognized for their pediatric specialty care, Inspira provides seamless, round-the-clock inpatient pediatric and emergency care for infants, children and adolescents as well as neonatal care for our youngest patients. Our team of emergency medicine physicians, specially trained nurses and pediatric specialists from Nemours Children's Health work together to provide immediate care for your child's medical needs. By working alongside Nemours
Children's Health pediatric hospitalists and collaborating with each child's primary care provider and specialists, we deliver timely, coordinated care and treatment.
three
Pediatric Care Services
Well-Child Care Visits
Well-Child Care Visits are regular appointments with a pediatrician to monitor your child's growth and development as well as identify any potential health issues early on. These visits typically include physical exams, screenings, developmental assessments and discussions about nutrition and safety.
Same-Day Sick Visits
Same-day sick visits offer prompt care when your child has an acute illness such as a fever, cough or infection. Pediatricians diagnose and explore treatment options during these appointments and may schedule a follow-up appointment.
Routine Immunizations
Routine immunizations ensure your child receives necessary vaccines at the recommended age to protect them from infectious diseases.
Additional Pediatric Care Services
Management of chronic illnesses
Monitor developmental milestones in growth, behavior and skills
Diagnosis and treatment of acute illnesses
Disease prevention counseling and patient education
Sports physicals and routine physicals for school
Preventive health care screenings
Referrals to pediatric specialists
What Sets Inspira's Pediatric Care Apart?
At Inspira, we understand that your child's needs change as they grow, which is why we offer a pediatric care experience that prioritizes their well-being at every stage of development. With a blend of expertise, empathy and innovation, we provide unwavering support throughout your child's health journey.
Our pediatric care is backed by a collaborative team of pediatricians, primary care providers and pediatric specialists, ensuring your child receives the highest level of care for all their needs. We believe in building long-lasting relationships with children and their families. Our patient-centered approach involves active communication, shared decision-making and personalized care plans tailored to your child's unique requirements. From preventive care, vaccinations and routine check-ups to specialized treatments and developmental assessments, our pediatric services offer comprehensive coverage for your child's health journey.
Pediatric Specialists
Inspira and Nemours Children's neonatologists, pediatricians and specialists provide care to children across South Jersey.