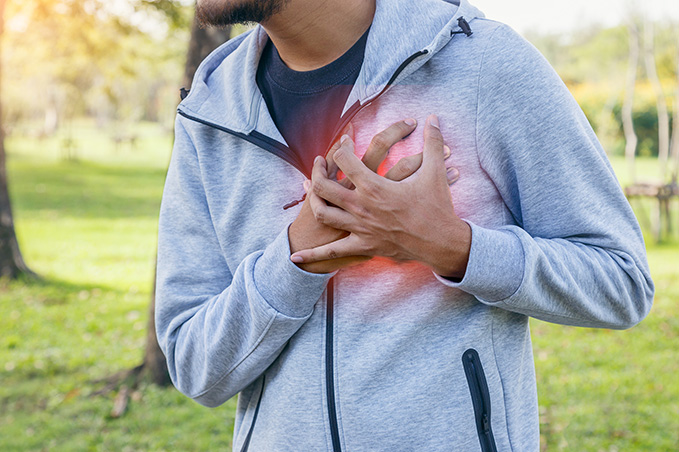 Men are twice as likely as women to have a heart attack during their lifetime, according to a study published in the Journal of the American Medical Association. There are many reasons why this may be true, including a greater occurrence of hypertension, diabetes, family history of heart disease, smoking and sleep apnea among men. While many risk factors for heart disease cannot be changed, knowing a patient's risk can help prevent or better manage heart issues.
Traditionally, the best way to judge a patient's risk for heart disease was through a stress test or an EKG. But now, with recent advancements in medicine, physicians can give an even more accurate prognosis for certain patients who may fall under a moderate risk category using a coronary calcium score test. 
How the Test Works 
The coronary calcium score test—given to both men and women—is a CT scan dedicated to detecting the levels of calcium in a patient's arteries. "Because this is a screening test, we use a low dose of radiation—just enough to allow us to see the tissue in and around the heart," said Robert Lazarus, M.D., a radiologist at Inspira Medical Center Mullica Hill. "Once we find the amount of calcium in each artery, an algorithm is applied to this data to determine a coronary calcium score." 
What Your Patient's Coronary Calcium Score Means 
A patient's coronary calcium score determines their 10-year risk level for developing heart disease. "Calcium scoring is perhaps one of the best prognosticating indicators for heart disease in patients who are young with a family history, as well as in people with diabetes over the age of 40. It outperforms other tests, like stress tests and EKGs, in terms of predicting disease," said Martin Scott Dawson, M.D., a cardiologist at Inspira Medical Center Mullica Hill. 
Patients are usually put into low, intermediate and high-risk categories for heart disease. The coronary calcium score test has the ability to reclassify about 50 percent of patients who are at intermediate risk, either placing them in the low or high-risk categories. "Knowing if a patient is high-risk allows us, as providers, to justify a preventive care plan dedicated to keeping their heart healthy—one involving medications, diet management and other healthy lifestyle changes," said Dr. Dawson. 
Two things to keep in mind when discussing the coronary calcium score test with your patients are: 
The test won't show a blockage and won't predict if your patient is going to have a heart attack in the near future
The test can't change a patient's prognosis—that is, it won't necessarily prevent heart disease, but it will give providers ammunition to take a more aggressive approach to care, including statin therapy and frequent monitoring
How to Support Your Male Patients 
Recommending a coronary calcium score test can encourage patients, especially male patients who may be less likely to go to regular checkups, to take care of their health before a major emergency occurs. "A straightforward 30-second, low-risk test can give us a very powerful outcome that changes the course of treatment for heart disease," said Dr. Dawson. 
Patients who can benefit from a coronary calcium score test include those who are: 
Between ages 35-50 and have a family history of heart disease, especially if a family member was diagnosed before age 50
Diabetic and over the age of 40 
Detecting heart disease early allows providers to better treat and manage the condition. For men with an elevated risk, this is especially important. Knowing what your patients' risk levels are can allow you to recommend cholesterol-lowering therapy, dietary changes and an increase in physical activity. 
Testing at Inspira Health 
As a fairly new technique for managing heart disease risk, the coronary calcium score test is not currently covered by many insurance companies; however, Inspira Health is dedicated to making sure that all patients have access to the preventive health care they need by offering a discounted out-of-pocket rate for testing. 
If you'd like to refer your patient to Inspira Health for a coronary calcium score test, call 1-800-INSPIRA.