Bringing Leading-Edge Cancer Care Close to Home
By John DiAngelo, Inspira Health President and CEO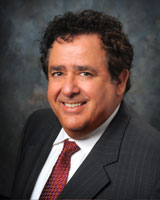 As part of our continued mission to provide high-quality health services that improve the lives of all we serve, we are excited to open our leading-edge Cancer Center at Inspira Medical Center Mullica Hill. The new cancer center is designed to offer patients with cancer a comfortable and state-of-the-art health care facility that's also close to home.

We know that dealing with cancer treatment can take a toll on both patients and their families, and our new cancer center is designed to make the process a little bit easier for everyone.

It was built with our community and our patients in mind. Cancer patients can see multiple physicians during one visit, and whenever possible, the patient stays in one exam room. Our physicians' offices are also in the same space to enhance opportunities for them to update and consult with each other.

Our treatment team is made up of board-certified and fellowship-trained physicians who specialize in specific cancers and treatments. Clinical trials and personalized medicine build individualized care plans supported by genetic testing and targeted therapies. We also offer all-inclusive support services, including access to cancer navigators, registered dietitians, genetic counselors, behavioral health specialists, physical therapists and other support staff. Everyone works collaboratively to provide streamlined, personalized care.

I'm happy to share that we will offer a wealth of wellness resources to our patients through our new partnership with Gilda's Club South Jersey, founded in memory of comedienne Gilda Radner. Through this organization, Inspira will be able to offer network-wide support services, healthy lifestyle workshops such as yoga and journaling, and education programs based on the latest cancer treatment information.

Patients receiving chemotherapy do so in an infusion center that was designed based on feedback from cancer survivors. We offer private rooms, rooms with space for families, and larger rooms for multiple patients—all with expansive views and some comforts of home. We know how time-intensive chemotherapy and other infusions can be; we want to make it as pleasant an experience as possible.

Of course, technology plays a huge role at the center, and we're excited to offer our patients the absolute latest in cancer care. Our imaging facilities offer the best technology for detecting lung, breast, prostate and other cancer types. Our radiation oncology services include two linear accelerators which can help to destroy cancer cells while saving healthy tissue around cancer cells. When surgery is needed, we offer minimally-invasive robotic-assisted surgery for certain types of cancer, which speeds recovery time and helps our patients get back to their lives.

Under the same roof, our patients will soon have access to an onsite retail pharmacy. A full spectrum of rehabilitation therapies is provided. Other amenities make getting care easier, such as family waiting areas, a tech bar, free valet parking and several dining and food options. The entire cancer center at Inspira Medical Center Mullica Hill was designed to combine the best technology, the brightest physicians and staff, and all of the comforts that let you and your family focus on helping you get better.

We're constantly striving to provide the best care possible to the residents of South Jersey.