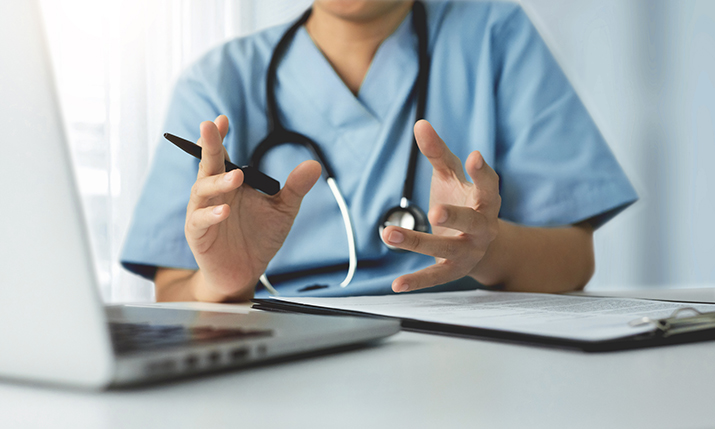 We've all felt the effects of the coronavirus pandemic over the past year and a half, especially as health care providers. Patients are experiencing care differently than ever before—through telehealth appointments, new safety protocols and fluctuating restrictions. And after a year of stress and anxiety, many patients are now seeking support for concerns with their weight. 
Here's how COVID-19 has affected bariatric care and how the patient journey has changed. 
Pandemic Behaviors 
The pandemic has had both positive and negative effects on patients who may need help with weight management. "Isolation, loneliness and depression were common early in the pandemic, which caused some to adopt unhealthy eating habits and abandon their exercise routines," said Bradee Rojas, M.S., R.D.N., bariatric program coordinator at Inspira Medical Center Mullica Hill. "While others used the new-found flexibility and time to work on self-improvement and lifestyle changes—putting them on the path to a healthier and happier life." 
For both those who found it hard to cope with the pandemic and those who found it liberating, weight management or bariatric surgery are great next steps in the journey to healthy living.
Opening Doors 
One positive change due to the pandemic was making weight management care available to more people with virtual appointments. "We adapted to meet the needs of our patients by making information sessions, support groups and other bariatric-related appointments virtual," said Keith Kreitz, M.D., F.A.C.S., director of bariatric surgery at Inspira Health. "Patients can now access us in many different ways without having to leave their homes. They can even take a virtual tour of the hospital, meet with dietitians or program coordinators and schedule appointments online." 
Access to virtual care also means patients can have a higher level of comfort when learning about their options for weight management. "Telehealth has opened the door to care for many patients. Some people are self-conscious about their weight or may not want to ask questions during an in-person information session. This way, they can be comfortable in their homes and may have more confidence to take that first step in caring for themselves and their health," said Rojas. 
In addition to virtual appointments, many people who previously worked in office settings have transitioned to remote work. This has afforded some patients the ability to finally get their bariatric surgeries, since they no longer need to take an extended leave from work for recovery. "The benefit of working from home is that people can recover effectively and comfortably while also still completing their day-to-day office work," said Rojas.
A Personal Touch 
Weight management and bariatric surgery start with lifestyle changes—aspects of patient care that are not always easy for a provider to track. "Telehealth appointments have allowed me and my team to see a slice of life for each patient we interact with," said Dr. Kreitz. "We get a glimpse into their lives that we would not have seen in the office, and it makes it easier for us to know how we can best support them in their weight management journey." 
It's also beneficial for dietitians to see what kinds of foods patients are eating. "People can open up their fridge and show us what they're working with," said Rojas. "It's almost like a home visit. We're interacting with patients like we've never been able to before. And it makes it easier for us to give them that personalized care."
The Inspira Health Difference  
At Inspira, patients have access to quality weight management and bariatric care from experienced providers online, as well as close to home. Some of the virtual benefits of bariatric care at Inspira include: 
GetWellNetwork app
Online scheduling 
Virtual information sessions 
Virtual support groups 
Telehealth consultation appointments
Online physician profiles 
Access to electronic medical records 
Virtual hospital tours 
Even throughout the pandemic, the bariatric team at Inspira never cut back on excellent standards of patient care and safety. It's important for providers to acknowledge patient concerns about the safety of health care facilities—COVID-19 has caused many to become wary of contracting the virus in clinical settings. But Inspira Health facilities are, and always have been, safe for patients. 
"We are safety-conscious and strive to fully educate every single one of our patients on their options for weight management," said Dr. Kreitz. "Whether patients are going through bariatric surgery or would like more information on medical weight loss without surgery, we're here to lead them through their journey. And even after surgery, we monitor patients for life so they can maintain their weight loss for as long as possible."
If you'd like to refer a patient to Dr. Kreitz and the bariatric team for weight management, call 1-800-INSPIRA.