Mullica Hill, NJ – Inspira Health announced today that it has administered its 100,000th dose of COVID-19 vaccine, bringing with it hope and demonstrating its commitment to vaccinate as many South Jersey residents as possible. The 100,000th vaccine was given to Joan Lentine, 75, from Hopewell Township in Cumberland County. This was Joan's first dose of the Pfizer vaccine.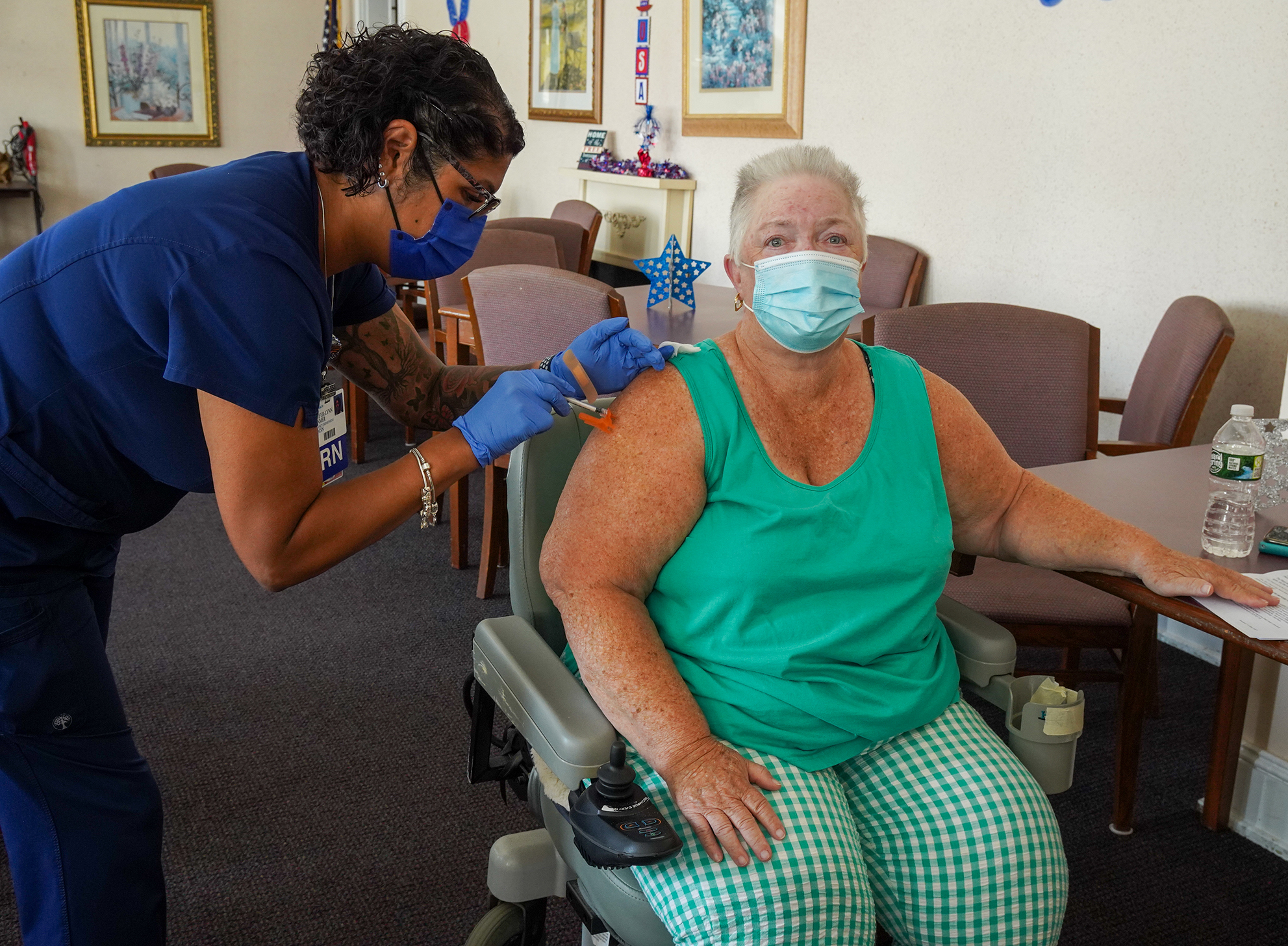 "The vaccination effort continues to be tremendously rewarding and we are thrilled to mark this major milestone," said Amy Mansue, President and CEO of Inspira Health. "By partnering with our communities, schools, places of worship and businesses, we have helped dramatically reduce the spread and impact of COVID-19 in our region. With 100,000 doses administered, we remain committed to making the vaccine easily available throughout the region."  
Inspira's focus has been and continues to be protecting the health of the community from COVID-19, and this milestone is an important step in that effort. Vaccination against COVID-19 prioritizes the safety of those around us by ensuring that we help stop the spread of a virus that can be a minor illness in some, or lead to severe disease or even death in previously healthy people. 
"I am very thankful that Inspira came here to provide the vaccination," said Joan Lentine. "While I was a bit hesitant to receive the vaccine, it's important to get vaccinated. You never know what's going to come along, and we need the vaccine to stay safe."
A tremendous amount of teamwork and coordination went into making vaccine administration possible at Inspira's hospital locations in Mullica Hill and Vineland, as well as on-site at various pop-up community clinics in nursing homes, schools, businesses and other locations.
To date, Inspira has administered at least one dose to more than 52,000 people, and approximately 48,000 second doses. Inspira Health welcomes walk-ins at their vaccination distribution sites on the medical center campuses in Vineland and Mullica Hill. For the most up-to-date information about Inspira's vaccine distribution program, visit InspiraHealthNetwork.org/Covid19. 
For more information about Inspira Health, please visit www.InspiraHealthNetwork.org or call 1-800-INSPIRA. To stay connected with Inspira announcements and work being done in the community, please join the conversation on Facebook and Twitter. 
About Inspira Health
Inspira Health is a charitable nonprofit health care organization and a regional leader in physician training, with approximately 160 medical residents and fellows in 10 nationally accredited specialty programs. The system, which traces its roots to 1899, comprises three hospitals, two comprehensive cancer centers, several multi-specialty health centers and a total of more than 150 access points. These include urgent care; outpatient imaging and rehabilitation; sleep medicine labs; cardiac testing facilities; digestive health and wound care centers; home care and hospice; and more than 35 primary and specialty physician practices in Gloucester, Cumberland, Salem, Camden and Atlantic counties.
Together with its medical staff of more than 1,300 physicians and other care providers, as well as more than 6,200 employees, Inspira Health provides evidence-based care to help each patient achieve the best possible outcome. Accredited by DNV Healthcare, the system's clinical and support staffs are focused on providing quality care in a safe environment. For more information about Inspira Health, visit www.InspiraHealthNetwork.org or call 1-800-INSPIRA.