Just weeks after opening a new hospital in Mullica Hill, Inspira Health cut the ribbon on a leading-edge cancer center that shares the same 100-acres near the intersection of Routes 55 and 322. The cancer center brings together medical, radiation and surgical oncologists, along with a full complement of support services. It will provide comprehensive experienced care with a dual focus on clinical excellence and providing an outstanding patient experience.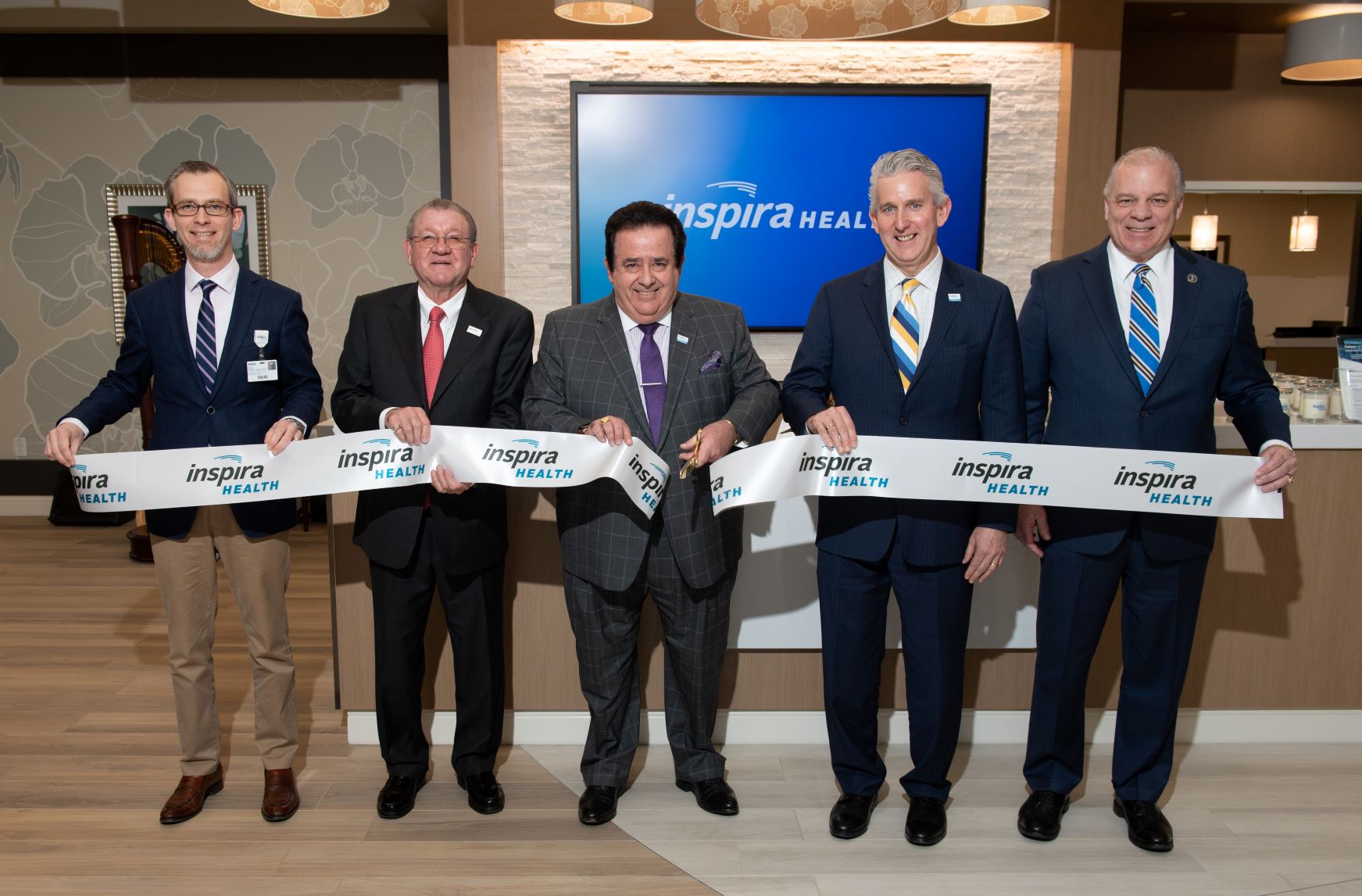 Click here for photos of ribbon cutting.
"We have been committed to reducing the burden of cancer on our community for decades," said John DiAngelo, president and CEO of Inspira Health. "With this state-of-the-art new cancer center, we bring together all the cancer care providers, services and programs to provide the greater Gloucester County community with exceptional oncology services. From education, prevention, detection and research, to treatment, support and survivorship, our new leading-edge cancer center will reduce the burden of cancer on the communities we serve."

The new Inspira Medical Center Mullica Hill Leading-Edge Cancer Center will expand the geographic scope of Inspira's cancer program in South Jersey. Inspira's Frank and Edith Scarpa Regional Cancer Pavilion in Vineland has provided the greater Cumberland/Salem County region with comprehensive cancer services since 2010. The cancer pavilion has been the hub of cancer research for Inspira and will continue to actively enroll patients in clinical trials. Inspira's formal cancer services date back to 1979 when the region's first cancer center opened in the old Millville Hospital.

The design of the new cancer center included recommendations from cancer patients and their loved ones. Their input was invited early in the process so it could be incorporated during the design phase.
"To ensure that we provide the best possible experience, we asked patients, "What would you like to see in our new cancer center?" said DiAngelo. "We then worked a number of their recommendations into the design. Our goal is to make the cancer journey as easy and comfortable as possible for our patients and their families."

Following the recommendations of patients, the new center offers multiple settings for receiving infusion therapy. Traditional private treatment bays, extra quiet private treatment rooms and a large shared treatment space are all available. A long table, affectionately referred to as the farm table, will promote socialization and comradery among patients and their caregivers who see each other regularly as their treatment schedules overlap. Even small details, such as the height of USB ports and where sinks should be located, were guided by recommendations from patients.

Inspira's leading-edge cancer center will bring the latest treatment options, including clinical trials, to the Mullica Hill campus. Patients and their physicians will have access to immunotherapy; targeted therapies, which seek and destroy specific tumor cells; chemotherapy and radiation therapy. Consultations with surgical oncologists will also take place in the cancer center, with surgical oncology procedures being performed in the adjoining hospital. Cancer risk assessments, a high-risk cancer program, genetic counseling and complimentary therapies will also be offered in the new center.

"This new center will enable the multidisciplinary cancer team that Inspira has assembled to provide the highest level of care, right here in the community," said Erev Tubb, M.D., medical director of the cancer program in Mullica Hill. "Having all of the specialists in one location will allow for more formal and informal collaboration among our clinicians and provide our patients with the ability to come here and see more than one specialist on a single visit. This will reduce the number of trips needed for their care."

Inspira has partnered with Gilda's Club to bring additional support and complementary services to the cancer center. Founded in memory of the late comedian, Gilda Radner, the club will provide services and resources in our patient and family resource center. Gilda's Club will provide onsite services, including facilitating weekly support groups and individual meetings to provide support and answers to newly diagnosed patients. They will also provide education resources, and help Inspira's cancer services team organize complementary services such as yoga, massage, art therapy and journaling.

"Gilda's Club enhances the high touch component of our philosophy," said Michelle Marshall, assistant vice president of Oncology Services. "We believe that a combination of high tech and high touch is the best approach when caring for our community. We are excited to welcome Gilda's Club to our new cancer center."

Since the earliest days, Inspira's cancer services have built a reputation of exceptional service and clinical excellence. Over the decades, the program has expanded to include a growing team of specialists and subspecialists, an active research program and valued support services. The new Mullica Hill cancer center marks a major expansion of Inspira's oncology services, allowing the health system to further reduce the burden of cancer for the communities of South Jersey.

For more information about Inspira Health, please visit www.InspiraHealthNetwork.org or call 1-800-INSPIRA. To stay connected with Inspira announcements and work being done in the community, please join the conversation on Facebook and Twitter. Inspira is proud to be the Official Health Care Partner of the Philadelphia Wings professional lacrosse team.
 
About Inspira Health
Inspira Health is a charitable nonprofit health care organization and a regional leader in physician training, with approximately 160 medical residents and fellows in nine nationally accredited specialty programs. The system, which traces its roots to 1899, comprises three hospitals, a comprehensive cancer center, several multi-specialty health centers and a total of more than 150 access points. These include urgent care; outpatient imaging and rehabilitation; sleep medicine labs; cardiac testing facilities; digestive health and wound care centers; home care and hospice; and more than 30 primary and specialty physician practices in Gloucester, Cumberland, Salem, Camden and Atlantic counties.

Together with its medical staff of more than 1,300 physicians and other care providers, as well as more than 6,000 employees, Inspira Health provides evidence-based care to help each patient achieve the best possible outcome. Accredited by DNV Healthcare, the system's clinical and support staffs are focused on providing quality care in a safe environment. For more information about Inspira Health, visit www.InspiraHealthNetwork.org or call 1-800-INSPIRA.