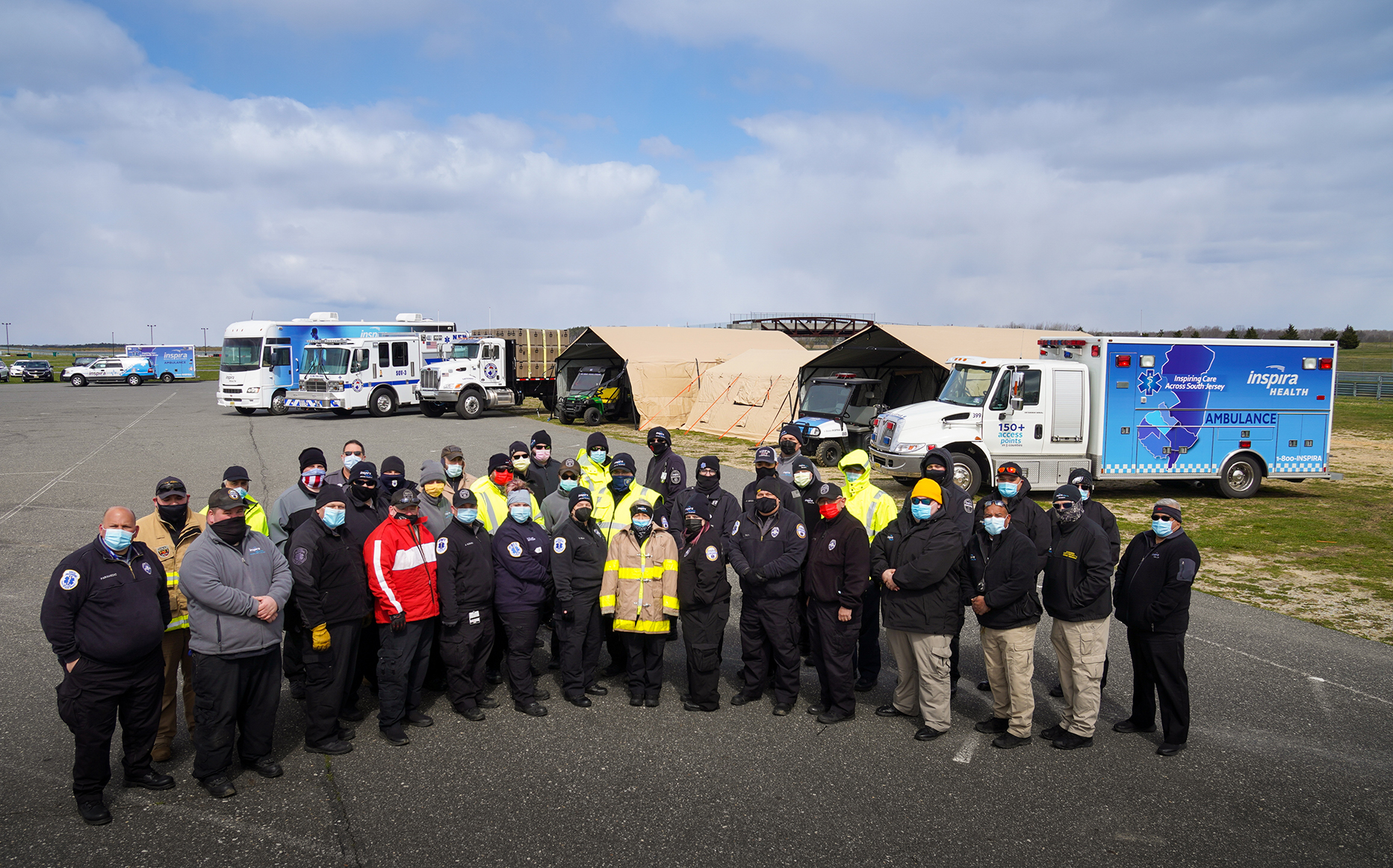 Millville, NJ – Inspira Health hosted training exercises last week with its emergency medical services (EMS) team following receipt of $1.3 million in new equipment. The acquisition was part of a $6.5 million grant from the CARES Act to expand the NJ EMS Task Force (NJEMSTF) teams' capabilities statewide to address pandemic-related responses. 
As a member agency of the NJ EMS Task Force since its inception, Inspira was awarded the new Special Operations Vehicle and corresponding gator, a flatbed truck with eight lanes of the DLX Rapid Deployment Tent System, and an Oxygen Generation Trailer, all of which were the impetus for, and part of last week's training exercise. Approximately 50 members of the Inspira EMS and Security teams participated in the training sessions, which included practicing setting up and taking downs modular tents, and driver training for the newly acquired vehicles. 
"Emergency preparedness is a core tenet of Inspira Health – and receiving this state-of-the-art equipment is an extension of that. This equipment ensures that Inspira and the NJEMSTF will be prepared at a greater scale for other emergencies and pandemics beyond COVID-19," said Brandon Bardowsky, vice president of Facilities at Inspira Health. "The commitment, fortitude and comradery that the Inspira EMS team displayed during the special operations training exercises makes me confident that we are better prepared for any unforeseen event that may occur."
Inspira was one of just a few organizations in the state awarded new equipment to be utilized in response to COVID-19. The assets received by Inspira EMS will be made available for deployment to the NJEMSTF when requested.
For more information about Inspira Health, please visit www.InspiraHealthNetwork.org or call 1-800-INSPIRA. To stay connected with Inspira announcements and work being done in the community, please join the conversation on Facebook and Twitter. Inspira is proud to be the Official Health Care Partner of the Philadelphia Wings professional lacrosse team. 

About Inspira Health
Inspira Health is a charitable nonprofit health care organization and a regional leader in physician training, with approximately 160 medical residents and fellows in 10 nationally accredited specialty programs. The system, which traces its roots to 1899, comprises three hospitals, two comprehensive cancer centers, several multi-specialty health centers and a total of more than 150 access points. These include urgent care; outpatient imaging and rehabilitation; sleep medicine labs; cardiac testing facilities; digestive health and wound care centers; home care and hospice; and more than 35 primary and specialty physician practices in Gloucester, Cumberland, Salem, Camden and Atlantic counties.
Together with its medical staff of more than 1,300 physicians and other care providers, as well as more than 6,200 employees, Inspira Health provides evidence-based care to help each patient achieve the best possible outcome. Accredited by DNV Healthcare, the system's clinical and support staffs are focused on providing quality care in a safe environment. For more information about Inspira Health, visit www.InspiraHealthNetwork.org or call 1-800-INSPIRA.