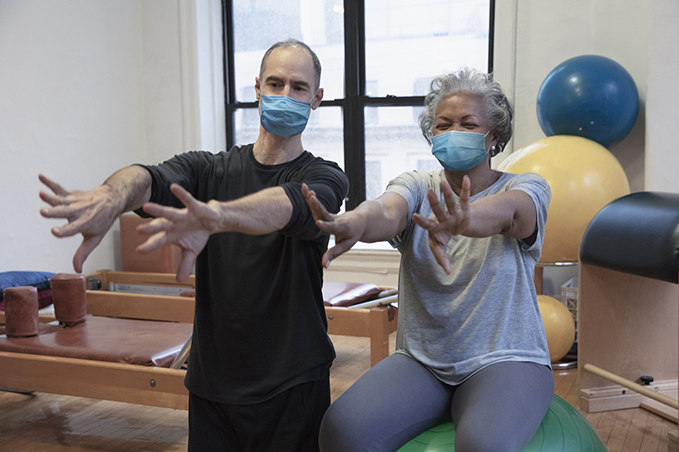 The benefits of physical therapy have long been known to aid in patient recovery, not just from musculoskeletal injury, but also from non-traumatic conditions. This Physical Therapy Awareness Month, Inspira Health and Inspira Rehabilitation Services are highlighting the critical role physical therapy plays in recovery from COVID-19. 
From balance issues to constant fatigue, many people overcoming the virus are dealing with lingering symptoms and struggling to get back to their normal lives. While both physicians and patients are still learning about the extended effects of COVID-19, Inspira has developed the COVID-19 Recovery Program—offering these "long hauler" patients an interdisciplinary approach to treatment. 
One of the most important components of the COVID-19 Recovery Program approach is physical therapy, which can treat a variety of long hauler symptoms such as balance issues, low back pain, deconditioning and other strength deficits. 
Long Hauler Symptoms 
Symptoms for COVID-19 can vary depending on the person, pre-existing conditions and the strength of the virus, but those presenting with the most severe and persistent long hauler symptoms are patients who required hospitalization. 
"Those who had a long stay in the ICU because of COVID-19 often come to us with significant strength deficits, balance issues, dizziness, vertigo, decreased endurance and an increased fall risk," said Chintan Patel, P.T., D.P.T., an outpatient physical therapist at Inspira Sports Rehab Care in Vineland, NJ. "We are also seeing patients develop acute back pain and nerve impingement issues that further restrict their functional mobility and decrease their overall quality of life."  
But even patients who didn't end up in the ICU can experience lingering symptoms from COVID-19. "People can feel very fatigued for a long time even after recovering from the virus," said Patel. "Walking short distances might cause them to get winded or feel tightness in their chest. Or they may not be able to perform their activities of daily living with ease, like they used to. These are some of the things physical therapy aims to fix."
Treating Symptoms with Physical Therapy 
It's important for COVID-19 long haulers to know there are treatments available for their lingering symptoms. The longer they wait to seek treatment, the more their symptoms are likely to worsen and result in a potential fall, injury or overall regression. The goal of the COVID-19 Recovery Program is to get people back to their normal activities of daily living—and outpatient physical therapy plays a critical role in this recovery process. 
Physical therapists work with patients to address their specific needs, but treatment can involve any or all of the following: 
Cardiovascular and endurance activities—such as cycling or walking on treadmill
Balance and proprioception training
Vestibular rehab
Transfers and gait training—getting from one place to another safely 
Manual therapy and strength training  
Home exercise program and safety awareness education
"We use individualized treatment plans to address the unique areas of need for each patient, whether they're worried about having the cardiovascular endurance to walk their dog again or are just struggling to stand in the kitchen and cook themselves dinner," said Patel. 
The Interdisciplinary COVID-19 Recovery Program
Inspira's COVID-19 Recovery Program allows providers to collaborate on individualized patient care, so you can be sure that your patients are getting the most comprehensive treatment plans for their symptoms.
"Services available through our program go beyond just physical therapy and include occupational therapy, speech therapy, balance testing, respiratory and lung function testing, cardiopulmonary rehabilitation and sleep studies," said Debbie Franceschini, M.S., P.T., C.L.T., director for Rehab Care at Inspira Health. 
In the COVID-19 Recovery Program, physical therapists may identify deficits best addressed by another specialist. Our interdisciplinary approach allows the team to easily connect patients with the appropriate provider. "For example, a speech language pathologist can evaluate and treat cognitive issues for long haulers who are experiencing brain fog, in addition to providing safe swallowing strategies, strengthening respiratory muscles for breathing, speaking and vocal loudness," said Franceschini.
The COVID-19 Recovery Program collaborative team members work in concert to ensure that your patients can get back to their normal lives as quickly as possible. 
To refer a patient in need of physical therapy to Inspira's Rehabilitation Services, call (856) 641-7875.  
To refer a patient struggling to fully recover from COVID-19 symptoms, call Inspira's COVID-19 Recovery Program at (800) 885-APPT.