$70 Million Facility Projected to Open January 2020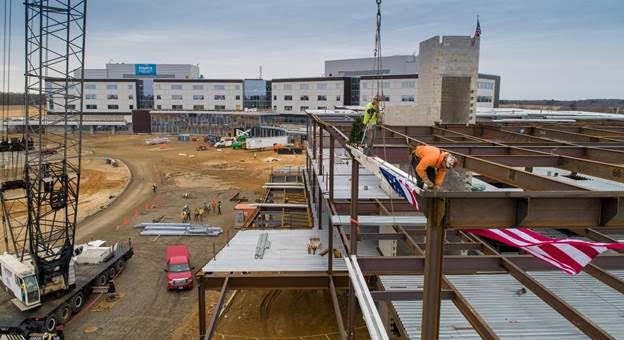 MULLICA HILL, NJ (February 8, 2019) — Inspira Health celebrated the installation of the final steel beam for its new Leading-Edge Cancer Center located on the campus of the future Inspira Medical Center Mullica Hill. The $70 million 100,000 square foot facility is projected to open in January of 2020.
The design of Inspira's Leading-Edge Cancer Center will provide patients with convenient one-stop access to comprehensive oncology services. By co-locating medical, radiation and surgical oncologists in one space, patients who need to see multiple specialists will be able to do so in one visit, in one location and possibly in the same exam room. Services will include radiation oncology, medical oncology and surgical oncology, as well as support services, including social work, nutrition counseling, and nurse navigation. Access to clinical trials and support groups will also be offered.

"We have conducted focus groups and external surveys to understand what is important to our patients when undergoing treatment," said John DiAngelo, president and CEO of Inspira Health. "From the warm and welcoming décor to the location of the coat hooks, every inch of Inspira's Leading-Edge Cancer Center is being designed with the patient experience at the forefront. We know that patient-centered care supports clinical excellence and leads to better patient outcomes, which is what matters most."

In addition to our Leading-Edge Cancer Center, this site will be home to a Medical Office Building with a variety of services including Cardiac Rehab, Physical Therapy and other Rehab Services, OB/GYN, Women's Imaging, Maternal Fetal Medicine, Pediatrics, Urology, Orthopedics, preadmission testing, lab draw services, and a retail pharmacy.
For more information about Inspira Health, please visit www.InspiraHealthNetwork.org or call 1-800-INSPIRA. To stay connected with Inspira announcements and work being done in the community, please join the conversation on Facebook and Twitter. Inspira is proud to be the Official Health Care Partner of the Philadelphia Wings professional lacrosse team.
About Inspira Health
Inspira Health is a charitable nonprofit health care organization and a regional leader in physician training, with approximately 160 medical residents and fellows in nine nationally accredited specialty programs. The system, which traces its roots to 1899, comprises three hospitals, a comprehensive cancer center, several multi-specialty health centers and a total of more than 150 access points. These include urgent care; outpatient imaging and rehabilitation; sleep medicine labs; cardiac testing facilities; digestive health and wound care centers; home care and hospice; and more than 30 primary and specialty physician practices in Gloucester, Cumberland, Salem, Camden and Atlantic counties.

Together with its medical staff of more than 1,100 physicians and other care providers, as well as more than 5,800 employees, Inspira Health provides evidence-based care to help each patient achieve the best possible outcome. Accredited by DNV Healthcare, the system's clinical and support staffs are focused on providing quality care in a safe environment. For more information about Inspira Health, visit www.InspiraHealthNetwork.org or call 1-800-INSPIRA.