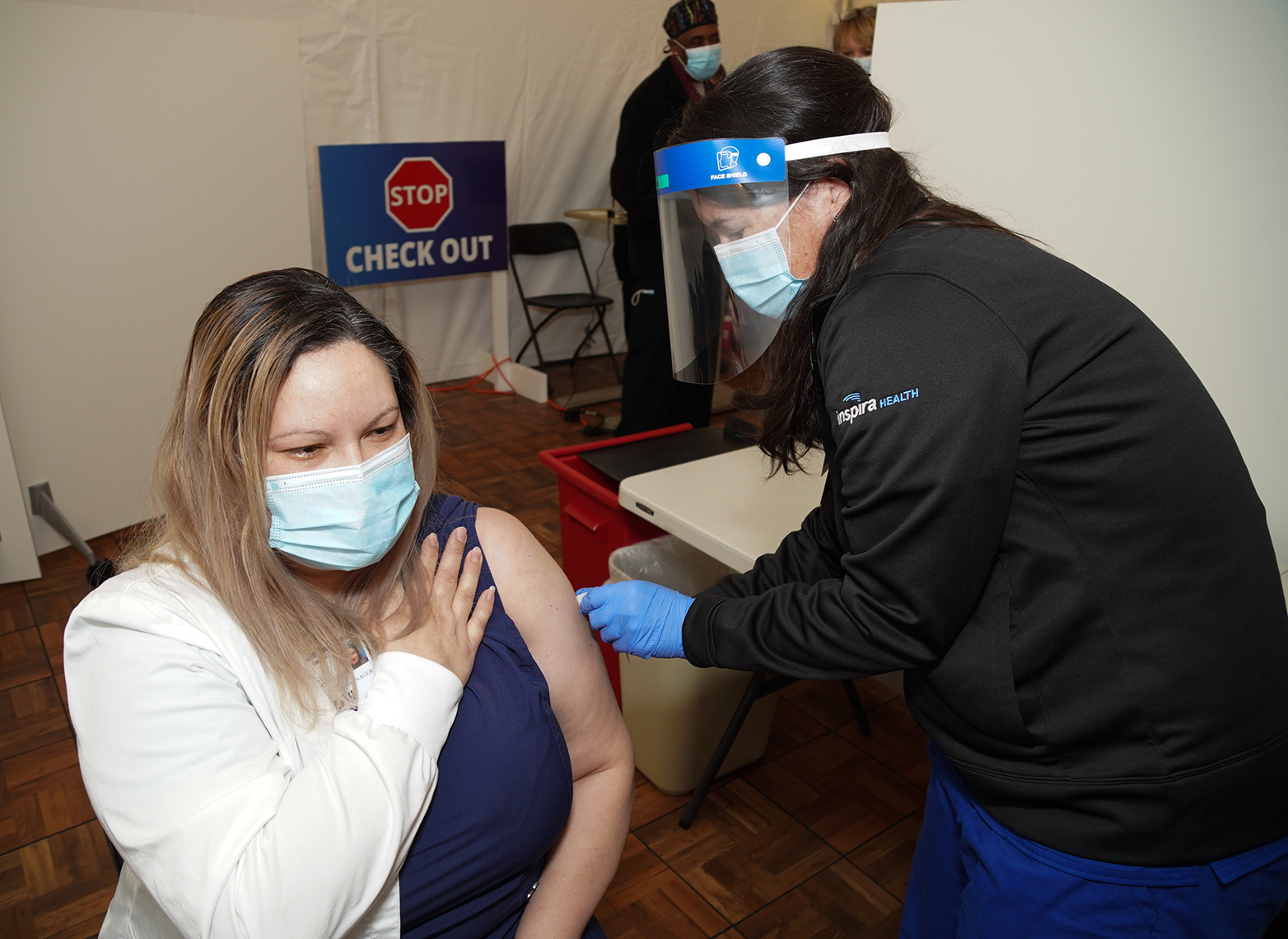 On Friday, Dec. 18, Inspira administered its first COVID-19 vaccine. We are actively prioritizing and scheduling vaccine appointments. Thanks to the New Jersey Department of Health, Inspira has received nearly 6,000 vaccine doses in its first shipment and recently received another 6,000 doses in its second shipment. As of Dec. 23, Inspira has vaccinated 2,225 workers.
Vaccine Prioritization
To ensure that people with the highest risk of exposure receive the limited number of vaccines, Inspira's COVID-19 vaccination program will use a phased approach:
Phase 1a: With a limited number of doses available, vaccines will go first to paid and unpaid personnel who are high-risk for exposure to COVID-19, and then to other essential workers. Previously COVID-positive staff can now receive vaccines sooner as well, if they have been cleared from their isolation period and are asymptomatic.
Phase 1b: Vaccines go to persons over the age of 75 and front-line essential workers. (NOTE: Essential workers in Phase1b are defined as first responders, firefighters, teachers, day care workers, food and agriculture workers, manufacturing workers, corrections workers, U.S. postal service workers, grocery workers and public transit workers.)
Phase 1c: Vaccines go to persons aged 65 to 70 and 16 to 64 with high-risk medical conditions, as well as other essential workers. (NOTE: Other essential workers in Phase 1c are defined as those who work in transportation, logistics, truckers, food service, shelter and housing, banking, information and technology, communications, energy/public works, media, legal, public safety engineers, water and wastewater.)
Phase 2: When more doses are available, vaccines will go to the remaining essential workers, critical populations and the general population—specifically those not covered in Phase 1c such as those with diabetes, morbid obesity, respiratory conditions and immunosuppressive disorders.
Phase 3: When there is a stable supply and demand, vaccines will shift into a routine distribution.
"This distribution is specific because we need to anticipate the side effects following the second dose. We know that some of our essential workers will need to take time off. But we cannot have entire departments being wiped out. That is why we are staggering these second doses," said Edward Dix, Director of Pharmacy at Inspira Medical Center Mullica Hill. 
Additional COVID-19 vaccines are likely to be approved by the FDA soon. But with a limited number of initial doses, Inspira has outlined a sub-prioritization plan based on risk of COVID-19 exposure:  
Vaccinators 
Emergency Departments
COVID-19 Units
Intensive Care Units
Identified Medical Staff
Surgical Services
Maternal Child Health
Respiratory
Security
Other Clinical Staff
Non-clinical Staff 
Vaccine Registration
Receiving your COVID-19 vaccine can be simplified into three steps: register, schedule and receive. "Inspira employees should have received an email with the registration link. After answering the prompts, a member of the COVID-19 Vaccine Scheduling Team will reach out to schedule their appointment date, time, and location," said Dix. "Finally, when their scheduled appointment time comes, they will arrive at the clinic site, check in and receive the first vaccine dose." 
After receiving the COVID-19 vaccine, each employee will be monitored for 15 minutes onsite, then schedule their second COVID-19 vaccine dose and receive a COVID-19 vaccination card, a vaccine EUA fact sheet and instructions on how to register for the CDC's new symptom monitoring program V-Safe. Supported on all smartphone devices, the CDC analyzes participants' data, such as how people feel each day following their injection and when they called out of work and publishes it to help build confidence in the vaccine. 
mRNA Vaccine Information 
"The vaccine types for COVID-19 are new, but not unknown. With no live virus and no risk of causing disease in the vaccinated person, the mRNA from the vaccine never enters the nucleus of the cell, nor does it interact with a person's DNA. Instead, the mRNA vaccine provides the blueprint for our cells to make the COVID-19 spike protein, which sparks a very robust development of immunity," said Dix. 
mRNA vaccines have been studied for over a decade. While the first human to receive an mRNA vaccine was in 2010 for HIV, mRNA technology was used in the development of a Zika vaccine that began human trials starting in August 2019. Sadly, the need to store these vaccines at a specific temperature has created barriers in the scientific world up until this point.
Additionally, it's worth noting there are no restrictions from either the FDA or the CDC regarding the vaccination of pregnant or breastfeeding women, and there is no evidence or reason to believe that the COVID-19 vaccines affect fertility. "While pregnant and breastfeeding women were not included or planned to be enrolled in the first round of COVID-19 vaccine clinical trials (both Pfizer-BioNTech or Moderna), there is some available evidence of use in some women who became pregnant in between the first and second dose of vaccine," said Dix. "In fact, maternal vaccination late during a pregnancy can help protect a newborn from potential deadly infections. Additionally, breastfeeding mothers can also pass antibodies through breast milk. Though we do not yet have data specific to COVID-19 and maternal vaccination, information from other respiratory disease vaccinations suggests newborn protection is likely."
The United States is home to 328 million people, and although tens of millions of people have had COVID-19, that is only 5 percent of the population—herd immunity can only be achieved when 60 to 70 percent of the population has COVID-19 immunity. And now, this can be achieved thanks to these vaccines. "These vaccines are the light at the end of the tunnel," said Dix. 
To learn more about Inspira's distribution process, or to learn more about special considerations for pregnant, breastfeeding persons or children 15 years of age and younger, go to www.inspirahealthnetwork.org/covid-vaccine or email COVIDvax@ihn.org.