MULLICA HILL, NJ (February 19, 2015) – Inspira Health Network was recently recognized as a Platinum-Level Fit-Friendly Worksite by the American Heart Association (AHA) for helping employees eat better and move more. The AHA also recognized Inspira with the only Community Innovation Award from New Jersey to Maine for the second consecutive year.

"We are honored and excited for our entire network to be recognized by the American Heart Association as a Platinum-Level Fit-Friendly Worksite," said John DiAngelo, president and CEO of Inspira Health Network. "Here at Inspira we are driven by a mission to improve the lives of all we serve and that mission begins at home with our employees."

The Fit-Friendly Worksites program is a catalyst for positive change in the American workforce by helping worksites make their employees' health and well-being a priority.
AHA representative Deborah VanSant presents the Community Innovation award to John DiAngelo, members of Inspira senior administration, and Bruce Willson and P.J. Ragone from the P.I.T. program.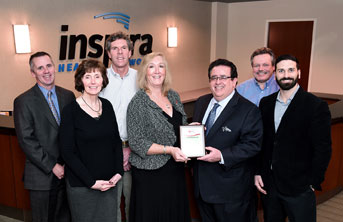 This year Inspira received the Community Innovation Award for its Performance Improvement Training (P.I.T.) program, which focuses on better performance and better living for children of all ages.

The program, based at Inspira Fitness Connection Vineland, began in 2010 to enhance performance, strength and life skills in the youth of the community through sport specific training and formative fitness for both the competitive and non-competitive athlete. Over the past year, from 2013 to 2014, the program had more than 150 children in the community participate and also worked with 3 local teams.
About the American Heart Association
The American Heart Association is devoted to building healthier lives, free of cardiovascular diseases and stroke. Our mission drives everything we do. To improve the lives of all Americans, we provide public health education in a variety of ways. We team with millions of volunteers to fund innovative research, fight for stronger public health policies, and provide lifesaving tools and information to prevent and treat these diseases. The Dallas-based association is the nation's oldest and largest voluntary organization dedicated to fighting heart disease and stroke. To learn more or join us, call 1-800-AHA-USA1 or any of our offices around the country, or visit heart.org.

About Inspira Health Network
Inspira Health Network is a charitable nonprofit health care organization formed in November 2012 by the merger of South Jersey Healthcare and Underwood-Memorial Hospital. The network, which traces its roots to 1899, now comprises three hospitals, four multi-specialty health centers and a total of more than 60 locations. These include outpatient imaging and rehabilitation centers; urgent care; numerous specialty centers, including sleep medicine, cardiac testing and wound care; home care and hospice; and more than two dozen primary and specialty physician practices in Cumberland, Gloucester and Salem counties.

Together with its medical staff of more than 1,100 physicians and other care providers, as well as more than 5,500 employees, Inspira Health Network provides evidence-based care to help each patient achieve the best possible outcome. Clinical and support staffs are focused on providing quality care in a safe environment. For more information about Inspira Health Network, call 1-800-INSPIRA.