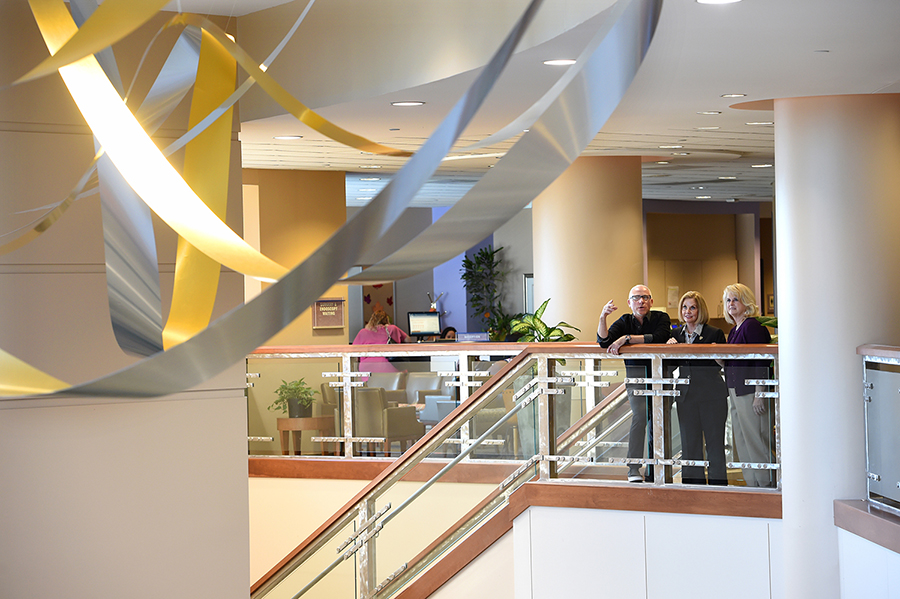 CUMBERLAND COUNTY, NJ (October 24, 2016) – Local artist, Richard Monteleone has created and donated a sculpture made of more than 600 feet of twisted aluminum to Inspira Medical Center Vineland. The sculpture titled Illumination, is now suspended over the medical center's 2,000 square-foot lobby where approximately seven hundred to eight hundred visitors pass by each day.

The intent of the sculpture is to provide a visually inspiring and peaceful respite to visitors at the medical center, but the inspiration behind the creation of Illumination is much deeper.
Earlier this year, Mr. Monteleone's mother was admitted to Inspira Vineland. Shortly after she was discharged, his father became ill and spent more than 40 days at Inspira Vineland before recovering and finally returning home. After countless hours spent in the hospital by his parent's sides, Mr. Monteleone became inspired to give something back for future visitors to enjoy at Inspira.
When asked about the donation, Mr. Monteleone responded, "The moment I walked into Inspira's lobby I was immediately inspired by the vast open space. After several visits, observation, and reflection, I realized that I must donate a sculpture to that space. My goal was to create a dynamic and unique vibrational dialogue with the architecture. This sculpture is about expansion, light, space, and energy. It is my desire that the piece will promote healing, expansion, and reflection to all."
The sculpture's curving and twisting design provides a beautiful contrast to the modern architectural structure of the two-story high lobby. As the changing sunlight hits the aluminum throughout the day, its gold and silver accents shine for all to see from both the main lobby and the second floor waiting room balcony.

"We are so pleased to have such a stunning and meaningful sculpture for patients and visitors to enjoy from our lobby as well as our surgical waiting area," said Elizabeth Sheridan, R.N., M.A., chief operating officer of Inspira Medical Center Elmer and Vineland. "Also, for our physicians, nurses and staff, it will serve as inspiration and a reminder of the positive impact they have on the lives of our patients and their families."  

"I am thrilled to have a little part in this great addition to our medical center," said Carolyn Heckman, vice president of Community Relations at Inspira. "We are looking forward to honoring Richard with a plaque placed in the medical center's lobby."

For more information about Richard Monteleone, visit www.richardgmont.com.
About Richard Monteleone
Richard Gerald Monteleone is a Senior Adjunct Professor at Atlantic Cape Community College and working visual artist. He holds a Bachelors of Fine Arts from The University of The Arts, Philadelphia, PA and a four year Certificate of Fine Arts from The Pennsylvania Academy of Fine Arts, Philadelphia, PA. In addition, he is the Artistic Director of The Community Center for The Arts, Inc. It is Richard's continued pursuit and vision to use art as a vehicle for personal growth, self-awareness and reflection, along with using his art in a meaningful context to help connect people and space. Richard believes,* "When art is shared in public space it has a responsibility beyond aesthetics. In public space, art does not stand alone as a single focus, rather it engenders a dialogue with architecture, people, and environment; Art in public space should be apparent and transparent simultaneously."*

About Inspira Health Network
Inspira Health Network is a charitable nonprofit health care organization serving communities across southern New Jersey. The network, which traces its roots to 1899, comprises three hospitals, a comprehensive cancer center, several multi-specialty health centers and a total of more than 100 access points. These include urgent care; outpatient imaging and rehabilitation; numerous specialty centers, including sleep medicine, cardiac testing, digestive health and wound care; home care and hospice; and more than 30 primary and specialty physician practices in Gloucester, Cumberland, Salem and Camden counties.

Together with its medical staff of more than 1,100 physicians and other care providers, as well as more than 5,700 employees, Inspira Health Network provides evidence-based care to help each patient achieve the best possible outcome. Accredited by DNV Healthcare, the network's clinical and support staffs are focused on providing quality care in a safe environment. For more information about Inspira Health Network, visit www.InspiraHealthNetwork.org or call 1-800-INSPIRA.