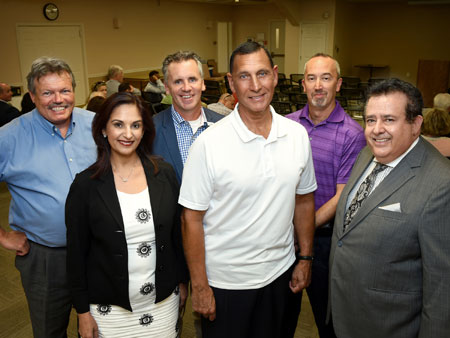 CUMBERLAND COUNTY, NJ (August 3, 2016) – New Jersey Congressman Frank LoBiondo visited Inspira Medical Center Vineland on Monday, August 1 where he spoke with a group of the network's executives and directors on national issues and the health care environment. Pictured: Congressman LoBiondo (center) with Inspira's executive management team (left to right): Erich Florentine, senior vice president and chief people officer, Alka Kohli, M.D., executive vice president and chief population health and clinical officer, Todd Way, executive vice president of operations, Tom Baldosaro, executive vice president and chief financial officer, and John DiAngelo, president and CEO.
 
About Inspira Health Network
Inspira Health Network is a charitable nonprofit health care organization serving communities across southern New Jersey. The network, which traces its roots to 1899, comprises three hospitals, a comprehensive cancer center, several multi-specialty health centers and a total of more than 100 access points. These include urgent care; outpatient imaging and rehabilitation; numerous specialty centers, including sleep medicine, cardiac testing, digestive health and wound care; home care and hospice; and more than 30 primary and specialty physician practices in Gloucester, Cumberland, Salem and Camden counties.

Together with its medical staff of more than 1,100 physicians and other care providers, as well as more than 5,700 employees, Inspira Health Network provides evidence-based care to help each patient achieve the best possible outcome. Accredited by DNV Healthcare, the network's clinical and support staffs are focused on providing quality care in a safe environment. For more information about Inspira Health Network, call 1-800-INSPIRA.