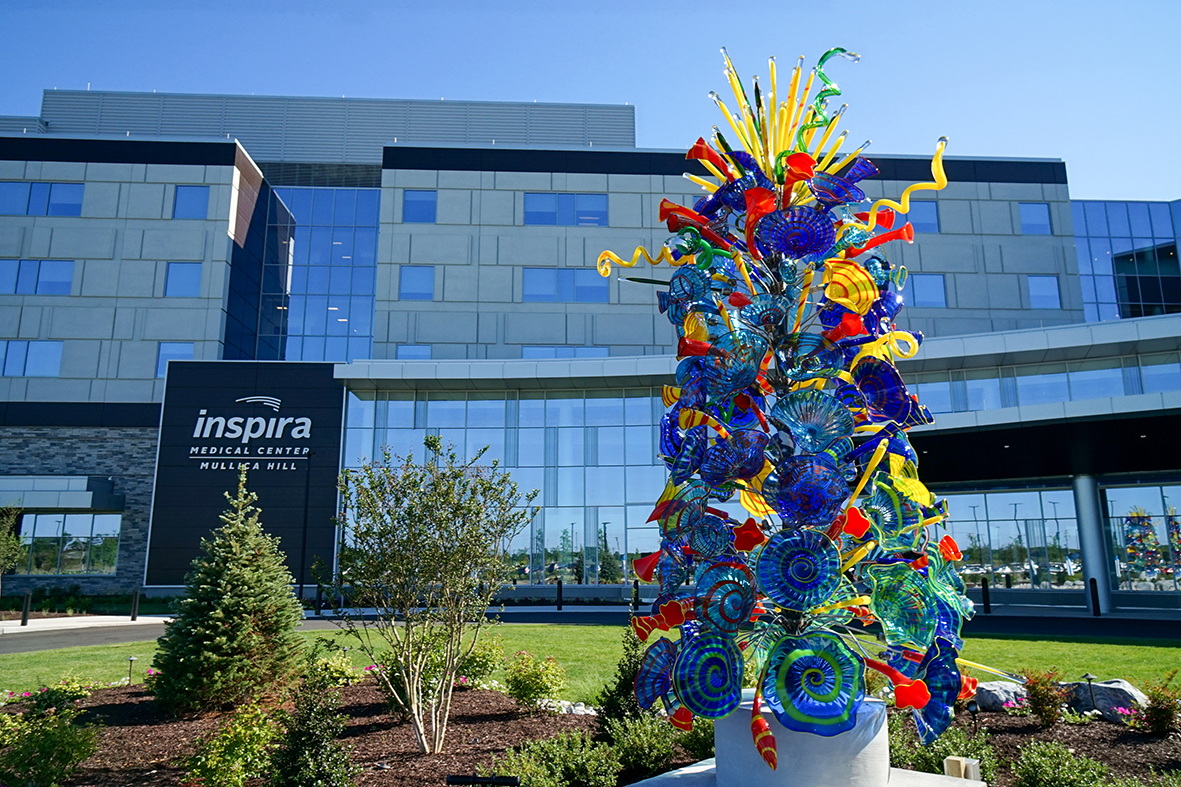 Mullica Hill, NJ – The glass sculpture, "Carnivale Grande," displayed on the front lawn of Inspira Medical Center Mullica Hill was officially dedicated today to the Inspira health care heroes for their care of COVID-19 patients.   
Peter Galetto, Jr., the creator of the piece, and his wife Jane donated this sculpture and requested that it be dedicated to the Inspira staff for their tireless efforts caring for those afflicted with the COVID-19 virus in our community. 
Ron Rossi, chair of the Inspira network board, welcomed the 50 guests at the outdoor event hosted by the Inspira Foundation and shared how the idea evolved. 
"Jane and Peter had already committed to donate the glass sculpture, 'Journey to a Better Life' for the new hospital's lobby.  Even before that piece was complete, we asked Peter if he would design a glass tree for the front lawn garden," said Rossi.  "I could just imagine how his art, showcased in this prominent location, would complete the distinction of our new hospital.  It is magnificent."
The "Carnivale Grande," named for Italian festivals, took 550 hours to create, with each one of the 200 individual pieces taking more than an hour to make. The Galettos, residents of Millville, supported by a dedicated corps of volunteers, then assembled the sculpture onsite over two days in mid-June.  
"I couldn't be more pleased to accept this extraordinary gift on behalf of the entire Inspira family," stated Amy Mansue, president & CEO, Inspira Health. "The Galettos' legacy of support is truly inspiring.  Our residents and clinicians practice their diagnostic skills in The Jane and Peter Galetto, Jr. Simulation Center at Inspira Medical Center Vineland.  Visitors to Inspira Mullica Hill can't help but be awed by the beautiful 'A Journey to A Better Life' glass sculpture hanging from the lobby's ceiling.  Peter has generously given of his time by serving on the network board for many years. Their contributions of time, talent and treasures make such a positive impact at Inspira."
For more information about Inspira Health, please visit www.InspiraHealthNetwork.org or call 1-800-INSPIRA. To stay connected with Inspira announcements and work being done in the community, please join the conversation on Facebook and Twitter. Inspira is proud to be the Official Health Care Partner of the Philadelphia Wings professional lacrosse team. 

About Inspira Health
Inspira Health is a charitable nonprofit health care organization and a regional leader in physician training, with approximately 160 medical residents and fellows in nine nationally accredited specialty programs. The system, which traces its roots to 1899, comprises three hospitals, two comprehensive cancer centers, several multi-specialty health centers and a total of more than 150 access points. These include urgent care; outpatient imaging and rehabilitation; sleep medicine labs; cardiac testing facilities; digestive health and wound care centers; home care and hospice; and more than 30 primary and specialty physician practices in Gloucester, Cumberland, Salem, Camden and Atlantic counties.
Together with its medical staff of more than 1,300 physicians and other care providers, as well as more than 6,200 employees, Inspira Health provides evidence-based care to help each patient achieve the best possible outcome. Accredited by DNV Healthcare, the system's clinical and support staffs are focused on providing quality care in a safe environment. For more information about Inspira Health,  www.InspiraHealthNetwork.org or call 1-800-INSPIRA.