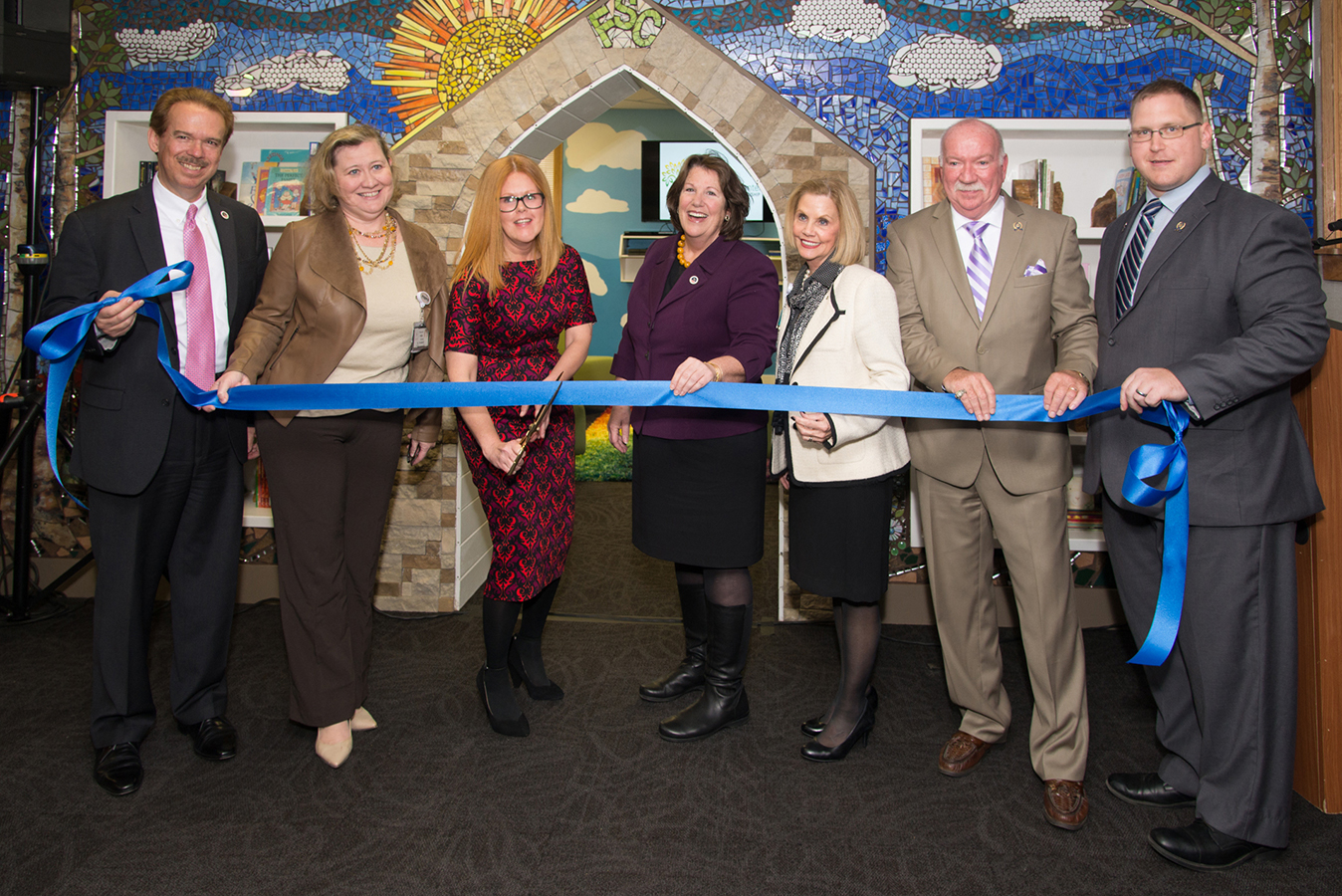 Friday, November 25, 2016 - Laurel Lake families who are looking for assistance with just about anything have a new place to turn for help. The Family Success Center of Commercial Township's new Laurel Lake location offers a variety of services and programs that connect area families with community resources ranging from housing and legal assistance to help obtaining household items and food. 
The official opening of the center was marked with a ribbon cutting ceremony on Tuesday, November 22, with local families, the New Jersey Department of Children and Families, local elected officials, and Inspira Health Network administrators and staff. 

Family Success Centers are community-based, family-centered, neighborhood gathering places where any community resident can go for family support, information and services. Funded by the New Jersey Department of Children and Families, Family Success Centers are designed to enrich the lives of children by strengthening families and neighborhoods; provide integrated, locally-based services; reduce isolation and promote connections among family and community; and provide services in a warm and welcoming environment.

"From the very beginning, we recognized that to build a comprehensive and holistic system of care that supports families, we needed to provide a means to reach and deliver services to families where they live," said Allison Blake, Ph.D., L.S.W., Commissioner of the New Jersey Department of Children and Families. "Ten years and fifty-five Family Success Centers (FSCs) later, with three more FSCs underway, we have been able create a system that lifts up families and provides them the tools to succeed. It's not only inspiring, but it's powerful!"
Services provided at the center may include:
Connections to community resources
Family enrichment activities and workshops
Professional and personal goal setting and planning
Nutrition, health and wellness classes
Financial planning and budgeting
Access to computers, fax, telephone and more
"Over the past four years at our center in Port Norris, community members and staff have come together and become a family," said Kimberly Friddell, executive director of Inspira's IMPACT Programs. "Now here we are, with a second location in Commercial Township and we couldn't be more proud. I know I speak for all of our staff when I say how much we look forward to being a part of the community for a long time to come." 
With the opening of the new Laurel Lake center, Inspira Health Network now operates three Family Success Centers in Cumberland County including locations in Port Norris and Vineland. Each center provides a range of resources and programs customized to the specific needs of each community. 

The Family Success Center of Commercial Township-Laurel Lake is located at 2009 Spring Garden Road, Millville, NJ 08332. For more information about the center, please call (856) 413-5494.
About Inspira Health Network
Inspira Health Network is a charitable nonprofit health care organization serving communities across southern New Jersey. The network, which traces its roots to 1899, comprises three hospitals, a comprehensive cancer center, several multi-specialty health centers and a total of more than 100 access points. These include urgent care; outpatient imaging and rehabilitation; numerous specialty centers, including sleep medicine, cardiac testing, digestive health and wound care; home care and hospice; and more than 30 primary and specialty physician practices in Gloucester, Cumberland, Salem and Camden counties.

Together with its medical staff of more than 1,100 physicians and other care providers, as well as more than 5,700 employees, Inspira Health Network provides evidence-based care to help each patient achieve the best possible outcome. Accredited by DNV Healthcare, the network's clinical and support staffs are focused on providing quality care in a safe environment. For more information about Inspira Health Network, call 1-800-INSPIRA.