Inspira Health+ provides opportunity for safe recovery at home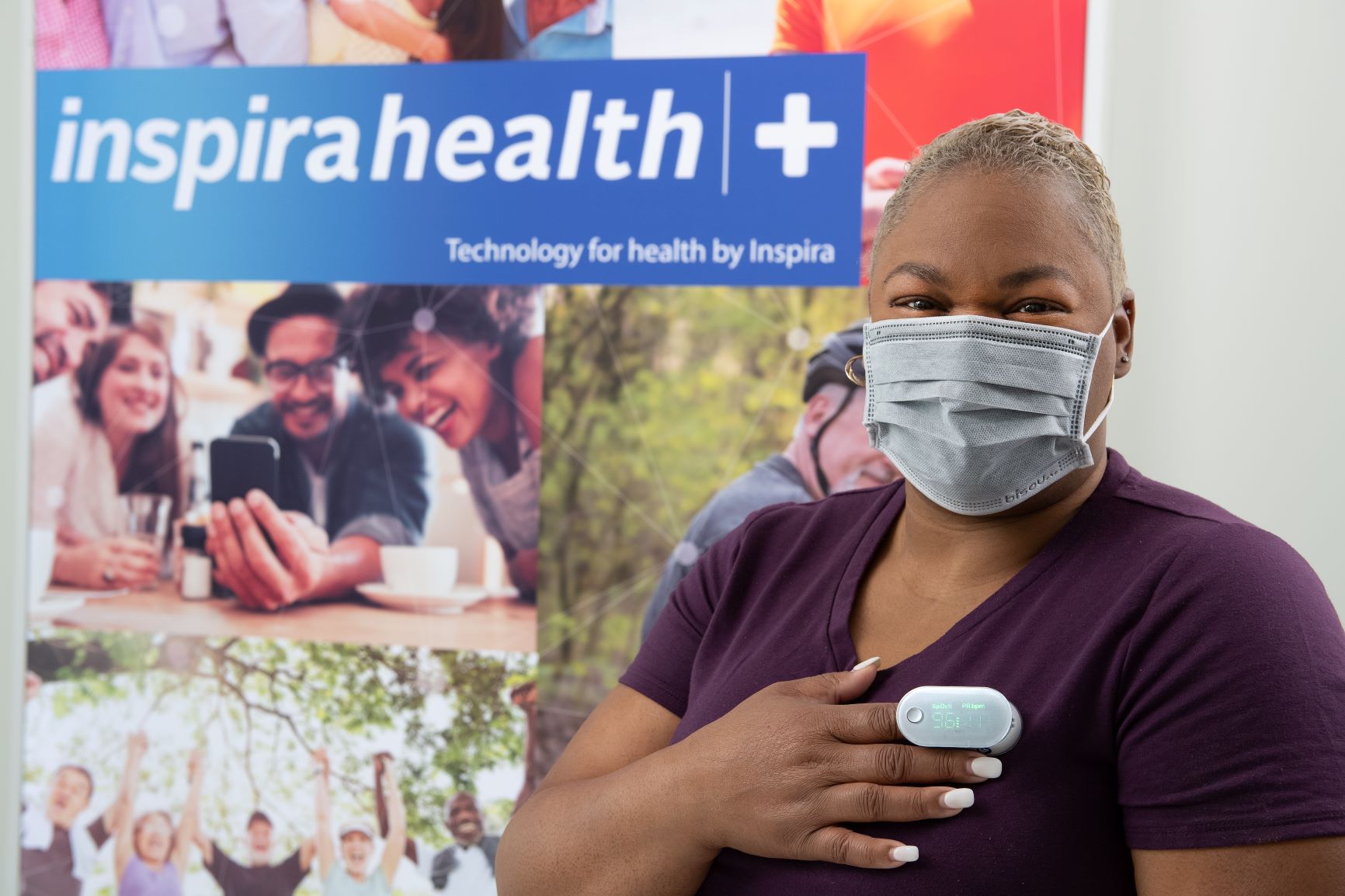 Yvette Thomas of Deptford counts herself among the hundreds of thousands of Americans who have been hospitalized with COVID-19 but feels grateful her hospital stay was limited to 10 days. As a registered nurse, she understands it could have stretched on for twice as long had she not been at Inspira Medical Center Mullica Hill, which offers an innovative home monitoring system.
 
Known as Inspira Health+ Technology-assisted Care Management, the program provides around-the-clock monitoring and personalized health actions to help people recover safely at home. For Thomas, Health+ provided a wireless pulse oximeter that she slipped on her finger three times a day to measure her blood oxygen level. Her results were automatically transmitted to the Inspira Health+ monitoring center where a team of nurses reviewed them in real time. When test results were out of range, a nurse contacted her directly or reached out to her physician for guidance.  
 
Almost universally, patients who require oxygen therapy for acute or non-chronic conditions, such as COVID-19, have been kept in the hospital until they could be weaned. The monitoring program, and a relaxing of federal regulations during the pandemic, allowed Thomas to be discharged and safely recover at home while still using supplemental oxygen. Without Health+, Thomas likely would have spent an additional 10 days or so in the hospital. She continued to use oxygen at home for more than two months.  
 
"I was grateful that I was able to recover at home; that there were tools out there that allowed me to do that," said Thomas. "If there were figures [test results] that didn't add up, they [the nurses] were on the phone right away. They were up on everything."
 
It was late March when Thomas began to feel ill, but the coronavirus was not on her mind. At that time, the number of cases in South Jersey was still quite low. 
 
After a week of worsening symptoms, including shortness of breath and dizziness, she went to the emergency department at Inspira Medical Center Mullica Hill. She was admitted on April 5th and seen daily by Inspira Medical Group pulmonologist Gregory Breen, M.D. 
 
"He was there. He was in my room every single day," Thomas recalled.
"He even saw me on Easter."
 
Dr. Breen also diagnosed Thomas with a potentially life-threatening pulmonary embolism, believed to be a complication related to COVID-19. He also ordered tests to rule out the possibility of other blood clots in her body. 
 
"I had some of the best medical professionals taking care of and looking out for me. If they weren't looking out for me, it could have gone the other way," said Thomas. "Honestly, I love the new hospital. I love the technology…everyone was kind and courteous, which can be hard to do during a pandemic when everybody's nerves are fried."
 
Thomas also credits her 22-year-old son, De'Anthonee, for her successful recovery. To be eligible for the home monitoring system, a patient should have someone who can help take care of them at home. At times during her recovery, Thomas found it difficult to walk more than a few feet, carry anything or use the stairs. Walking from one room to another could raise her heart rate to 140 beats per minute or higher. She described her son's assistance as "truly a blessing."
 
Small acts of kindness, like receiving a red Gatorade from a nurse, also left a lasting impression on Thomas. Most beverages didn't taste good because the coronavirus had caused her to lose her sense of smell. 
 
"Soda didn't taste right. It took a good two months for that to come back," Thomas explained. "I was dying for a red Gatorade and one of my nurses brought me one when she came in for her shift. I was so excited, I almost threw myself into respiratory distress."
 
One bottle of red Gatorade might seem like a small gesture, but to Thomas it exemplified the compassionate and personal approach of her care team. 
 
"I am forever grateful that it [the new hospital] was in place for someone like me," said Thomas.
Inspira Health President and CEO Amy Mansue believes that Inspira Medical Center Mullica Hill was built for Yvette Thomas, and every member of the community it serves. 
"We are here to provide exceptional safe care to our neighbors and friends throughout South Jersey," said Mansue. "It's really that simple."