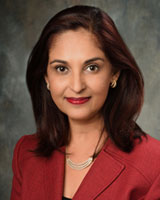 MULLICA HILL, NJ (May 12, 2016) – Inspira Health Network has appointed Alka Kohli, M.D., M.B.A., to serve as executive vice president and chief population health and clinical officer for the South Jersey-based health system.
"We are very pleased to have Dr. Kohli join our executive leadership team," said John DiAngelo, president and CEO of Inspira. "This is a time of great transformation in health care and her experience and expertise in ¬¬¬clinical quality and community health make her the ideal person to help lead the way."

In her role at Inspira, Dr. Kohli will focus on supporting the network's mission to improve the lives of all community members. She will champion innovative clinical strategies to improve population health, and enhance quality and the patient experience. Additionally, her efforts will include reducing the cost of care for families across the region.

"This is a dynamic era in health care and we must accordingly reevaluate the status quo," said Dr. Kohli. "I am excited to join Inspira's progressive and dynamic leadership team and I look forward to working together to redefine the way we provide care for our communities, improve transparency and accountability, as well as improve care coordination."

Prior to joining Inspira, Dr. Kohli served as senior vice president and chief medical officer at Virtua. In previous roles she served as vice president of Medical Affairs, medical director of Operations and as chief of the Department of Obstetrics and Gynecology.

Dr. Kohli received her Bachelor of Science in Biological Sciences and Chemistry from the University of Denver. She subsequently attended medical school at the University of Colorado, School of Medicine and completed residency training in obstetrics and gynecology at Indiana University Medical Center. In 2014, Dr. Kohli earned an Executive Master of Business Administration degree from St. Joseph's University's Haub School of Business. In addition, she maintains board certification in obstetrics and gynecology.
About Inspira Health Network
Inspira Health Network is a charitable nonprofit health care organization serving communities across southern New Jersey. The network, which traces its roots to 1899, comprises three hospitals, a comprehensive cancer center, several multi-specialty health centers and a total of more than 100 access points. These include urgent care; outpatient imaging and rehabilitation; numerous specialty centers, including sleep medicine, cardiac testing, digestive health and wound care; home care and hospice; and more than 30 primary and specialty physician practices in Gloucester, Cumberland, Salem and Camden counties.

Together with its medical staff of more than 1,100 physicians and other care providers, as well as more than 5,700 employees, Inspira Health Network provides evidence-based care to help each patient achieve the best possible outcome. Accredited by DNV Healthcare, the network's clinical and support staffs are focused on providing quality care in a safe environment. For more information about Inspira Health Network,call 1-800-INSPIRA.