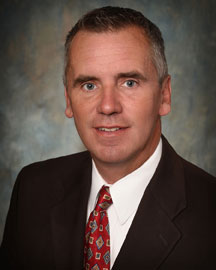 MULLICA HILL, NJ (October 28, 2014) – Inspira Health Network recently appointed two new members to its senior leadership team, including Todd Way as executive vice president of Operations for the network, and Matthew Doonan as in-house general counsel.
"Over the past two years Inspira Health Network has grown tremendously, adapting to the rapidly changing health care environment," said John DiAngelo, Inspira Health Network president and CEO. "Todd and Matt bring a wealth of knowledge and experience in their respective fields and are great additions to our senior team. Their leadership will be of tremendous value to our network as we continue on through our next phase of growth and vitality."
Way joins Inspira with more than 30 years of experience in health care. Prior to joining Inspira, he served as senior vice president of Regional Operations for Valley Health in Winchester, Virginia where he oversaw operations for the system's six hospitals. During his tenure with Valley Health, Way also held positions over both corporate and ancillary services. 
Way earned a Bachelor of Science in Pharmacy from West Virginia University, followed by a Master of Science in Health Administration from Virginia Commonwealth University's Medical College of Virginia. In his role at Inspira, Way will oversee operations for the network's hospitals, health centers and various outpatient services, with the goals to advance the network's strategic growth and maintain its fiscal responsibility.
Prior to joining Inspira, Doonan served as in-house counsel at CHE Trinity Health, the nation's second largest non-profit health care system. He also served as in-house counsel for The Cooper Health System in Camden. Doonan has more than 10 years of health law experience and, prior to practicing in-house in the health care setting, he practiced privately at the Parker McCay law firm in Mt. Laurel
Doonan studied law at Rutgers University School of Law in Camden and received his undergraduate degree from Loyola College in Maryland. He is licensed to practice in New Jersey, Pennsylvania and New York. At Inspira he will be responsible for the overall direction, leadership and executive management of legal affairs. He is transitioning into the role currently held by Robert D'Angel, Esq. who will be retiring at the end of the year.
About Inspira Health Network
Inspira Health Network is a charitable nonprofit health care organization formed in November 2012 by the merger of South Jersey Healthcare and Underwood-Memorial Hospital. The network, which traces its roots to 1899, now comprises three hospitals, four multi-specialty health centers and a total of more than 60 locations. These include outpatient imaging and rehabilitation centers; urgent care; numerous specialty centers, including sleep medicine, cardiac testing and wound care; home care and hospice; and more than two dozen primary and specialty physician practices in Cumberland, Gloucester and Salem counties.
Together with its medical staff of more than 1,100 physicians and other care providers, as well as more than 5,500 employees, Inspira Health Network provides evidence-based care to help each patient achieve the best possible outcome. Clinical and support staffs are focused on providing quality care in a safe environment. For more information about Inspira Health Network, call 1-800-INSPIRA.