New facility will help start the road to recovery for local residents struggling with addiction.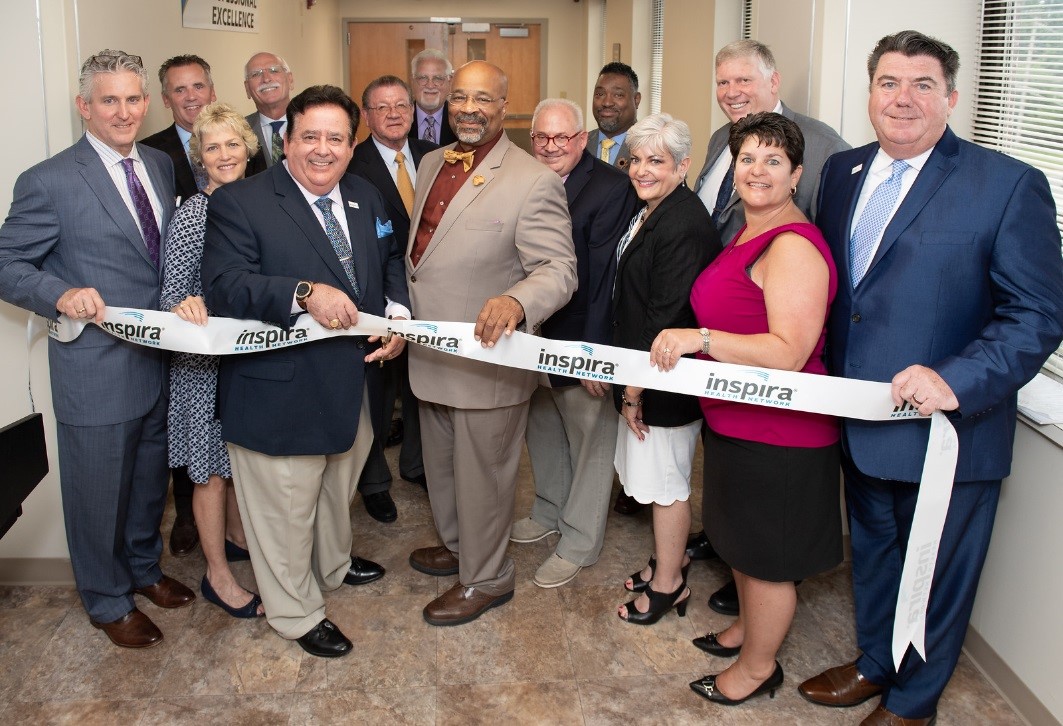 BRIDGETON, NJ (June 27, 2018) – In response to the growing drug and alcohol abuse epidemic in the region, Inspira Health Center Bridgeton will open a brand new inpatient Acute Medical Detoxification and Addiction Treatment unit. A ribbon cutting celebration was held today, and the unit is expected to open in mid-July.
Located at Inspira Health Center Bridgeton, this is a voluntary Acute Care unit positioned on the second floor of the health center. Spanning 9,287 square feet, it features six single occupancy and seven double occupancy rooms for a total of twenty beds. Services will include detoxification and substance abuse counseling; medication management and education; group and individual counseling; wellness planning and individualized treatment care plans; and referral, advocacy and service linkages. The new unit will be under the medical direction of Bruce Kaplan, M.D.
"This new center, the first of its kind in New Jersey south of Princeton, will help individuals take the first step on the difficult road to recovery," said John DiAngelo, president and CEO of Inspira Health Network. "The great team we have assembled will do all they can to ensure that each person is connected with the necessary support and services they need after their brief stay here."
"Our goal is to promote a safe environment that promotes positive change while also empowering patients to take a proactive role in their own recovery," said Dave Moore, executive director of Behavioral Health Services at Inspira Health Network.
Inspira's Medical Detoxification and Addiction Treatment Unit is part of a comprehensive strategy to fight the war on drugs in South Jersey. Last fall, Inspira began distributing free Deterra Drug Deactivation System pouches throughout the community. These pouches offer a safe and effective way to dispose of unwanted prescription medications, eliminating the chance of misuse or abuse. To date, more than 30,000 pouches have been distributed.
Additionally, Inspira provides free Narcan to law enforcement in Gloucester, Salem and Cumberland counties. This drug saves lives by reversing the effects of heroin or opioid-based narcotics overdose. Additionally, patients being treated for an overdose are seen in the Emergency Departments at Inspira's Vineland and Bridgeton locations by substance use disorder navigators and case management personnel to provide non-clinical assistance in guiding patients into substance abuse treatment.
For more information about Inspira Health Network, please visit www.InspiraHealthNetwork.org or call 1-800-INSPIRA. To stay connected with Inspira announcements and work being done in the community, please join the conversation on Facebook and Twitter.
About Inspira Health Network
Inspira Health Network is a charitable nonprofit health care organization serving communities across southern New Jersey. The network, which traces its roots to 1899, comprises three hospitals, a comprehensive cancer center, several multi-specialty health centers and a total of more than 150 access points. These include urgent care; outpatient imaging and rehabilitation; numerous specialty centers, including sleep medicine, cardiac testing, digestive health and wound care; home care and hospice; and more than 30 primary and specialty physician practices in Gloucester, Cumberland, Salem and Camden counties.

Together with its medical staff of more than 1,100 physicians and other care providers, as well as more than 5,700 employees, Inspira Health Network provides evidence-based care to help each patient achieve the best possible outcome. Accredited by DNV Healthcare, the network's clinical and support staffs are focused on providing quality care in a safe environment. For more information about Inspira Health Network, visit www.InspiraHealthNetwork.org or call 1-800-INSPIRA.