MULLICA HILL, NJ (August 8, 2016) – As part of its employee recognition program, Inspira Health Network recently named its 2016 employee award winners for their unwavering commitment to the organization's promise to improve the lives of all community members.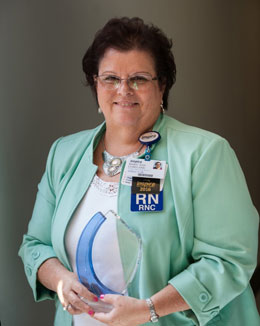 Director of the Year: Mary Ann Copeland, director, Care Coordination
Mary Ann Copeland has been with Inspira for more than 11 years. As the director of Care Coordination at Inspira Woodbury, she works collaboratively with all departments to do what is best for each patient and their families. Most recently, Copeland helped to develop a new Patient Relations Department at the Woodbury hospital and now works hand-in-hand with the department's manager to help identify and correct any patient concerns.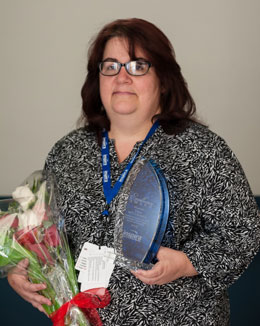 Leader of the Year: Tina McCormick, R.N., B.S.N., nurse manager, MSICU
Tina McCormick joined Inspira as a nurse 26 years ago and is best known by her peers for her diligence and tireless support of patient safety and clinical excellence. In her role at Inspira Woodbury, she is an advocate for her staff and a team player. McCormick recently played a vital role in helping the network's Information Systems team integrate a new Electronic Medical Record system across all of its medical centers.
Employee of the Year: Ashley Garton, R.N., M.S.N., nurse, 2-East
Ashley Garton joined Inspira Elmer nine years ago as a unit clerk, while pursuing her nursing degree. She earned her nursing degree in 2009 and then her Masters of Science in Nursing just a few years later. She also holds national certification in Medical-Surgical Nursing. Garton is known as a patient advocate and believes in educating and empowering her patients to help them improve their health once they return home from the hospital. In recent years, she helped to start a pre-operative education class for patients undergoing a total joint replacement.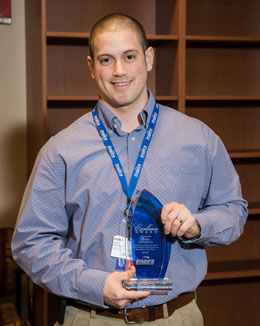 Employee of the Year: John Saffioti, project manager, Operations Consulting Group
John Saffioti joined Inspira in 2011 and currently serves as a project manager for the network's Opera-tions Consulting Group. In January 2015, Saffioti helped to organize and lead Inspira's effort to annually reduce costs or improve revenue in each department by a total of 5%. In this role he has worked collaboratively with department leaders across the entire organization to develop creative or hidden opportunities for cost reductions or improvements.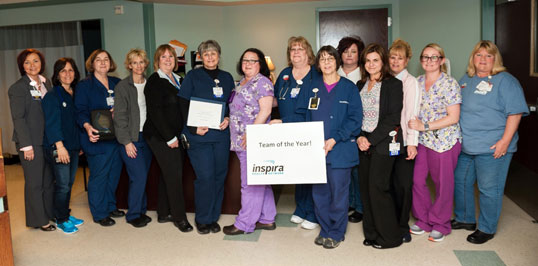 Team of the Year: Cardiopulmonary Services and Therapy
The Cardiopulmonary Services and Therapy team at Inspira Woodbury was named the network's 2016 Team of the Year. This past year the team developed a comprehensive plan to accommodate a rapidly growing patient volume that had greatly exceeded yearly projections. The team's plan included: a redesign and expansion of patient education classes; modification of work schedules; and a reconfiguration of the physical space within the department. A renovation of the space was also completed with no interruption to patient care. Throughout the process, the staff continued to provide each patient with high quality care. They provided emotional and psychological support to patients, and coordinated with liaisons to facilitate needed follow-up ap¬pointments for their patients. They also hold special patient events and "graduations," complete with healthy snacks and activities.
About Inspira Health Network
Inspira Health Network is a charitable nonprofit health care organization serving communities across southern New Jersey. The network, which traces its roots to 1899, comprises three hospitals, a comprehensive cancer center, several multi-specialty health centers and a total of more than 100 access points. These include urgent care; outpatient imaging and rehabilitation; numerous specialty centers, including sleep medicine, cardiac testing, digestive health and wound care; home care and hospice; and more than 30 primary and specialty physician practices in Gloucester, Cumberland, Salem and Camden counties.

Together with its medical staff of more than 1,100 physicians and other care providers, as well as more than 5,700 employees, Inspira Health Network provides evidence-based care to help each patient achieve the best possible outcome. Accredited by DNV Healthcare, the network's clinical and support staffs are focused on providing quality care in a safe environment. For more information about Inspira Health Network, call 1-800-INSPIRA.