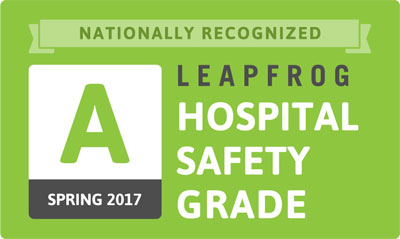 MULLICA HILL, NJ (April 13, 2017) – National recognition for patient safety has once again been awarded to the Inspira Health Network Elmer, Vineland and Woodbury medical centers. For the second consecutive data cycle, Inspira has earned straight A's on the national Leapfrog Hospital Safety Grade. More than 2,600 hospitals were included in the Spring 2017 Leapfrog Hospital Safety Grade; less than one third earned an A. The Inspira medical centers are three of the 27 hospitals within New Jersey to have received an A.

"Hospitals that earn top marks nationally in the Leapfrog Hospital Safety Grade have achieved the highest safety standards in the country," said Lea Binder, president and CEO of the Leapfrog Group. "That takes commitment from every member of the hospital staff."

In August of 2015, Inspira Health Network began a multi-year transformation to become a High Reliability Organization and a leader in patient safety. By adopting the tools and behaviors of high reliability, a small number of hospitals and health networks around the nation have dramatically reduced preventable patient harm in their facilities. Inspira is committed to achieving this level of safety across its network.

"The Leapfrog Group acknowledges that they raised the bar for their Spring 2017 safety grades," said John DiAngelo, president and CEO, Inspira Health Network. "That makes earning straight A's even more rewarding. This recognition reflects our unequaled commitment to patient safety. I believe the sustained success we have achieved on the Leapfrog Hospital Safety Grade is a strong indicator that we have continued to embrace a culture of safety throughout our organization."

As the criteria for the Hospital Patient Safety Score continues to evolve, it is not uncommon for high performing hospitals to see some variation in their scores. Yet, it is clear that Leapfrog's efforts have had a positive impact on patient safety across the country.

One of the first high reliability tools adopted by Inspira has been the Daily Safety Briefing. Each morning, dozens of leaders from across the network meet to identify and quickly resolve any patient safety concerns or potential safety issues. These briefings have fundamentally changed the way the Inspira leadership discusses and responds to patient safety concerns in its hospitals.

"Being nationally recognized for patient safety is a source of pride for our employees and physicians," said Paul Lambrecht, vice president of Quality and Patient Safety. "Providing care, which is nationally recognized for its safety, can bring a level of comfort and confidence to our neighbors, friends and family for whom we provide care every day. We believe our communities deserve care that is provided in the safest manner possible."

The Leapfrog Hospital Safety Grade report is released each fall and spring. It was developed under the guidance of expert panel and uses 30 measures of publicly available hospital safety data. And for the first time, the safety grade criteria included indicators that deal with communication between clinical staff and patients. The report also includes two new measures on MRSA and C. difficile infections.

To see each Inspira hospital's full grade, and to access consumer-friendly patient tips for staying safe in the hospital, visit www.hospitalsafetygrade.org.
About Inspira Health Network
Inspira Health Network is a charitable nonprofit health care organization serving communities across southern New Jersey. The network, which traces its roots to 1899, comprises three hospitals, a comprehensive cancer center, several multi-specialty health centers and a total of more than 125 access points. These include urgent care; outpatient imaging and rehabilitation; numerous specialty centers, including sleep medicine, cardiac testing, digestive health and wound care; home care and hospice; and more than 30 primary and specialty physician practices in Gloucester, Cumberland, Salem and Camden counties.

Together with its medical staff of more than 1,100 physicians and other care providers, as well as more than 5,700 employees, Inspira Health Network provides evidence-based care to help each patient achieve the best possible outcome. Accredited by DNV Healthcare, the network's clinical and support staffs are focused on providing quality care in a safe environment. For more information about Inspira Health Network, call 1-800-INSPIRA.