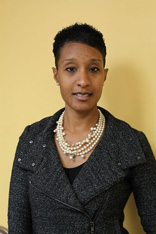 VINELAND, NJ (October 7, 2015) – Dana Palma, director of finance, at Inspira's LIFE program will be a part of a panel conducting a two-day seminar at the end of the National PACE (Program of All-inclusive Care for the Elderly) Conference in Philadelphia later this month. The two-day open forum seminar will focus on risk management and successful measuring and monitoring in operating a PACE program. In addition, she was chosen to be a faculty member for their leadership program training webinar designed to offer financial guidance in federal and state regulations and requirements to new PACE leaders.

Palma received her Master's Degree in Strategic Communication and Leadership in 2012 from Seton Hall University. She was selected by NPA (National Pace Association) to present this year's leadership seminar. Palma has been nominated to speak, the past two years, on the development of her financial PACE dashboard at NPA's national conventions.

"It is an honor to represent the leaders of Inspira Health Network on a national level for the PACE organization," said Palma.

Inspira LIFE (Living Independently for Elders) is a Program of All-Inclusive Care for Elders (PACE) which provides an innovative and comprehensive healthcare approach designed to keep seniors aged 55 years and older living safely in their homes. The program offers one location where doctors, nurses, and other healthcare professionals can deliver treatment and closely monitor changes in an individual's health. Components of the program include, but are not limited to: primary care, adult day, social services, personal care assistance, rehabilitation therapists, home health, nutritional meals, medications, durable medical equipment, and transportation – a total coordination of all of the services that elder adults need.

Inspira LIFE is located at 2445 S. Delsea Drive in Vineland. For more information, please call (855) 295-5433 (LIFE), or visit www.inspirahealthnetwork.org/life-center.