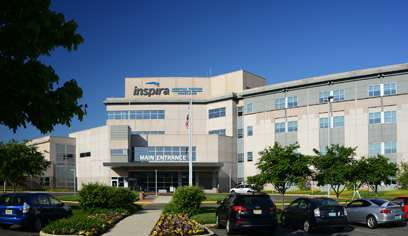 CUMBERLAND COUNTY, NJ (August 7, 2014) — Inspira Health Network is celebrating the ten year anniversary of the opening of Inspira Medical Center Vineland on August 8, 2014, marking a decade that has seen incredible growth in services and technologies.
"The opening of Inspira Medical Center Vineland in 2004 set a foundation that has allowed us to bring new services, specialists and advanced technologies to the community that previously would not have been possible," said John DiAngelo, president and CEO of Inspira Health Network. "Our Vineland-based medical center is an accredited, award-winning facility that offers community members high quality care and services close to home."
The 262-bed, 441,000-square-foot facility, which employs approximately 1,700 people, was built to consolidate the health system's former Bridgeton, Vineland and Millville hospitals and to provide one, state-of-the-art medical center for the region.
In 2004, Inspira Medical Center Vineland opened its doors with an expanded emergency department, a state-of-the-art cardiac catheterization laboratory and units dedicated to women's and children's services. For those having outpatient surgery, the new medical center provided one convenient location for blood work, imaging studies and an anesthesiologist meeting.
Since its opening on August 8, 2004, Inspira Medical Center Vineland has noted several milestones, including:
The opening of the Frank and Edith Scarpa Regional Cancer Pavilion in 2005, which offers the region a comprehensive cancer program made up of board-certified physicians, registered radiation therapists and nationally certified oncology nurses. The program is designated as a Community Hospital Comprehensive Cancer Program by the American College of Surgeons Commission on Cancer (CoC) and in 2013 the team was honored for the third consecutive time with the CoC's Outstanding Achievement Award.
The development of a residency and fellowship training program, which began in 2009 with three podiatry residents, has now become the second fastest growing residency program in the nation. The program currently consists of 118 residents out of 140 slots and has added specialties in family medicine, internal medicine, obstetrics and gynecology, general surgery, orthopedic surgery and emergency medicine. In 2013 fellowships were added in urogynecolgy, nephrology, critical care and sports medicine.
The expansion of minimally invasive surgical services in 2010 with the introduction of the da Vinci® Surgical System, a minimally invasive robotic surgery tool which provides patients with a quicker recovery time, less scarring and less chance of infection. Initially used for urologic procedures, Inspira's physicians now perform general and gynecologic procedures using the technology.
The opening of the Deborah F. Sager Neonatal Intensive Care Unit (NICU) in 2012 for premature, low birth-weight and critically ill infants as young as 28 weeks old. The $6.5 million, 14,800 square foot expansion and renovation of the nursery became the region's first NICU. The unit is staffed around-the-clock by experienced neonatologists and specially trained nurses and also offers parents the comfort of a Ronald McDonald room
The opening of the Joseph Zeccardi, M.D. Pediatric Emergency Department in 2013, which offers an eight-bed unit designed specifically for children. The unit features specialized equipment and exam rooms, a kid-friendly waiting area and is staffed by Inspira emergency medicine physicians, specially trained nurses and pediatric hospitalists from Nemours/Alfred I. duPont Hospital for Children. In 2014, the unit expanded its hours and is now open to the community 24 hours a day, 7 days a week.
State approval in 2013 to perform emergency angioplasty, a life-saving emergency procedure for patients experiencing a heart attack. Since the addition of this emergency procedure in Vineland, physicians and staff have consistently achieved door-to-balloon times (the time from arrival at the ER to the opening of a blocked coronary artery) that are better than the national benchmark.
The staff at Inspira Medical Center Vineland has received several awards and recognitions, some of which include Magnet® Designation for nursing excellence, ISO 9001:2008 certification through DNV Healthcare for achieving quality objectives based on international standards, and several Beacon Awards for excellence in critical care.
"We are very proud of the growth and accomplishments we have made at Inspira Medical Center Vineland over the past ten years," said Elizabeth Sheridan, R.N., M.A., chief operating officer of Inspira Medical Center Vineland and chief nursing executive. "Our dedication to improving the health and wellness of the communities we serve remains our top priority and as a network with three medical centers and more than 60 locations we look forward to continued growth."
Since the opening of Inspira Medical Center Vineland, the hospital has recorded:
155,366 Admissions
21,281 Births
141,750 Surgeries
633,402 Emergency Room Visits
As a part of Inspira Health Network, Inspira Medical Center Vineland currently has partnerships with Nemours/Alfred i. DuPont Hospital for Children in Delaware for pediatric services, Fox Chase Cancer Center Partners for tertiary level cancer care, and Capital Health for neurological care.
About Inspira Health Network
Inspira Health Network is a charitable nonprofit health care organization formed in November 2012 by the merger of South Jersey Healthcare and Underwood-Memorial Hospital. The network, which traces its roots to 1899, now comprises three hospitals, four multi-specialty health centers and a total of more than 60 locations. These include outpatient imaging and rehabilitation centers; urgent care; numerous specialty centers, including sleep medicine, cardiac testing and wound care; home care and hospice; and more than two dozen primary and specialty physician practices in Cumberland, Gloucester and Salem counties.
Together with its medical staff of more than 1,100 physicians and other care providers, as well as more than 5,000 employees, Inspira Health Network provides evidence-based care to help each patient achieve the best possible outcome. Clinical and support staffs are focused on providing quality care in a safe environment. For more information about Inspira Health Network, call 1-800-INSPIRA.