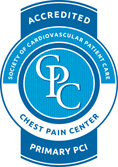 CUMBERLAND COUNTY, NJ (August 25, 2015) – Inspira Medical Center Vineland recently received full Chest Pain Center with PCI Accreditation from the Society of Cardiovascular Patient Care (SCPC). Accredited by the SCPC since 2011, Inspira Vineland began performing life-saving emergency angioplasty with stenting, also known as emergency PCI (percutaneous coronary intervention), for area heart attack patients in late 2013.  

"Our team is proud to be recognized as an accredited Chest Pain Center with PCI, but our greatest satisfaction comes from knowing we are providing our community with high quality heart care that is close to home," said Elizabeth Sheridan, R.N., M.A., chief operating officer of Inspira Medical Centers Elmer and Vineland. "From chest pain and stroke education to emergency PCI and cardiac rehabilitation, our skilled physicians, nurses and emergency responders work together to provide the full spectrum of heart care."
An Accredited Chest Pain Center's evidence-based, protocol-driven and systematic approach to cardiac patient care allows clinicians to reduce time to treatment during the critical early stages of a heart attack. Chest pain centers better monitor patients when it is not clear whether or not a patient is having a coronary event. Such monitoring ensures patients are neither sent home too early nor needlessly admitted.
"Along with the SCPC, our goal is to significantly reduce the mortality rate of heart attack patients in our region by teaching community members to recognize and react to the early symptoms of a possible heart attack, reduce the time that it takes for them to receive treatment and work to continuously increase the accuracy and effectiveness of treatments provided," said Scott Burlingame, R.N., M.S.N., manager of the Stroke/Chest Pain Center at Inspira Medical Center Vineland.
By achieving SCPC's Chest Pain Center with PCI Accreditation status, Inspira Vineland demonstrated expertise in the following areas:
Integrating the emergency department with the local emergency medical system
Assessing, diagnosing, and treating patients quickly
Effectively treating patients with low risk for acute coronary syndrome and no assignable cause for their symptoms
Continually seeking to improve processes and procedures
Ensuring the competence and training of Accredited Chest Pain Center personnel
Maintaining organizational structure and commitment
Having a functional design that promotes optimal patient care
Supporting community outreach programs that educate the public to promptly seek medical care if they display symptoms of a possible heart attack
Inspira Health Network provides emergency PCI for people experiencing a heart attack at its medical centers in Vineland and Woodbury.
About the Society of Cardiovascular Patient Care
The Society of Cardiovascular Patient Care (SCPC) is an international nonprofit organization that focuses on transforming cardiovascular care by assisting facilities in their effort to create cardiovascular centers of excellence that deliver quality, cost and patient satisfaction. As the only cross-specialty organization, SCPC provides the support needed for individual hospitals and hospital systems to effectively reduce variations of care and bridge existing gaps in treatment by providing the tools, education and support necessary to improve patient outcomes.
For more information on SCPC's accreditation and certification opportunities, visit www.scpc.org, or call toll free 1-877-271-4176.

About Inspira Health Network
Inspira Health Network is a charitable nonprofit health care organization formed in November 2012 by the merger of South Jersey Healthcare and Underwood-Memorial Hospital. The network, which traces its roots to 1899, now comprises three hospitals, four multi-specialty health centers and a total of more than 60 locations. These include outpatient imaging and rehabilitation centers; urgent care; numerous specialty centers, including sleep medicine, cardiac testing and wound care; home care and hospice; and more than two dozen primary and specialty physician practices in Cumberland, Gloucester and Salem counties.

Together with its medical staff of more than 1,100 physicians and other care providers, as well as more than 5,500 employees, Inspira Health Network provides evidence-based care to help each patient achieve the best possible outcome. Clinical and support staffs are focused on providing quality care in a safe environment. For more information about Inspira Health Network, call 1-800-INSPIRA.