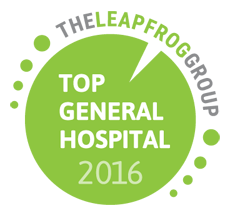 GLOUCESTER COUNTY, NJ (December 6, 2016) – The Leapfrog Group announced today Inspira Medical Center Woodbury has been named one of seven Top Hospitals in New Jersey. Widely acknowledged as one of the most prestigious distinctions a hospital can receive in the U.S., the recognition showcases the Gloucester County-based hospital's commitment to patient safety and quality. Additionally, Inspira Medical Center Woodbury has received 'A' grades in three consecutive Leapfrog Hospital Safety Grade surveys.
"Every member of our team, from our physicians and nurses to our pharmacists, housekeepers, transport staff and other support staff, are fully committed to healing our patients, keeping them safe while in our hospital and preventing accidental harm. By achieving Leapfrog's Top Hospital distinction, our community members can feel confident in the quality of care we are privileged to provide," said Patrick Nolan, chief operating officer of Inspira Medical Center Woodbury.

Inspira Medical Center Woodbury received a Top General Hospital distinction, and was one of 115 Top Hospitals recognized across the country. The list includes:
9 Top Children's Hospitals
56 Top General Hospitals
21 Top Rural Hospitals
29 Top Teaching Hospitals
The selection of Top Hospitals is based on the results of the 2016 Leapfrog Hospital Survey. Performance across many areas of hospital care is considered in establishing the qualifications for the award, including infection rates, maternity care, and a hospital's ability to prevent medication errors. The rigorous standards are defined in each year's Top Hospital Methodology.

"Being acknowledged as a Top Hospital is an incredible feat achieved by less than three percent of hospitals nationwide," said Leah Binder, president and CEO of The Leapfrog Group. "With this honor, Inspira Medical Center Woodbury has established its commitment to safer and higher quality care. Providing this level of care to patients in Gloucester County requires motivation and drive from every team member. I congratulate the board, staff and clinicians, whose efforts made this honor possible."

To see the full list of institutions honored as 2016 Top Hospitals, please visit www.leapfroggroup.org/tophospitals.
About The Leapfrog Group
Founded in 2000 by large employers and other purchasers, The Leapfrog Group is a national nonprofit organization driving a movement for giant leaps forward in the quality and safety of American health care. The flagship Leapfrog Hospital Survey collects and transparently reports hospital performance, empowering purchasers to find the highest-value care and giving consumers the lifesaving information they need to make informed decisions. The Leapfrog Hospital Safety Grade, Leapfrog's other main initiative, assigns letter grades to hospitals based on their record of patient safety, helping consumers protect themselves and their families from errors, injuries, accidents, and infections.
About Inspira Health Network
Inspira Health Network is a charitable nonprofit health care organization serving communities across southern New Jersey. The network, which traces its roots to 1899, comprises three hospitals, a comprehensive cancer center, several multi-specialty health centers and a total of more than 100 access points. These include urgent care; outpatient imaging and rehabilitation; numerous specialty centers, including sleep medicine, cardiac testing, digestive health and wound care; home care and hospice; and more than 30 primary and specialty physician practices in Gloucester, Cumberland, Salem and Camden counties.

Together with its medical staff of more than 1,100 physicians and other care providers, as well as more than 5,700 employees, Inspira Health Network provides evidence-based care to help each patient achieve the best possible outcome. Accredited by DNV Healthcare, the network's clinical and support staffs are focused on providing quality care in a safe environment. For more information about Inspira Health Network, call 1-800-INSPIRA.