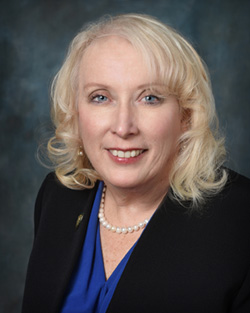 MULLICA HILL, NJ (October 19, 2016) – Janet Davies, vice president of Patient Care Services at Inspira Medical Centers Elmer and Vineland, was recently honored with the Mid-Atlantic Region GEM Award for Excellence in Executive Leadership from Nurse.com.

Nurse.com's GEM Award, which stands for Giving Excellence Meaning, recognizes exemplary contributions made by exceptional nurses.

"I am very humbled and honored to have received this prestigious recognition," said Davies. "Great leadership cannot be achieved alone and this award is truly a reflection of the wonderful team of nurses that I get to work with every day."

Davies joined Inspira Health Network in 2000. She has served as vice president for Patient Care Services at Inspira Medical Center Elmer since 2006 and in 2015 her role was expanded to include Inspira Medical Center Vineland. Davies holds a Bachelor's of Science in Nursing from Trenton State College, a Master's of Science in Nursing from The University of Pennsylvania.

Each year, the Mid-Atlantic region chooses one winner out of five finalists in each category. The regional winners then advance to a national award reception held by Nurse.com. This year's Mid-Atlantic GEM program took place September 23 at the Philadelphia Marriott Downtown.

For more information and the GEM Awards, visit www.Nurse.com.
About Inspira Health Network
Inspira Health Network is a charitable nonprofit health care organization serving communities across southern New Jersey. The network, which traces its roots to 1899, comprises three hospitals, a comprehensive cancer center, several multi-specialty health centers and a total of more than 100 access points. These include urgent care; outpatient imaging and rehabilitation; numerous specialty centers, including sleep medicine, cardiac testing, digestive health and wound care; home care and hospice; and more than 30 primary and specialty physician practices in Gloucester, Cumberland, Salem and Camden counties.

Together with its medical staff of more than 1,100 physicians and other care providers, as well as more than 5,700 employees, Inspira Health Network provides evidence-based care to help each patient achieve the best possible outcome. Accredited by DNV Healthcare, the network's clinical and support staffs are focused on providing quality care in a safe environment. For more information about Inspira Health Network, call 1-800-INSPIRA.