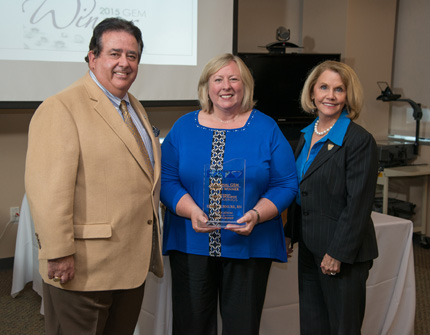 MULLICA HILL, NJ (September 30, 2015) – Emily Turnure, M.S.N., R.N., administrative director of Education and Accreditation at Inspira Health Network, has been selected by Nurse.com as one of six national winners to receive a 2015 Nursing Excellence GEM Award. Turnure, who was named in the category of Education and Mentorship, was recently presented with the award at a reception held at Inspira Medical Center Vineland.

Each year, Nurse.com conducts a nationwide search for the best of the best in nursing, generating hundreds of nominations highlighting stories of excellence in leadership, management, education, volunteerism and clinical practice. In the spring of 2015, Turnure was named a regional finalist receiving the Philadelphia Tri-State Nursing Excellence GEM Award. Nurse.com then selected six national award recipients out of the 54 regional winners.

At the award presentation in Vineland, Janice Petrella Lynch, M.S.N., R.N., editor and executive for Nurse.com, noted Turnure's accomplishments in advancing professional development; improving patient and employee safety; increasing access to educational material for staff; and enhancing document control.

As a nurse and leader at Inspira for more than 27 years, Turnure has led the organization through various accreditation processes including becoming the first health care system in New Jersey to receive ISO 9001:2008 certification from DNV healthcare for achieving quality objectives based on international standards. At Inspira's Elmer, Vineland and Bridgeton campuses, she has helped to increase the number of nurses with Bachelor of Science in Nursing degrees or higher by 350% over the past four years. Additionally, under her leadership the number of nationally certified nurses at Inspira has risen on average by more than 20% for the last three years.

Turnure is the third Inspira nurse to receive the prestigious national recognition in the past six years. Previous winners include Michele Zucconi, M.S.N., R.N. (2012, Staff and Patient Management category) and Patricia Heslop, M.S.N., R.N. (2009, Teaching category).
About Inspira Health Network
Inspira Health Network is a charitable nonprofit health care organization formed in November 2012 by the merger of South Jersey Healthcare and Underwood-Memorial Hospital. The network, which traces its roots to 1899, now comprises three hospitals, four multi-specialty health centers and a total of more than 60 locations. These include outpatient imaging and rehabilitation centers; urgent care; numerous specialty centers, including sleep medicine, cardiac testing and wound care; home care and hospice; and more than two dozen primary and specialty physician practices in Cumberland, Gloucester and Salem counties.

Together with its medical staff of more than 1,100 physicians and other care providers, as well as more than 5,500 employees, Inspira Health Network provides evidence-based care to help each patient achieve the best possible outcome. Clinical and support staffs are focused on providing quality care in a safe environment. For more information about Inspira Health Network, call 1-800-INSPIRA.