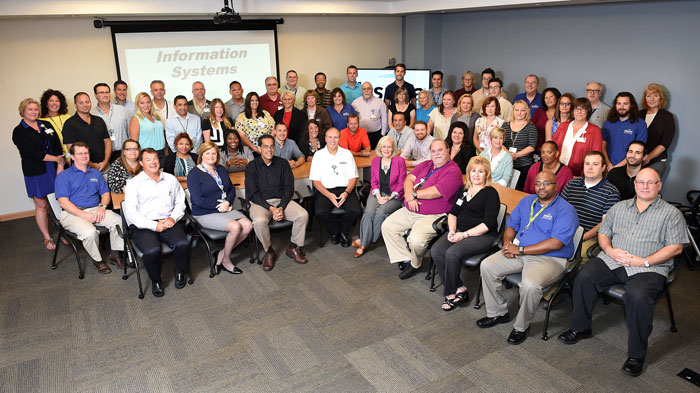 MULLICA HILL, NJ (November 23, 2015) – Inspira Health Network's Information Systems Department was ranked the number one "Best Hospital IT Department" for large hospitals in the nation by Healthcare IT News. The award recognizes hospital IT departments who have the highest level of employee satisfaction within their departments.

"The Information Systems team at Inspira is made up of highly skilled individuals who are dedicated to staying current with industry changes and supporting excellent patient care," said Tom Pacek, vice president and chief information officer for Inspira Health Network. "Over the past several years the role of IT Departments in health care has evolved significantly and I'm proud to say that our team has adapted beyond expectations."

In total, 169 IT departments across the nation were nominated. In order to determine the best departments to work in, Healthcare IT News required that at least 50% of employees in each nominated department complete an online survey measuring their overall job satisfaction. Inspira was ranked first out of only five companies named in the large hospital category, with nearly 110 full-time employees working for the network's Information Systems Department.

The online survey asked employees to rank their job satisfaction through a series of questions in a number of categories, which included:
Day-to-day work
IT work unit
Workplace culture
Senior management and organizational leadership
Professional development and advancement
Direct supervisor or manager
Compensation benefit and employee recognition
This is the fifth annual Best Hospital IT Department survey conducted by Healthcare IT News. In 2014, Inspira's Information Systems Department was ranked third in the large hospital category.
 
About Inspira Health Network
Inspira Health Network is a charitable nonprofit health care organization serving communities across southern New Jersey. The network, which traces its roots to 1899, comprises three hospitals, a comprehensive cancer center, several multi-specialty health centers and a total of more than 60 locations. These include urgent care; outpatient imaging and rehabilitation; numerous specialty centers, including sleep medicine, cardiac testing, digestive health and wound care; home care and hospice; and more than 30 primary and specialty physician practices in Gloucester, Cumberland, Salem and Camden counties.

Together with its medical staff of more than 1,100 physicians and other care providers, as well as more than 5,700 employees, Inspira Health Network provides evidence-based care to help each patient achieve the best possible outcome. Accredited by DNV Healthcare, the network's clinical and support staffs are focused on providing quality care in a safe environment. For more information about Inspira Health Network, visit call 1-800-INSPIRA.