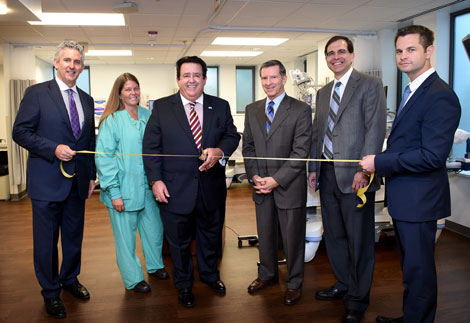 Tuesday, July 14, 2015 - Early this year, Inspira Health Network announced an affiliation with Jefferson Health to provide a new level of specialty health care services to residents in South Jersey. On June 30, a ribbon-cutting celebrated the opening of the new Jefferson Digestive Health at Inspira located at Inspira Medical Center Woodbury.

Participating in the ceremony were: Michael McLaughlin (left), chair, Inspira Joint Hospital Board of Trustees; Chyllene Sutton, MSN, RN, CNOR, director of Inspira Woodbury Perioperative Services; John DiAngelo, CEO of Inspira Health Network; Anthony J. DiMarino, MD, chair, Jefferson's Division of Gastroenterology and Hepatology; Robert M. Coben, MD, medical director of the center and associate professor at Jefferson; and Brian Sweeney, RN, MBA, FACHE, vice president for Clinical and Support Services at Jefferson.

At this new comprehensive gastroenterology center, Jefferson physicians provide advanced diagnostic and therapeutic services. Jefferson's Division of Gastroenterology and Hepatology is one of the leading programs in the nation for the diagnosis, treatment, research, and education of diseases of the digestive tract and liver.