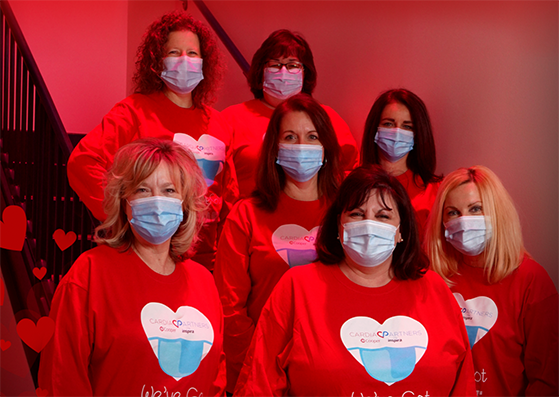 Cardiac Partners at Cooper and Inspira offers a wide range of services to help providers better care for their patients with, or at high-risk for, heart disease. Now the most comprehensive cardiac program in South Jersey, Cardiac Partners—an established provider of extensive, minimally invasive cardiac technology, surgical strategies and a range of hybrid procedures for coronary artery disease—has enhanced South Jersey residents' access to the services they need in cardiovascular care. 
"Cardiac Partners provides Inspira-based patients tertiary and quaternary care in the fight against heart disease," said Kurt W. Kaulback, M.D., clinical director for cardiovascular care at Inspira Health and Cardiac Partners cardiologist. "Our comprehensive program not only allows for a seamless transition from Inspira to Cooper Health, but a fully supported and transparent transition back to Inspira following treatment."
An Integrated Approach to Preventive and Diagnostic Cardiac Care 
The major risk factors for cholesterol-based cardiac diseases are well-known. But the real challenge in treating cardiac patients is staying up to date with the newest testing and detection modalities, as well as considering a patient's candidacy for empiric drug therapies.
"At Cardiac Partners, we leverage the sophistication of lab assessments to identify true high-risk patients. CT-based coronary artery calcium scoring and angiography, along with more traditional testing modalities, help us to analyze a candidate's profile and guide providers to the optimal treatment plan," said Dr. Kaulback. "For years, the strategy for assessing cardiovascular disease risk and managing disease was not optimally defined. EKG abnormalities, concerning symptoms and stress test results were several of the determinants of our management strategy. Adding technological and scientific advancements enhances our ability to accurately assess and diagnose patients." 
Another advantage of Cardiac Partners is the intimate communication channels and proximity of this acute cardiac care to patients' homes.  
"Our colleagues at Cooper Health are experts in a wide range of imaging technologies, including cardiac MR imaging to evaluate structural heart disease," said Dr. Kaulback. "With access points at both Inspira and Cooper Health, patients across South Jersey can tap into this plethora of tools and experts. Whether patients need to go to Cooper University Hospital for a complex procedure or consult with an Inspira Health cardiologist, patients can feel confident knowing their cardiac care is in good—not to mention coordinated—hands." 
South Jersey patients struggling with arrhythmias have access to state-of-the-art equipment and the newest treatments. One such option is the WATCHMAN™ Left Atrial Appendage Closure (LAAC) Device, which prevents blood clot migrations that manifest in the left atrial appendage and serves as a stroke risk reduction option. "We are always looking for ways to enhance our programs and provide better access to both Cooper and Inspira communities when patients and providers have concerns about a disease or are symptomatic," said Dr. Kaulback.
The Advantage of At-Home Monitoring Tools 
Atrial fibrillation is a major concern in cardiac care; however, Cardiac Partners is confident that leveraging the smart devices patients already use and integrating the information they collect into their database will enhance arrhythmia care and other cardiac conditions. 
"We were previously limited in assessing a patient's heart rhythm because these diagnoses require precise monitoring," said Dr. Kaulback. "But the old days of manually reviewing monitors with a day or two of information should no longer be considered the standard. We have new opportunities for advanced monitoring using the smartwatches, smartphones and wifi-enabled devices people have purchased for their leisure and reassigning its use to track their health." 
In addition to maximizing the use of wearable technology, Cardiac Partners is participating in telemedicine visits when appropriate to both keep patients safe and to provide access to providers who can offer advice after taking a thorough and detailed history of how the patient is feeling.  
"Even during a virtual visit, we can assess a patient's skin texture and coloring, respiratory rate and other physical cues to determine if that patient should manage their condition at home or go to the emergency room," said Dr. Kaulback. "Together, Cooper and Inspira offer additional opportunities for monitoring, including wi-fi enabled weight scales and pulse oximetry monitoring for patients trying to get home after pneumonia. Additionally, we work closely with all providers in post-acute care settings, should a patient require that level of care," said Dr. Kaulback.  
To refer a patient, or to learn more about the benefits Cardiac Partners can bring to your patients' care plan, visit www.CardiacPartners.org.