CUMBERLAND COUNTY, NJ (June 6, 2016) –
Anderson visited Inspira Fitness Connection's PIT program where she participated in a warm-up exercise and relay game with children from the program. After the activities, Anderson talked to the group about how exercise and nutrition are keys to performing well in sports and in leading a healthy life.
Inspira Fitness Connection's PIT (Performance Improvement Training) program is designed for children ages 6 to 12 to learn about nutrition and exercise in a fun, non-competitive environment. For more information about the PIT program, visit www.InspiraFitnessConnection.org or call P.J. Ragone at (856) 696-3924, ext. 108.

The 2016 ShopRite LPGA Classic Presented by Acer tournament was held May 31 through June 5. Horizon BCBSNJ was the event's Health and Wellness sponsor.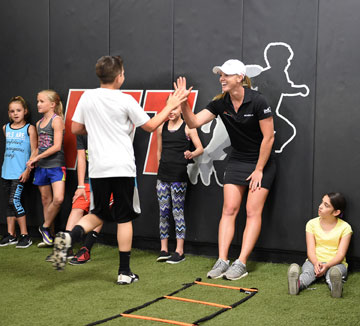 About Horizon Blue Cross Blue Shield of New Jersey
Horizon Blue Cross Blue Shield of New Jersey, the state's oldest and largest health insurer is a tax-paying, not-for-profit health service corporation, providing a wide array of medical, dental, and prescription insurance products and services. Horizon BCBSNJ is leading the transformation of health care in New Jersey by working with doctors and hospitals to deliver innovative, patient-centered programs that reward the quality, not quantity, of care patients receive. Learn more at www.HorizonBlue.com. Horizon BCBSNJ is an independent licensee of the Blue Cross and Blue Shield Association serving more than 3.8 million members.
About the ShopRite LPGA Classic Presented by Acer
The ShopRite LPGA Classic Presented by Acer is one of the largest and most prestigious events on the LPGA tour. It is held annually in Atlantic City and features the world's best female golfers competing over three rounds for a $1.5 million purse. The event, owned and operated by Eiger Marketing Group, is held on the Bay Course at prestigious Stockton Seaview Hotel and Golf Club. To date, the tournament is responsible for donating $28 million to local charities. The 2016 ShopRite LPGA Classic Presented by Acer was held May 31 – June 5.
About Inspira Health Network
Inspira Health Network is a charitable nonprofit health care organization serving communities across southern New Jersey. The network, which traces its roots to 1899, comprises three hospitals, a comprehensive cancer center, several multi-specialty health centers and a total of more than 100 access points. These include urgent care; outpatient imaging and rehabilitation; numerous specialty centers, including sleep medicine, cardiac testing, digestive health and wound care; home care and hospice; and more than 30 primary and specialty physician practices in Gloucester, Cumberland, Salem and Camden counties.

Together with its medical staff of more than 1,100 physicians and other care providers, as well as more than 5,700 employees, Inspira Health Network provides evidence-based care to help each patient achieve the best possible outcome. Accredited by DNV Healthcare, the network's clinical and support staffs are focused on providing quality care in a safe environment. For more information about Inspira Health Network, visit www.InspiraHealthNetwork.org or call 1-800-INSPIRA.