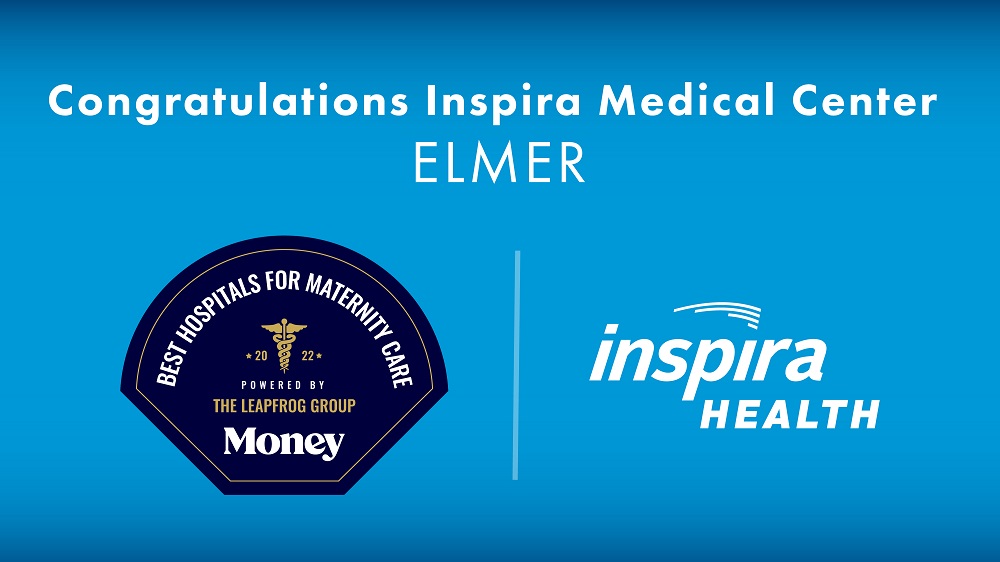 Mullica Hill, NJ (November 23, 2022) – Digital news platform Money, in partnership with The Leapfrog Group, has named Inspira Medical Centers Elmer and Vineland, part of Inspira Health, each as a 2022 Best Hospital for Maternity Care. The inaugural list recognizes institutions across the nation that consistently deliver the safest, highest-value care for patients and excellence in hospital experience. Inspira Medical Centers Elmer and Vineland were two out of 259 U.S. hospitals to receive this distinction.  
"The maternity care teams at Inspira Medical Centers Elmer and Vineland are honored to receive this national recognition as a best hospital for maternity care," said Amy Mansue, President & CEO of Inspira Health. "At Inspira, we are committed to providing both a safe and compassionate experience for our patients as they welcome a new family member, and this recognition is a testament to our maternity care team's expertise and dedication to providing an exceptional experience for each patient and family."  
To compile the inaugural list for the best hospitals in the country for maternity care in partnership with Money, the Leapfrog Group used maternity care data submitted via the 2022 Leapfrog Hospital Survey. To make the list as a Best Hospital for Maternity Care,  hospitals were required to earn an A or B letter grade on the Leapfrog Hospital Safety Grade assessment for spring 2022. In addition, the robust evaluation reviewed hospital data related to early elective deliveries, cesarean birth, episiotomy, DVT prophylaxis, bilirubin screening, and high-risk deliveries. 
For more information on Money and The Leapfrog Group's methodology, please visit www.money.com/methodology-best-hospitals-for-maternity-care/.  
About Inspira Health 
Inspira Health is a charitable nonprofit health care organization and a regional leader in physician training, with approximately 234 medical residents and fellows in 14 nationally accredited programs at its hospitals in Vineland, Mullica Hill and Elmer.  
The system traces its roots to 1899 and comprises three hospitals, two comprehensive cancer centers, eight multi-specialty health centers, and more than 200 access points. These include urgent care; outpatient imaging and rehabilitation; sleep medicine labs; cardiac testing facilities; behavioral health, digestive health, wound care centers; home care and hospice; and more than 35 primary and specialty physician practices in Gloucester, Cumberland, Salem, Camden and Atlantic counties. Additionally, Inspira EMS services six South Jersey counties. 
Inspira's 1,300-member medical staff and 7,000 employees provide an unwavering commitment to delivering a superior patient experience at every point of the journey. Technology and innovation investments provide a robust provider directory and a range of services including online scheduling and virtual visits for both primary and specialty care providers. With a commitment to multi-channel digital access, Inspira is able to meet consumer demand for self-service and personalized care options. 
Accredited by DNV Healthcare and committed to the principles of high reliability, the system's clinical and support staffs are focused on clinical excellence and patient safety. For more information about Inspira Health, visit www.InspiraHealthNetwork.org or call 1-800-INSPIRA. 
About Money 
Money has a 50-year legacy of guiding people to financial victories with up-to-date information, education, and tools. Money, a digital platform, helps create richer lives for everyone—in every sense of the word. Signature franchises include a bevy of Best-In categories such as Best Places to Live, Best Crypto Exchanges, Best Mortgage Lenders, Best Life Insurance, Best Auto Insurance, Best VA Loans, Best Homeowner Insurance, Best High-Yield Savings Accounts, Best Credit Cards, Best Colleges, Best Student Loans, and Best Student Loan Refinance Companies, with an aim to improve your finances and promote your well-being. For more information, visit Money.com. 
About The Leapfrog Group 
Founded in 2000 by large employers and other purchasers, The Leapfrog Group is an independent national nonprofit with a mission of giant leaps for patient safety. The flagship Leapfrog Hospital Survey and new Leapfrog Ambulatory Surgery Center (ASC) Survey collect and transparently report hospital and ASC performance, empowering purchasers to find the highest-value care and giving consumers the lifesaving information they need to make informed decisions. The Leapfrog Hospital Safety Grade, Leapfrog's other main initiative, assigns letter grades to hospitals based on their record of patient safety, helping consumers protect themselves and their families from errors, injuries, accidents, and infections. For more, follow us on Twitter and Facebook, and sign up for our newsletter.