Bev Lippincott has always had great respect for the managers and coworkers on her nursing unit at Inspira Medical Center Vineland. That respect grew to departments and employees throughout the hospital and ambulatory locations when she became a patient earlier this year. Bev found herself surrounded by a team of people fully committed to her recovery.
 
"A complete circle of care, …[everyone] went out of their way to help me," said Bev. 
 
"I love Marilyn at the front desk in Vineland. Anything you ask, she knows the answer or figures it out. 
 
I got a chest x-ray at Delsea imaging -- they were 100 percent amazing. 
 
"Raquel in Employee Health is awesome! She deserves a gold star."
  
After a COVID-19 false alarm in May of 2020 (it was a sinus infection), Bev started to feel ill at the end of a shift on January 19. She contacted Employee Health and was tested before going home that morning.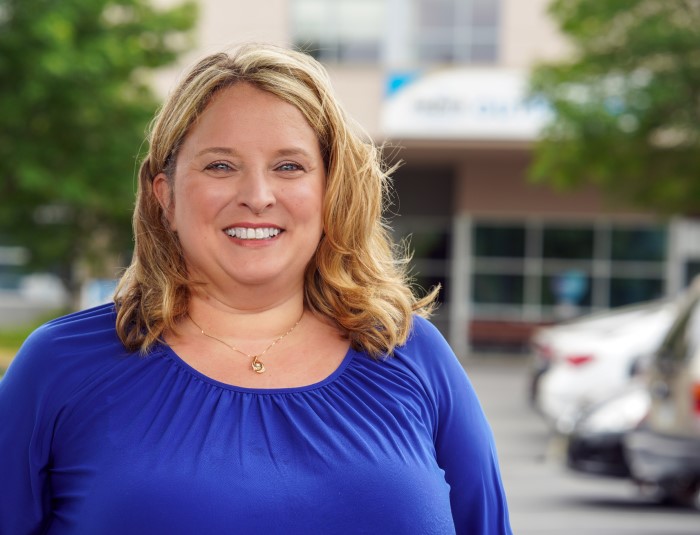 Neither Bev nor her manager expected the test to come back positive, but it did. Over the next few day, fatigue, shortness of breath, an intense headache, and a loss of smell and taste set in. Simple daily activities became difficult.
 
"Thank God I had my husband for support. I had a headache for 10 days, the worst headache I have ever had. Even with my husband's help, I had to take breaks when showering; I had to use a shower chair." 
 
Although Bev managed to avoid an inpatient admission, there were moments when she thought she might need to be hospitalized. She credits three telehealth visits and the support of Employee Health with keeping her at home and out of the hospital. She rested at home for almost three weeks, slowly feeling better as the days passed. 
 
On February 7 – 20 days after taking ill -- Bev attempted to go back to work. 
 
"I tried to go back, I told them [Employee Health] I thought I was ready, but only worked two days. Then I had to go out [again]; I slept for 2 and 1/2 days."
 
At the recommendation of Dr. Evelyn Balogun, medical director of Employee and Occupational Health for Inspira, Bev enrolled in Pulmonary Rehabilitation shortly after her attempt to return to work. Dr. Balogun was concerned that Bev was still experiencing shortness of breath even with the regular use of an inhaler.
The Pulmonary Rehab team encouraged her and was fully in tune with her physical well-being. They were committed to helping her improve her pulmonary function and stamina so she could successfully return to her job as a nurse on the Surgical Step-down Unit.
"They were so helpful," said Bev. "I can't say enough about each person." 
And the Pulmonary Rehab team was focused on more than just Bev's lungs. They knew she had a shoulder injury and were careful that she only used equipment, such as a treadmill and stationary bike, that would not aggravate this condition. The team was also focused on simulating work conditions to ensure Bev would be successful when she returned to her unit.
 
"They had me walk on the treadmill with an N95 [mask], and they kept me in rehab while weaning me off the inhaler. How great is that? They said, 'How do we know you won't desaturate when you are off the inhalers.'"
 
Bev was also comforted by her managers who encouraged her to take the time she needed to recover at home. They made it clear that her top priority should be getting better, not getting back to the unit.
 
"I am so fortunate; I have the best managers. Every place I have gone in the system, I love it. It makes me proud."
Bev completed her pulmonary rehabilitation in early March and returned to work for about six weeks before taking time off for shoulder surgery in April.  She no longer has shortness of breath and regularly takes 3-mile walks, three times a week.
Although eager to get back to work, that will have to wait a little longer. Bev will soon begin an extended of course of physical therapy for her shoulder, where she will once again enter that "complete circle of care" on her way to full recovery.