Patients can now conveniently receive their prescriptions prior to discharge
Click here for full photo gallery.
Today Inspira Health cut the ribbon on two Retail Pharmacies, located at Inspira Medical Centers Vineland and Mullica Hill. Patients can now conveniently fill their prescriptions before leaving the hospital. And, in some cases, the Inspira Retail Pharmacy will deliver prescriptions to the patient's bedside, prior to discharge.
The "Meds to Beds" program allows patients to have prescriptions delivered directly to their bedside. A Pharmacy staff member will collect payment and provide counsel for proper medication use prior to the patient's discharge from the hospital. This service is currently available in Vineland and will be coming soon to Mullica Hill. Both sites plan to extend this service into other areas of the hospital like Same-day Surgery, Oncology and the Emergency Department.

Similar to any big-name pharmacy, Inspira Retail Pharmacy offers automatic prescription refills, individualized medication counseling and access to popular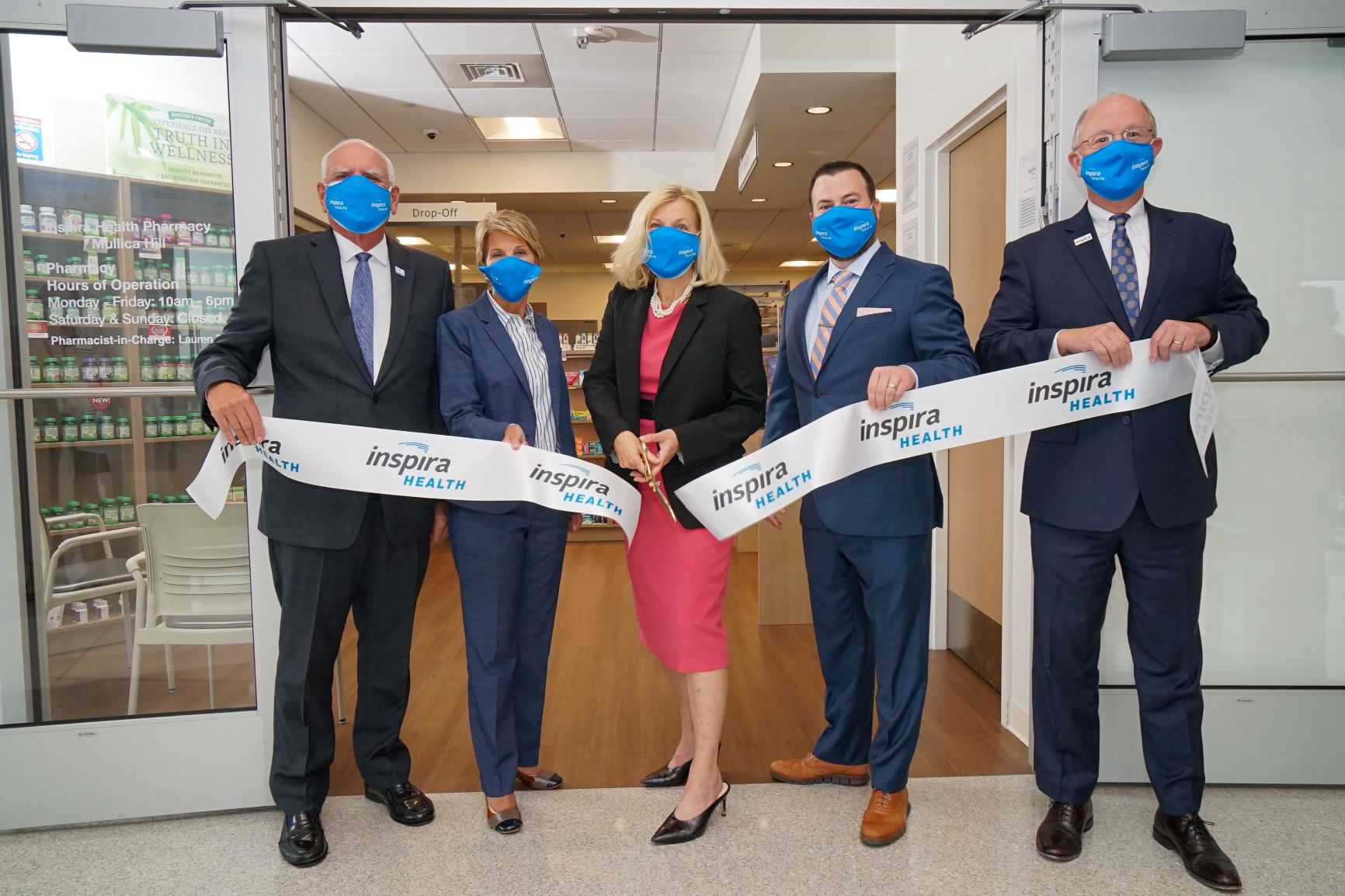 prescription medications and over-the-counter items. This service eliminates the need for patients and caregivers to make a separate trip to the pharmacy, which can often delay medication therapy and may lead to poor medication compliance.

"Retail Pharmacies are beneficial to our patients and employees— not just for convenience but for safe medication therapy management. We know that one of the top reasons that patients are readmitted to the hospital is lack of medication compliance," said Amy Mansue, president and CEO of Inspira Health. "Providing their medications and educating them prior to discharge increases the likelihood that patients will follow their medication regimen, and it decreases their chance of readmission."

In addition to dispensing medications, retail pharmacists are certified to give immunizations like flu shots and Tdap boosters. Online prescription refill ordering will be available through the My Inspira app by the end of the year.

The pharmacies offer a prescription savings card program designed to give patients access to affordable medications, with or without insurance. Additionally, Inspira has partnered with pharmaceutical manufacturers for access to charity care options for those in need. Hours of operation are Monday through Friday, 11 a.m.-7 p.m., at Inspira Medical Center Vineland and Monday through Friday, 10 a.m.-6 p.m., at Inspira Medical Center Mullica Hill.

For more information about Inspira Health, please visit www.InspiraHealthNetwork.org or call 1-800-INSPIRA. To stay connected with Inspira announcements and work being done in the community, please join the conversation on Facebook and Twitter.
About Inspira Health
Inspira Health is a charitable nonprofit health care organization and a regional leader in physician training, with approximately 160 medical residents and fellows in nine nationally accredited specialty programs. The system, which traces its roots to 1899, comprises three hospitals, a comprehensive cancer center, several multi-specialty health centers and a total of more than 150 access points. These include urgent care; outpatient imaging and rehabilitation; sleep medicine labs; cardiac testing facilities; digestive health and wound care centers; home care and hospice; and more than 30 primary and specialty physician practices in Gloucester, Cumberland, Salem, Camden and Atlantic counties.

Together with its medical staff of more than 1,300 physicians and other care providers, as well as more than 6,000 employees, Inspira Health provides evidence-based care to help each patient achieve the best possible outcome. Accredited by DNV Healthcare, the system's clinical and support staffs are focused on providing quality care in a safe environment. For more information about Inspira Health, visit www.InspiraHealthNetwork.org or call 1-800-INSPIRA.