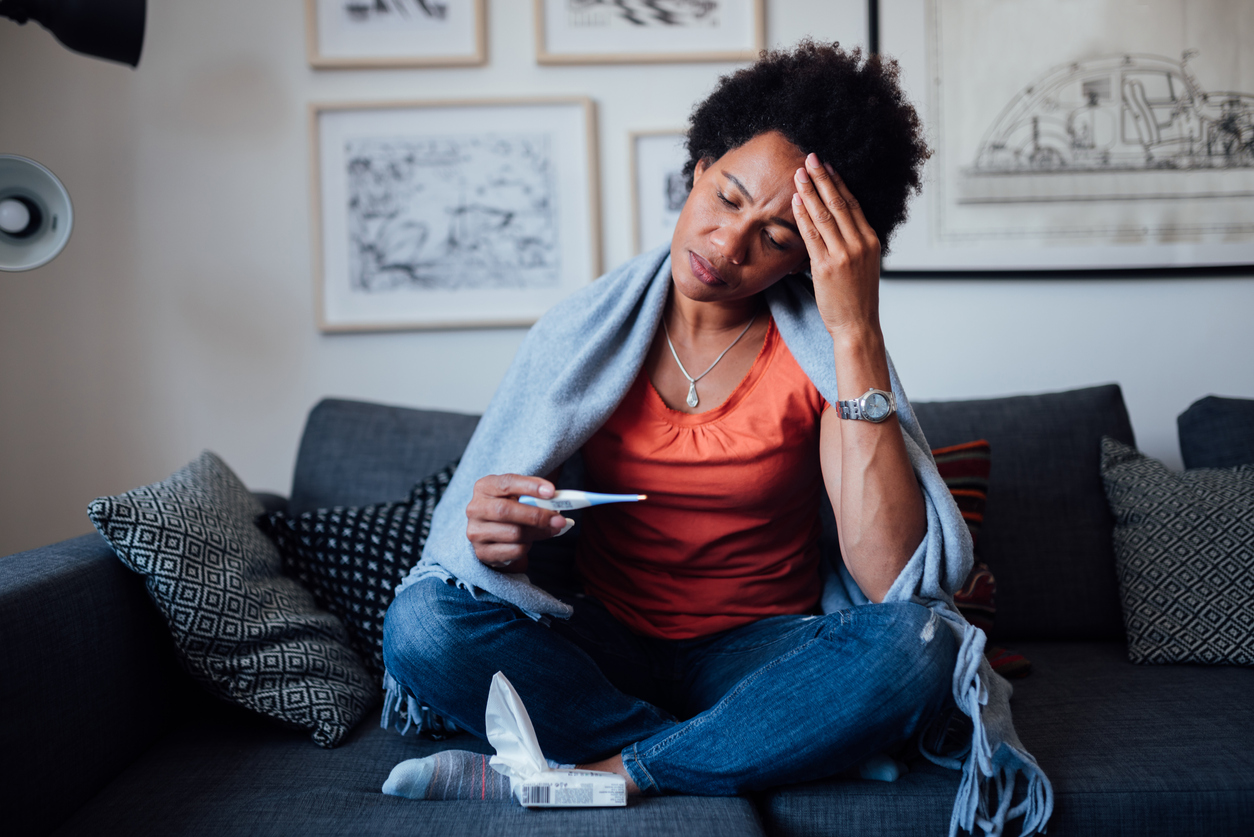 In 2017, according to the Centers for Disease Control and Prevention (CDC), 1.3 million Americans went to the emergency room and were diagnosed with pneumonia—an infection where air sacs in the lungs become filled with infected fluid. Unfortunately, pneumonia not only increases your COVID-19 risk profile, but it has also become a serious complication for some who have already tested positive for COVID-19. So let's break it down. 
Understanding Pneumonia
"Pneumonia has three forms: bacterial, viral and fungal. Bacterial pneumonia can occur after an upper respiratory condition like a cold or flu. Similarly, viral pneumonia develops when organisms attack your respiratory system, like the flu, common respiratory viruses, and now, the novel coronavirus," said Gregory Breen, M.D., a board-certified pulmonary disease specialist with Inspira Medical Group Pulmonary. "Lastly, fungal pneumonia develops from fungi ingested through the air, or which spread from the bloodstream." 
Your chances of developing pneumonia depend on a variety of risk factors, including but not limited to: age, lifestyle choices, a weakened immune system and existing chronic lung conditions. 
"Two main groups are at an increased risk for pneumonia: children under the age of two, whose immune systems are not yet fully developed, and adults over the age of 65, whose immune systems are deteriorating and are susceptible to chronic health conditions," said Dr. Breen. "When diagnosing pneumonia, we also ask about some auxiliary risk factors: Are they life-long smokers? Do they have a substance abuse disorder? Why else might their immune system be weak? Do they have other existing lung conditions?" 
Doctors consider a number of factors when diagnosing pneumonia, including looking at your medical history, assessing your symptoms and completing screenings such as a chest X-ray, blood test, CT scan or bronchoscopy. If you suspect you may have pneumonia, the first step is to speak with your health care provider. 
Defining COVID-19 Pneumonia
Since the onset of the pandemic, researchers have discovered a new complication associated with the novel coronavirus: COVID-19 pneumonia. "COVID-19 attacks our upper respiratory system, and while its symptoms range from mild to severe, severe COVID-19 cases have been linked to an increased prevalence of pneumonia," said Dr. Breen. 
Common pneumonia symptoms like chest pain, cough, fever and difficulty breathing closely resemble COVID-19 pneumonia symptoms. Patients must contact their health care provider immediately upon symptom onset, and early testing for COVID-19 is recommended. This is especially important if these symptoms are present in combination with loss of taste and smell, or if you have been recently exposed to someone with known COVID-19.
Preventing and Treating Pneumonia
"Treating pneumonia requires a comprehensive management approach. Depending on your form of pneumonia, treatment may consist of antibiotics and pain relievers like ibuprofen and acetaminophen," said Dr. Breen. "Unfortunately, more severe cases may require hospitalization. But there is plenty you can do to keep yourself as healthy as possible in the fight against COVID-19."
1.    Get Vaccinated
Seriously consider getting a COVID-19 vaccine if you have not already received it. Follow CDC recommendations for an annual flu shot. And if you are 65 or older, CDC recommends pneumococcal vaccination. Protecting your body against COVID-19, the flu and bacterial pneumonia are important steps in fortifying your immune system (and protecting your lungs) in the upcoming months. 
2.    Make Good Lifestyle Choices
Good sleep hygiene, a well-balanced diet and a simple exercise regimen are the three basic building blocks to a healthy lifestyle—as well as kicking the smoking habit. Need help quitting? Inspira's QUIT Center is here for you.
 
3.    Maintain Your COVID-19 Defense
We won't bore you with the details, but it's important to keep up to date and to follow the latest COVID-19 precautions.
4.    Seek Medical Care 
If you think you might have COVID-19, contact your health care provider right away. New therapies can greatly reduce the chance you will become severely illness.