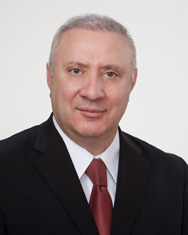 MULLICA HILL, NJ (December 21, 2015) – Andro Zangaladze, M.D., Ph.D., has been appointed medical director of the Inspira-Jefferson Neuroscience Program. Double board certified in neurology and clinical neurophysiology and fellowship trained in neurophysiology, Dr. Zangaladze brings more than 27 years of combined experience in patient care, scientific research and academia.

Dr. Zangaladze earned his medical degree from Tbilisi State Medical Institute and his doctorate of philosophy from Tbilisi Medical Academy in Georgia. He went on to complete a fellowship at Thomas Jefferson University Hospital. Prior to joining Inspira, Dr. Zangaladze served as director of Neuroscience for Virtua and before that was an assistant professor of Neurology at Jefferson Comprehensive Epilepsy Center.

At Inspira, Dr. Zangaladze will provide diagnosis and treatment for a wide range of complex neurological disorders affecting the brain, spinal cord and nerves. In addition, he will direct a subspecialty clinic for the treatment of epilepsy. As the medical director of the program, Dr. Zangaladze will lead physician recruitment efforts to expand Inspira and Jefferson's neurology and neurosurgical services available in South Jersey.

Dr. Zangaladze will begin seeing patients in January at Inspira Medical Group's Neurology offices in Mullica Hill and Woodbury. For more information, please call (856) 853-1133.
About Inspira Health Network
Inspira Health Network is a charitable nonprofit health care organization serving communities across southern New Jersey. The network, which traces its roots to 1899, comprises three hospitals, a comprehensive cancer center, several multi-specialty health centers and a total of more than 60 locations. These include urgent care; outpatient imaging and rehabilitation; numerous specialty centers, including sleep medicine, cardiac testing, digestive health and wound care; home care and hospice; and more than 30 primary and specialty physician practices in Gloucester, Cumberland, Salem and Camden counties.

Together with its medical staff of more than 1,100 physicians and other care providers, as well as more than 5,700 employees, Inspira Health Network provides evidence-based care to help each patient achieve the best possible outcome. Accredited by DNV Healthcare, the network's clinical and support staffs are focused on providing quality care in a safe environment. For more information about Inspira Health Network, call 1-800-INSPIRA.